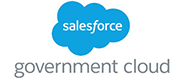 Vision-e Scan specializes in providing the most responsible, efficient, and accurate way to get business card information in Salesforce. By leveraging this innovative technology in the public sector, information gets where it needs to be securely and accurately, while enabling productivity, remaining compliant with government regulations, and building stronger connections.
Use any of your mobile devices to take a picture of a business card and instantly scan it directly into Salesforce. Customize your scan with enhancements or add notes to your contact right from your phone.
Vision-e Scan's simple and elegant interface makes it intuitive and easy to use. Instantly export business cards to any lead, contact, or account.
With productivity in mind, Vision-e Scan was designed for extremely fast uploading.
Vision-e Scan Advantage
Get information into Salesforce securely and accurately while strengthening the relationships between citizens, employees, services, agencies, and the information they all need.




Trusted
We always aim to keep your information secure through up to date certifications from the industry's leading compliancy organizations.

As a part of the Salesforce Partner Program, Vision-e is backed by the world's leading cloud platform that provides the resources, training, and tools to enable Vision-e to better serve their customers and differentiate their applications on AppExchange. Vision-e is fully supported by Salesforce in the development of their apps to deliver cutting edge, innovative technology.