EnterpriseTube is an enterprise video streaming and digital Content Management System (CMS) with enterprise-class security and smooth content delivery to a broad range of video playback devices under all bandwidth conditions in a YouTube-like responsive, multilingual, multi-channel and brandable user-interface (UI).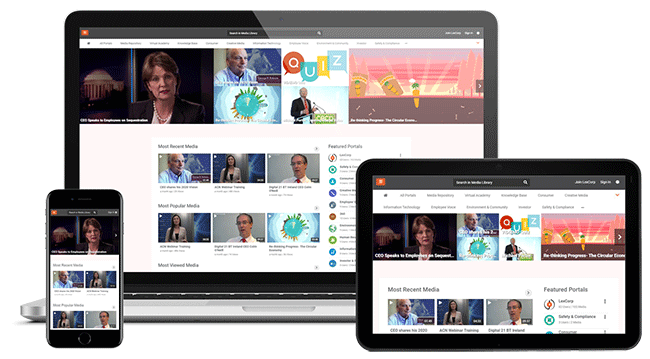 EnterpriseTube is deployable in a public or government cloud, on-premises or hybrid deployment model, delivers video & other digital content securely, and integrates seamlessly with applications such as LMS, CMS and video conferencing systems to securely store, manage, edit and share digital content with internal and external audiences.

Key Benefits
Save cost and resources on managing and maintaining content on disintegrated storage
Upload and manage all digital media content in over 255+ supported formats
Combine different types of digital media content in collections
Get a multi-tenant platform that ensures security, autonomy and privacy for each department
Scale delivery of live and on-demand video smoothly across all local and global offices with uncertain video demand
Collect feedback on video with survey inserted inside the video
Integrate with existing IT and software systems, reaping maximum ROI from all systems together
Promote team communication and collaboration without impacting the existing network
Transfer knowledge among different stakeholders through interactive webinar with live chat
Build a video content library with a google-like search
Leverage Artificial Intelligence to generate automatic transcription, translation, metadata and tags
Ensure highest level of security with robust authentication and Role-based Access Control (RBAC)
Ensure compliance with data privacy laws such as GDPR and CCPA
EnterpriseTube simplifies and streamlines management of all your digital content stored in disintegrated hardware and software throughout your organization. With interactive, user-friendly interface, incomparable features-set and flexibility of integration, EnterpriseTube drives adoption for digital content and yields exceptional ROI for small and medium enterprises, large corporations and other organizations.