Veritone is a leading provider of artificial intelligence (AI) technology and solutions. The company's proprietary operating system, aiWARE™ powers a diverse set of AI applications and intelligent process automation solutions that are transforming both commercial and government organizations. aiWARE orchestrates an expanding ecosystem of machine learning models to transform audio, video, and other data sources into actionable intelligence. The company's AI developer tools enable its customers and partners to easily develop and deploy custom applications that leverage the power of AI to dramatically improve operational efficiency and unlock untapped opportunities.
The World's First OS for AI — Powering Intelligent Automation
Veritone's proprietary Operating System for Artificial Intelligence, aiWARE, surfaces insights from massive amounts of structured and unstructured data at scale, in near real-time. Hundreds of cognitive AI engines, low-code developer tools and APIs, and a flexible deployment architecture uniquely enable intelligent end-to-end workflows supporting contemporary cloud-native applications, IoT devices as well as legacy systems.
Discover the Power of aiWARE
aiWARE lowers the cost, complexity, and time to develop, deploy, and distribute cognitively enabled applications and workflows across any cloud or on-premise infrastructure.
Built to Scale
Veritone aiWARE provides access to hundreds of best-of-breed cognitive engines. It allows for fast, flexible and future-proof AI deployments — in the cloud, on-premise, or in hybrid environments — at scale and ensures timely and common access to the latest AI advances.
Users can leverage turnkey applications, develop their own proprietary multi-AI applications, deploy their own bespoke cognitive models or enhance existing systems, processes or third-party applications via APIs or low-code workflow tools. Leveraging one, multi-AI platform allows for easy data sharing across applications resulting in unprecedented processing speed and efficiency gains.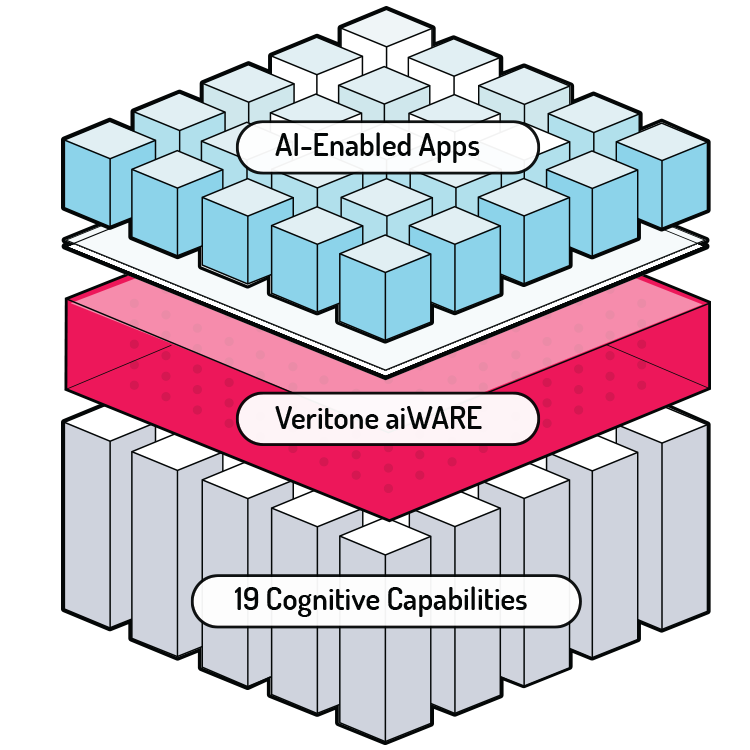 AI-powered Applications for Government
Veritone's suite of applications for Government are purpose-built and fast to implement. Leveraging aiWARE, they bring all the advantages of the AI operating system to your organization. Turn your data into actionable insights to make better, data-driven decisions and surface new opportunities through previously unavailable or disconnected data insights.
All Veritone applications are turnkey and up and running within days. No AI expertise required.