FNN Expert Editon: 5G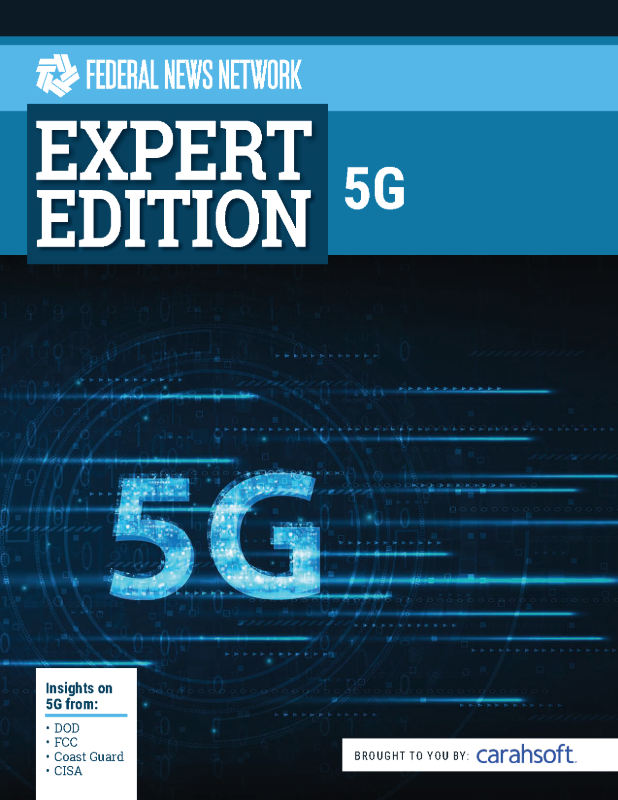 This ebook highlights current efforts and what's on the horizon by civilian and the military services in rolling out 5G infrastructure and devices to improve mission effectiveness. Featuring insights from government agencies, including:
DoD 5G demonstration shows value of OTAs, nontraditional partners
DoD harnessing innovation around 5G, autonomous vehicles to disrupt logistics paradigms
5G rollout will extend beyond smartphones, FCC says
Coast Guard considers 'transformative' capabilities that 5G will provide
Government sketches out threats to 5G through 'Enduring Security Framework'
Over the last several years, the discussion around 5G moved from hope and planning to pilots and test beds. Now agencies and industry are on the cusp of a 5G reality.
Agencies already are spending billions of dollars on these 5G tests and now the Federal Communications Commission and others are providing more money to further roll out 5G infrastructure.
Taken altogether, 5G is close to that tipping point where a technology become ubiquitous.
FCC Chairwoman Jessica Rosenwarcel said the mid-band spectrum is likely the best method for deploying widespread 5G coverage. "That's the sweet spot," Rosenwarcel said. "That's how we're going to deploy 5G across the country because it has a mix of capacity and propagations. That is really ideal for this technology."
The FCC has allocated $9 billion to roll out 5G infrastructure across rural America.
Meanwhile, the Defense Department and the Coast Guard already are seeing the benefits of 5G to servicemembers.
Lt. Kenneth Miltenberger, branch chief of the Coast Guard's cyber blue team, said implementing 5G would mean faster connectivity for the Coast Guard's fleet of cutters, ships and aircraft.
In fact, the Coast Guard submitted this 5G-cutter use case concept to the Defense Information Systems Agency (DISA), and Miltenberger said the Navy is also working on a similar line of effort.

Jason Miller
Executive Editor
Federal News Network
Download the full report to learn how 5G can bring new capabilities and innovations that allow agency personnel to experience data, training and operations in ways not possible before. Featuring insights from 5G leaders at Palo Alto, SAP NS2, Dell, and JMA.
View and download complete report below.