Innovation in Government® Report
Making the Most of Multi-Cloud
Experts make a clear distinction between hybrid and multi-cloud environments. The General Services Administration's Multi-Cloud and Hybrid Cloud Guide notes that a multi-cloud architecture reflects the deliberate integration of services from multiple cloud service providers. By contrast, a hybrid architecture integrates public cloud, private cloud and on-premises infrastructure.
In a recent pulse survey of FCW readers, 49% of respondents said their agencies rely on hybrid cloud environments that combine public and private clouds with on-premises systems, and 39% said their cloud environments were based on private clouds. Only 8% identified themselves as multi-cloud. Multi-cloud environments are the natural evolution of the government's move to the cloud. As technologies become more targeted and sophisticated, it is clear that a single product cannot meet all of an agency's needs. Multi-cloud represents a highly individualized, fluid approach to capitalizing on everything cloud has to offer.
Regardless of where they are on their journeys, agencies continue to benefit from advances in cloud technology. That's because the same spirit of innovation that gave rise to the cloud is giving rise to new solutions for securing and managing cloud environments. Read the latest insights from industry thought leaders in multi-cloud, including: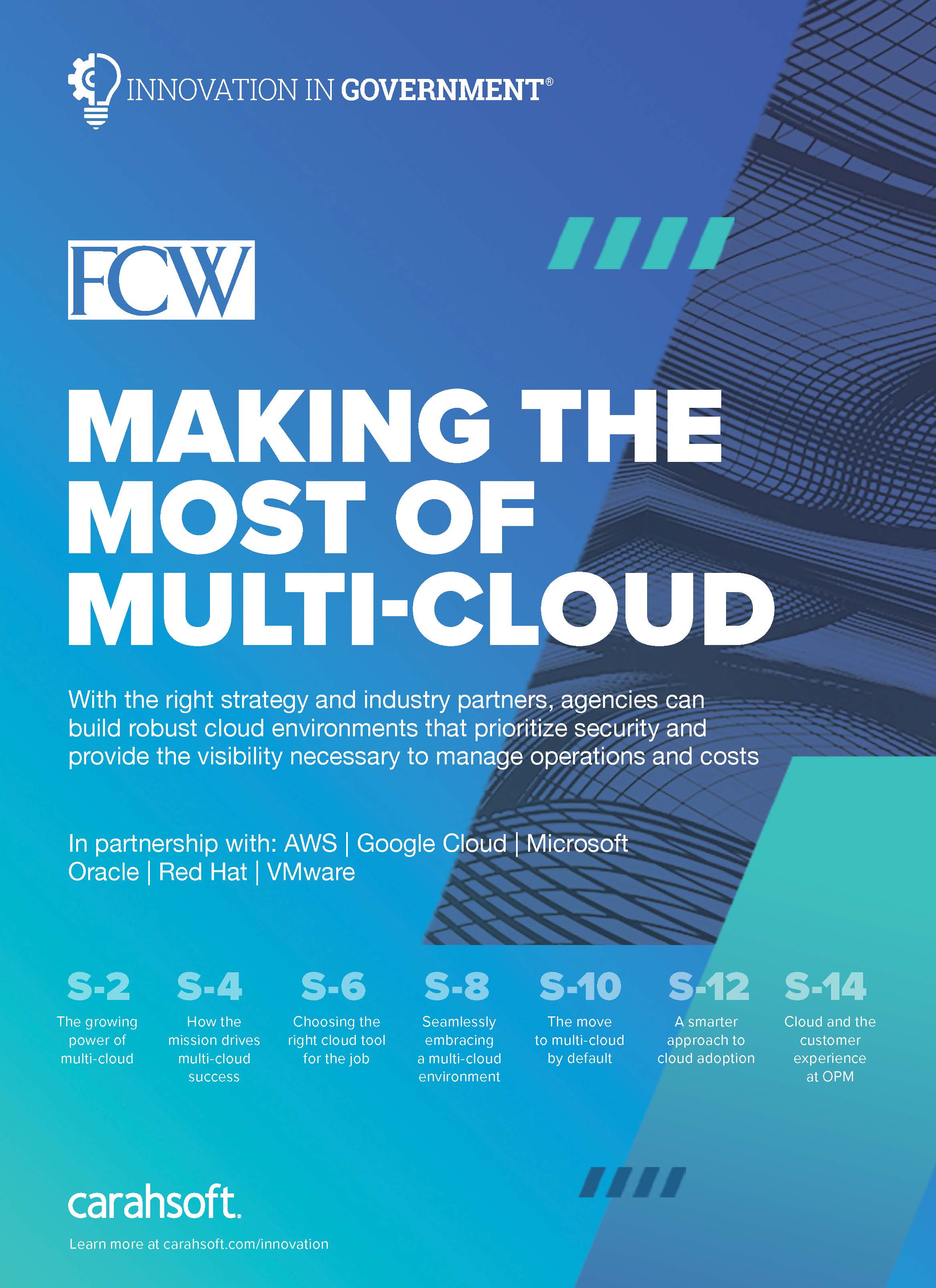 Scott Frohman, Head of Defense Programs at Google Cloud, explains why a thoughtful approach to cloud adoption minimizes the impact on users, strengthens security and boosts innovation.
Jason Payne, CTO at Microsoft Federal, discusses how a multi-cloud environment gives agencies a wide selection of options for achieving their mission goals.
James Donlon, Director of Solution Engineering for Government and Education at Oracle, details why decisions about cloud services hinge on understanding agencies' needs and providers' capabilities.
Adam Clater, Chief Architect of the North America Public Sector at Red Hat, discusses how a shift in procurement and congressional activity is driving agencies to multi-cloud deployments.
Jeremiah Sanders, Senior Transformation Strategist at VMware, explains how a "migrate then modernize" strategy speeds the move to a secure, consistent multi-cloud operating model.
Read more insights from Carahsoft and our multi-cloud partners when you download the full report:
Read more insights from Carahsoft and our multi-cloud partners when you download the full report: