Innovation in Government® Report
A New Era in Cybersecurity
Securing government systems was a complex undertaking even before the pandemic. In response to that crisis, agencies rapidly deployed cloud technology, mobile devices and collaboration tools for remote employees — and added new vulnerabilities and IT management challenges to an already long list of cybersecurity priorities. Malicious actors have taken note of the new opportunities and continue to mount increasingly sophisticated attacks on government systems and critical infrastructure. To keep pace with those risks, government teams need multifaceted yet holistic strategies that address a wide range of threats to network endpoints, identity and access management, and data. In addition, agencies must strike the right balance of productivity and security for a mix of on-site and remote employees — a key concern of 75% of the respondents to a recent FCW reader survey.
Fortunately, zero trust has been gaining traction because of its ability to address key challenges related to identity management, endpoint security and data protection. Interest in zero trust has skyrocketed thanks to a mandate in the Biden administration's 2021 Executive Order on Improving the Nation's Cybersecurity. A series of subsequent memos have offered further guidance and reinforced the order's central role in pushing agencies to modernize their approach to cybersecurity. But although zero trust can play a key role in ensuring that only authorized users have access to IT systems and data, it doesn't always protect against human mistakes. In addition, security responsibilities have crossed traditional internal boundaries, and agencies are finding that they need to unify the priorities of security teams and mission owners.
Given the increased attack rate and creativity of malicious actors, how can agencies continue to evolve security architecture and strategy? Read the latest insights from industry thought leaders in cybersecurity, including: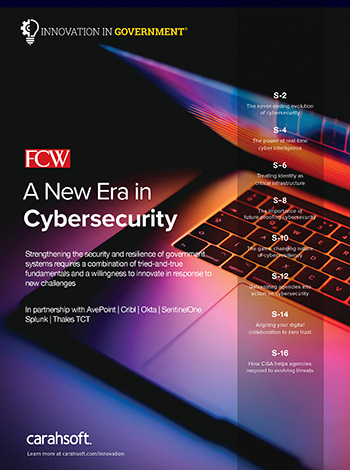 Paul Kurtz, chief cybersecurity advisor for public sector at Splunk, explains how automation and ongoing collaboration can improve threat detection, incident response and overall security.
Sean Frazier, federal chief security officer at Okta, discusses how agencies can deliver better user experiences by modernizing their approach to identity and access management.
Gina Scinta, deputy CTO at Thales Trusted Cyber Technologies, details how the latest security advances are keeping pace with ever-changing threats to government networks and data.
Todd Helfrich, vice president of federal sales at SentinelOne, explores the latest guidance and evaluation techniques to help agencies block, defend and contain adversaries.
Nick Heudecker, senior director of market strategy at Cribl, explains how recent directives have given agencies the guidance they need to develop a more robust, layered security architecture.
Jay Leask, director of federal strategy for AvePoint Public Sector, details how a least-privileged approach to users, data and workspaces can secure collaboration without impeding the mission.
Read more insights from Carahsoft and our cybersecurity partners when you download the full report:
Read more insights from Carahsoft and our cybersecurity partners when you download the full report: