Innovation in Government® Report
Next-Generation DevSecOps for the Public Sector
The cyberthreat landscape is constantly shifting at a time when government agencies face a growing demand for digital services. Agencies can balance those competing priorities by embracing a methodology that speeds and strengthens every aspect of software development, including security. Known as DevSecOps, the methodology allows agencies to create, deploy and maintain apps that are targeted to users' needs, easily updated and continuously monitored for security purposes.
In a recent survey of FCW readers, 68% of respondents said the changing cybersecurity landscape is driving the adoption or evolution of DevSecOps at their agencies. Those security concerns crop up at all levels of government. The Executive Order on Improving the Nation's Cybersecurity has a section devoted to supply chain security, with recommendations that include the use of secure software development environments and software bills of materials for purchased apps or components.
As more agencies adopt DevSecOps to manage all aspects of developing and deploying secure, modern apps, they will build trust between the government and the people it serves, while also boosting employee engagement and productivity. In other words, they will recognize that DevSecOps is a prerequisite for achieving digital transformation. Read the latest insights from industry thought leaders in cybersecurity, including: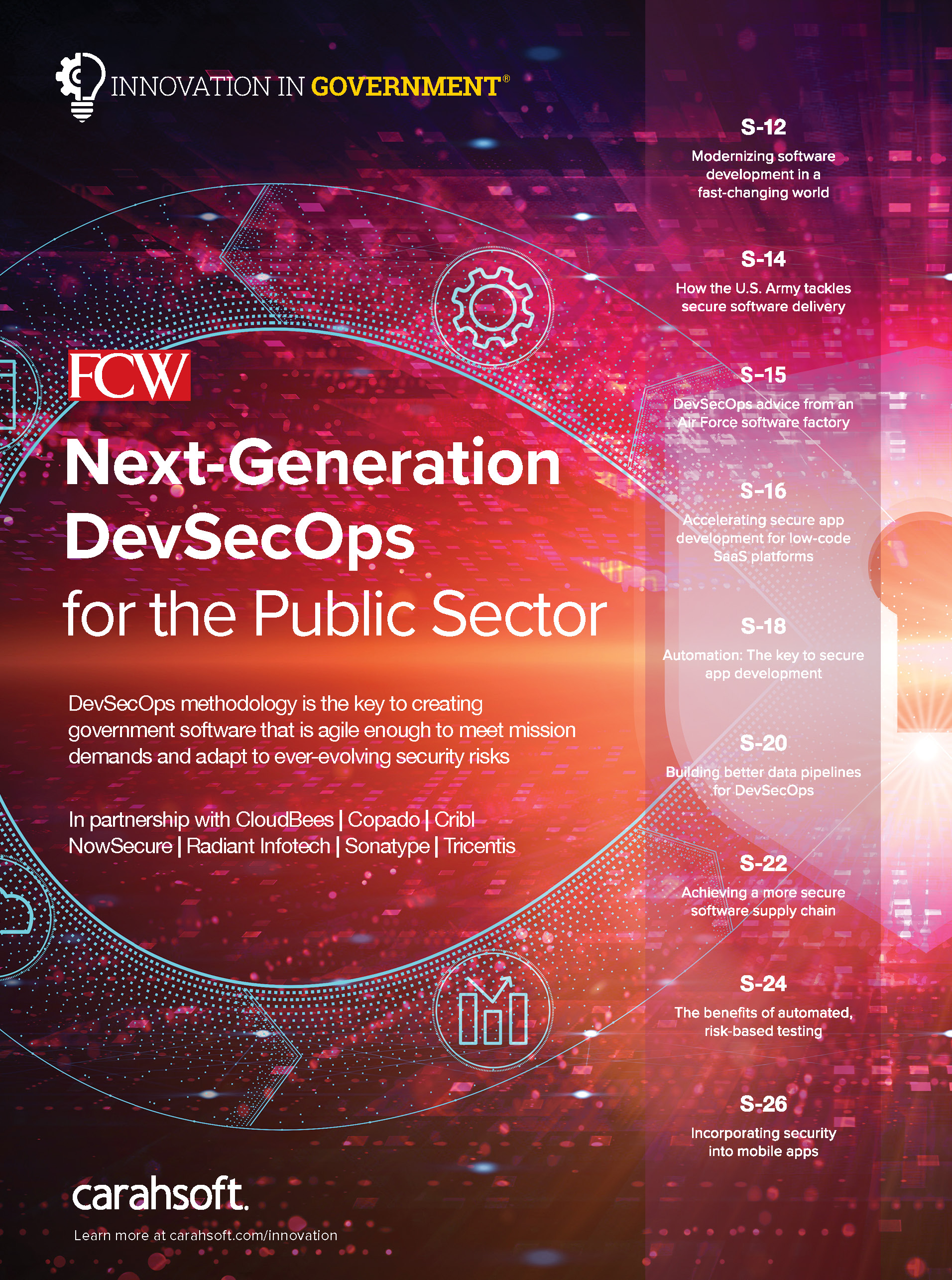 Andrew Storms, Senior Director of Product Line Management at Copado, and Sarvinder Sandhu, Director of the Salesforce Practice at Radiant Infotech, explain how low-code SaaS platforms help agencies maximize the cloud's potential and achieve their digital transformation goals.
Prakash Sethuraman, CISO at CloudBees, discusses how agencies can deliver continuous ATOs by adopting real-time compliance for software supply chains.
Nick Heudecker, Senior Director of Market Strategy at Cribl, details why continuous security compliance hinges on robust data flows and the power of observability.
Stephen Magill, Vice President of Product Innovation at Sonatype, discusses how open-source and DevOps can give agencies the power to modernize, but not without proper controls.
John Phillips, Vice President of Public Sector at Tricentis, explains that a scriptless, no-code approach to test automation improves the efficiency and security of software development.
Jeff Miller, Vice President of Public Sector at NowSecure, details how important innovations in mobile app testing help agencies meet their digital transformation goals.
Read more insights from Carahsoft and our DevSecOps partners when you download the full report:
Read more insights from Carahsoft and our DevSecOps partners when you download the full report: