Innovation in Government® Report
Accelerating Digital Transformation
The pandemic has highlighted the urgency of modernizing government systems and propelled agencies forward on their journey to digital transformation. In a recent survey of FCW readers, 71% of respondents said the pandemic had accelerated their agencies' efforts to modernize IT. A successful digital transformation has certain key elements. Agencies must be able to protect and fully utilize their data, make optimal use of cloud technology, and take advantage of the latest developments in telecommunications.
Those elements are not self-contained, but interlocking and overlapping. Therefore, fitting all the pieces together requires a holistic approach. In a digital-centric government, policymaking and service delivery are driven by data. The customer experience is more satisfying because it has the right balance of security and convenience. Government employees collaborate with one another seamlessly and securely regardless of location. And agencies have agile, intelligent platforms and infrastructure that support innovation in even the most challenging conditions. Achieving that vision is a struggle for many agencies, but there are signs of progress.
As agencies take a more comprehensive approach to modernization, they will make rapid progress on improving public-facing and back-office operations. Learn how that progress will lead to even bigger improvements and the capacity to tackle ever-greater challenges. Read the latest insights from industry thought leaders in digital transformation, including: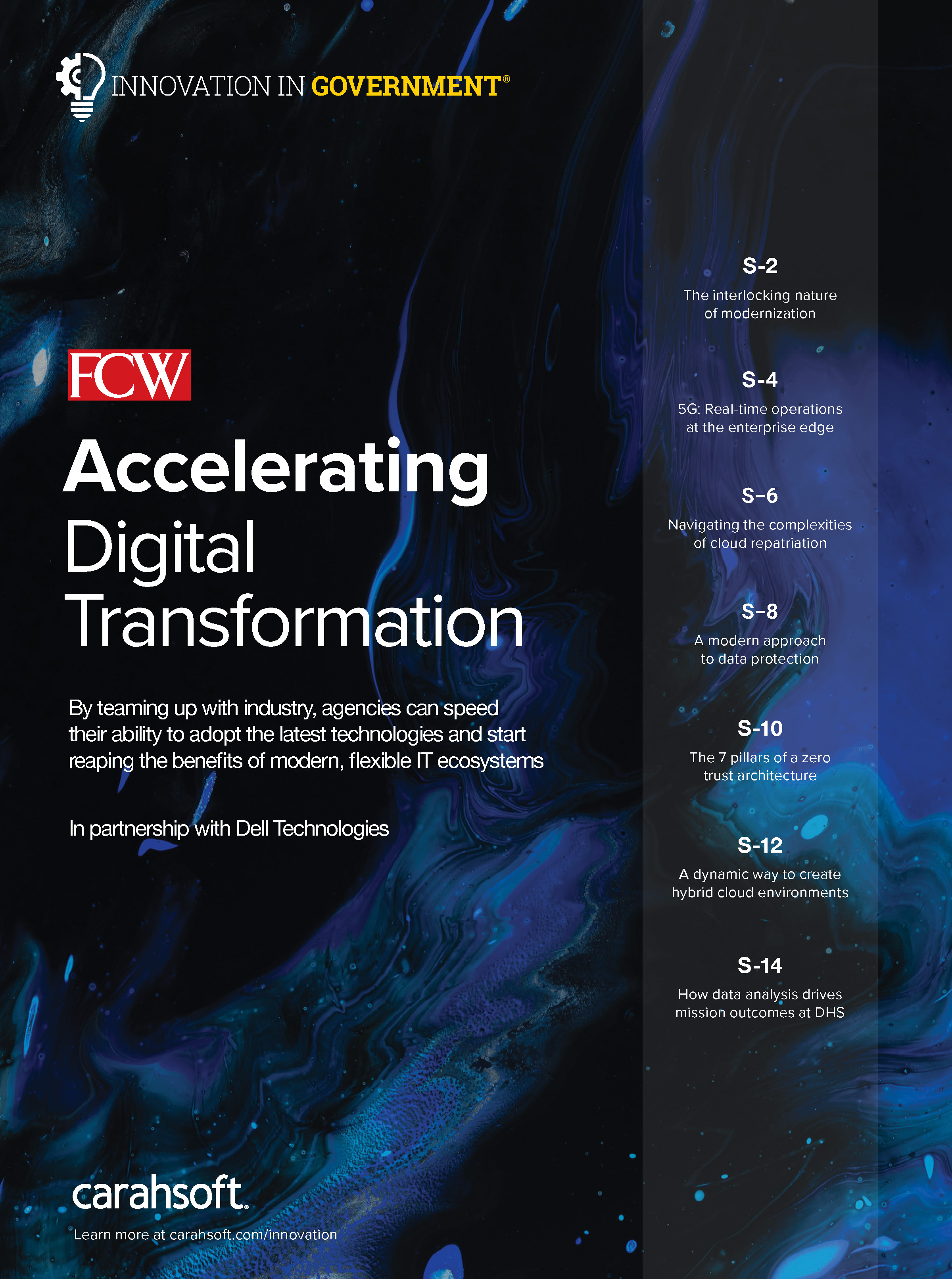 Chris Thomas, Technology Strategist at Dell, explains why, by bringing technology resources closer to the end user, 5G supports key elements of modernization, including cloud and edge computing.
Michael Byrne, Senior Director of Federal Presales at Dell, discusses why determining the optimal placement of workloads, apps and data should be a central element of any agency's broader multi-cloud strategy.
Jason Proctor, Advisory Systems Engineer for Cyber Resilience at Dell, details how agencies can build a robust, comprehensive strategy for achieving cyber resilience by incorporating data isolation and immutability.
Daniel Carroll, Field CTO for Cybersecurity at Dell, discusses how Dell's model helps agencies assess their current cybersecurity framework and achieve a highly secure digital transformation.
Mike Sullivan, Vice President at Dell Financial Services, explains how a flexible, on-demand offering plays an important role in helping agencies manage the cost of digital transformation.
Read more insights from Carahsoft and our digital transformation partners when you download the full report:
Read more insights from Carahsoft and our digital transformation partners when you download the full report: