Innovation in Government® Report
Developing a Customer-First Mindset
Agencies at the Federal, state, and local levels have been working to make their activities more customer-focused for years, but the success in improving customer experience (CX) has been varied and often limited. Despite efforts to improve, Forrester Research's Customer Experience Index reveals that Federal CX quality has risen only 4.6 points on their 100-point scale — from 56.5 to 61.1 — over the last five years, and many agencies' scores haven't increased at all, lagging far behind the private sector. Those agencies that did succeed in rapid improvement are those that have always prioritized and invested in IT modernization.
The pandemic and resulting economic downturn have been a wake-up call to agencies that they can no longer afford to delay their CX initiatives, particularly the move to digital services. For example, many states have adopted chatbots to provide information and help regarding unemployment benefits and pandemic-related assistance. According to Performance.gov — which reports on agencies' efforts to deliver a smarter, leaner and more effective government — agencies continue to improve call center functionality, solicit and incorporate feedback from customers, embed CX into strategic planning and governance, and build omnichannel, fully digital services. These changes have been taking place while agencies simultaneously shifted to telework.
The realization that those challenges won't disappear when the coronavirus subsides is evident in the fact that "Digital Government/ Digital Services" is No. 2 on the National Association of State CIOs' Top 10 Priorities List for 2021 (behind "Cybersecurity and Risk Management"). How can agencies meet and exceed rapidly expanding customer expectations? Read the latest insights from industry thought leaders in customer experience, including: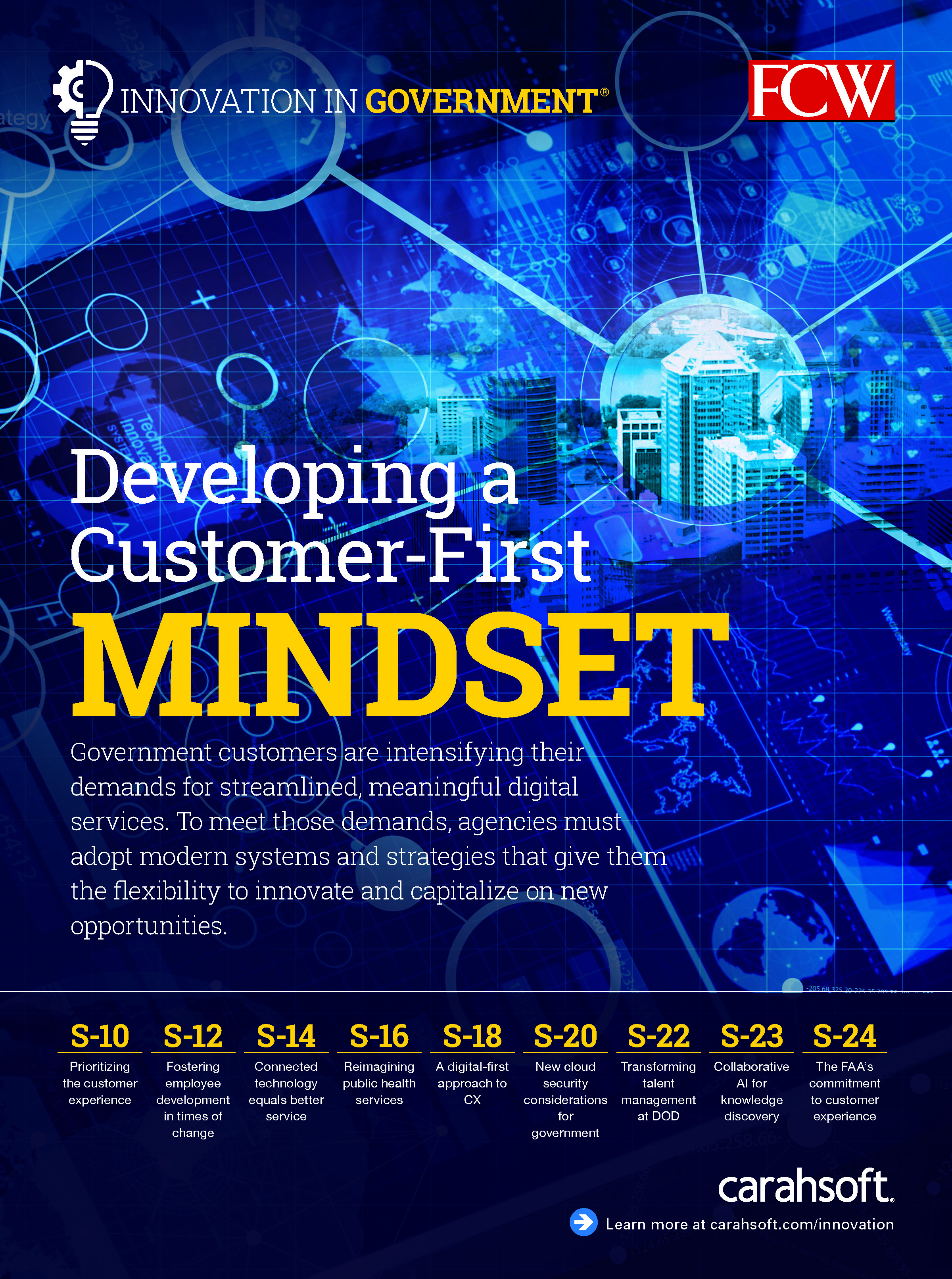 Sarah Franklin, Chief Marketing Officer at Salesforce, explores how technology and a culture of learning are keys to an engaged, highly skilled and successful government workforce.
Kristen Sanders, Regional Vice President of Strategy at Salesforce, and Jennifer Ward, Vice President of Solution Engineering at Salesforce, discuss how an integrated platform enables innovation at scale and fast time to value when transforming to digital service delivery.
Rod Bremby, Industry Executive for Health and Human Services, Global Public Sector at Salesforce, details why as technological limitations disappear, health agencies have the opportunity to explore new possibilities.
Tiffani Bova, Global Customer Growth and Innovation Evangelist at Salesforce, discusses how agencies can simplify and enrich their interactions with citizens through digital engagement.
Mike Rosa, Vice President of Public Sector Security at Salesforce, and Alicia Rosenbaum, Vice President and Associate General Counsel at Salesforce, explain why agencies need to move toward a more robust framework for securing users and data in the cloud.
Greg Brundidge, Vice President at Salesforce, details how a unified system can modernize the experience for military and civilian personnel from recruitment to retention to retirement.
John R. Frank, Vice President, Collaborative AI for Industries at Salesforce, discusses why collaborative AI is revolutionizing the way government users gain insights from unstructured data.
Kristen Baldwin, CIO at the Federal Aviation Administration, discusses how the agency is using technology to adapt to the changing needs of customers and employees.
Read more insights from Carahsoft and our customer experience partners when you download the full report:
Read more insights from Carahsoft and our customer experience partners when you download the full report: