Learn the latest trends in enterprise open source for state and local government
A new survey shows that enterprise open source software is firmly entrenched in commercial computing environments. The Red Hat-sponsored research found that nearly 70 percent of 950 global IT leaders surveyed view enterprise open source as very important or extremely important to their infrastructure software strategies. What's more, almost 60 percent of respondents said they expect to increase their use of enterprise open source over the next 12 months. The model makes sense for states and localities as they modernize — particularly enterprise open source, which wraps business-friendly services around open source software.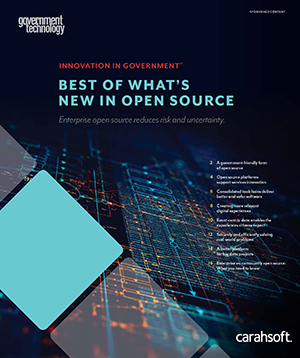 Enterprise open source makes open source adoption more attractive to public sector IT leaders by reducing risk and uncertainty, while delivering lower costs and other benefits.
Organizations across the private and public sectors have taken notice:
20% of organizations view open source as important to their enterprise infrastructure software strategy.
40% of organizations view open source as very important.
29% of organizations view open source as extremely important.
Download the full report to learn how your agency or municipality can take full advantage of the growing momentum behind enterprise open source to reduce risk, combat uncertainty and improve collaboration. Featuring insights from open source leaders at Red Hat, Alfresco, Confluent, GitLab, Liferay and MongoDB.