Learn the latest trends in health and human services for state and local governments and organizations
The COVID-19 crisis is forcing dramatic modernization in the way social safety net programs operate and deliver services to citizens. Driven by urgent social distancing requirements, health and human services (HHS) organizations virtualized an array of activities that traditionally have been performed face to face — everything from doctor visits and client intake meetings to administrative hearings and affordable housing inspections. They also adopted new data-driven technologies, such as analytics dashboards that helped public officials understand coronavirus spread in their communities and artificial intelligence (AI) tools that helped departments cope with surging demand for unemployment insurance and other benefits.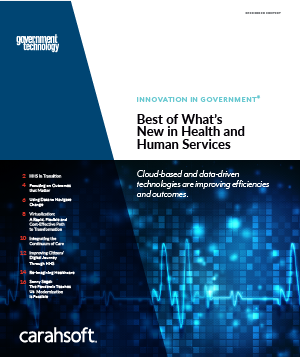 The effectiveness and speed of these cloud, AI and data-driven technology deployments are sparking greater acceptance of cloud-based approaches for broader HHS modernization.
Before the pandemic, these solutions were already a high priority for state and local governments in 2019:
HHS was the 3rd highest use case among counties for cloud-based technology adoption.
HHS was the 2nd highest use case among states for AI technology adoption.
Case management was ranked the 3rd most impactful area for cities to leverage data-driven decision-making.
Download the full report to learn how your organizaton can take full advantage of the growing momentum behind cloud, AI and data-driven technologies to digitize and scale services for citizens and patients in the wake of the COVID-19 response. Featuring insights from health and human services tech leaders at Adobe, Dell Boomi, Microsoft, Salesforce, Tableau and VMware.