Learn the latest trends in government performance and innovation for state and local government
The COVID-19 crisis underscores the growing importance of data analytics to state and local governments as they tackle complex challenges. It also shows how technological improvements are making data-driven insights easier to achieve and share. One lesson learned during the early days of the virus response is that cloud services and user-friendly data tools enable governments to roll out new data and analytic services fast and scale them quickly.
Although the COVID-19 response kicked public sector data analytics efforts into high gear, states and localities have been steadily working to become more data-driven over the past several years. Twenty-eight states now have a chief data officer (CDO), and similar positions are found throughout local government. The rise of the CDO is just one indication of the push among states and localities to use data to improve internal operations, strengthen citizen services, improve safety, and boost transparency and engagement.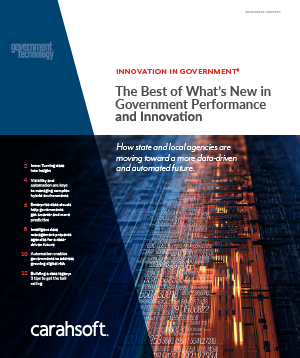 To support these initiatives, a recent GovTech survey found shared technology goals among major cities:
50% of city leaders plan to implement or upgrade big data infrastructure in 2020.
42% of leaders plan to implement or upgrade online performance dashboards.
41% of leaders plan to implement or upgrade predictive analytics.
37% of leaders plan to implement or upgrade AI for cybersecurity.
36% of leaders plan to implement or upgrade AI for infrastructure inspection.
35% of leaders plan to implement or upgrade natural language processing.
Download the full report to learn how your agency or municipality can join the growing focus on data strategies and analytics capabilities to derive new insights, power workflows and better implement emerging technologies. Featuring industry research and insights from performance and innvoation leaders at Cloudera, Informatica, RSA and SolarWinds.