Learn the latest trends in legacy modernization for state and local government
The pandemic changed the risk equation for state and local governments around technology upgrades. In the past, state and local government CIOs had created orderly multi-year plans to push toward modern technologies, carefully weighing numerous factors and often facing pushback from public officials who didn't want to fund updates if the old systems were still chugging along. In 2021 — after a vast shift to remote work, the increase in user-friendly digital services, and the innumerable changes to individual agencies brought on by the coronavirus — the modernization of legacy technology is seen through a new lens.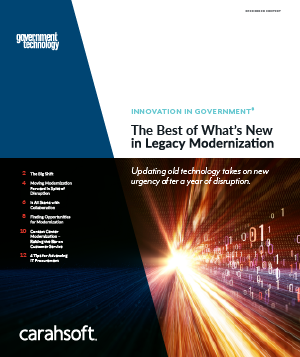 National surveys conducted by CDG during the second half of 2020 reflect growing attention on modernizing systems that support citizen services.
Leadership priorities across levels of government reflect this new awareness:
State governments' #1 priority is expanding, simplifying and/or improving access to services available to citizens and businesses.
City governments' #1 priority is addressing and increasing responsiveness to crises affecting citizens and businesses.
County governments share these priorities as well as expanding information transparency in government.
Download the full report to learn how your agency or municipality can take full advantage of the growing momentum behind legacy modernization to improve citizen experience, increase efficiency, and expand economic development opportunities for citizens and businesses. Featuring insights from modernization leaders at Atlassian, Dell Technologies, Genesys and Red Hat.