Innovation in Government® Report
Agency Best Practices: On the Road to IT Modernization
The COVID-19 pandemic has underscored the importance of a modern IT infrastructure that is resilient, flexible and secure. Months after government workforces first made the transition to remote work, IT managers continue to ensure that those employees can connect to the systems, applications and data they need to do their jobs and provide the services on which the public relies. In addition, the push to digitize government services and operations has gained greater momentum. According to a recent Granicus survey, 61% of officials said they believe COVID-19 has accelerated their agencies' digital transformation. The survey also found that 54% of citizens expect services to be offered online, and 30% expect online services to be easier than non-digital services.
IT modernization affects every aspect of an agency's operations. It involves transforming data centers, eliminating operational silos and creating robust multi-cloud environments that improve the agility, speed and scalability of IT resources. IT modernization also requires rethinking how agencies provide services to the public and how they build and support the teams that manage those resources. By transforming their IT operations, agencies can make better data-driven decisions related to spending, security and services. As a result, they can boost the public's satisfaction with government and increase employee engagement while making more effective use of taxpayer dollars.
Even before the pandemic, the government recognized IT modernization as a priority. The Modernizing Government Technology Act established the Technology Modernization Fund (TMF) to help Federal agencies pursue modernization projects. To this end, the president's fiscal 2020 proposed budget allocates $150 million to the fund, and TMF has supported 10 projects since its founding in 2018.
Given the heightened focus on digital transformation, how can agencies ensure they keep up with this growing momentum while maintaining quality of services and security? Read the latest insights from industry thought leaders in IT modernization, including: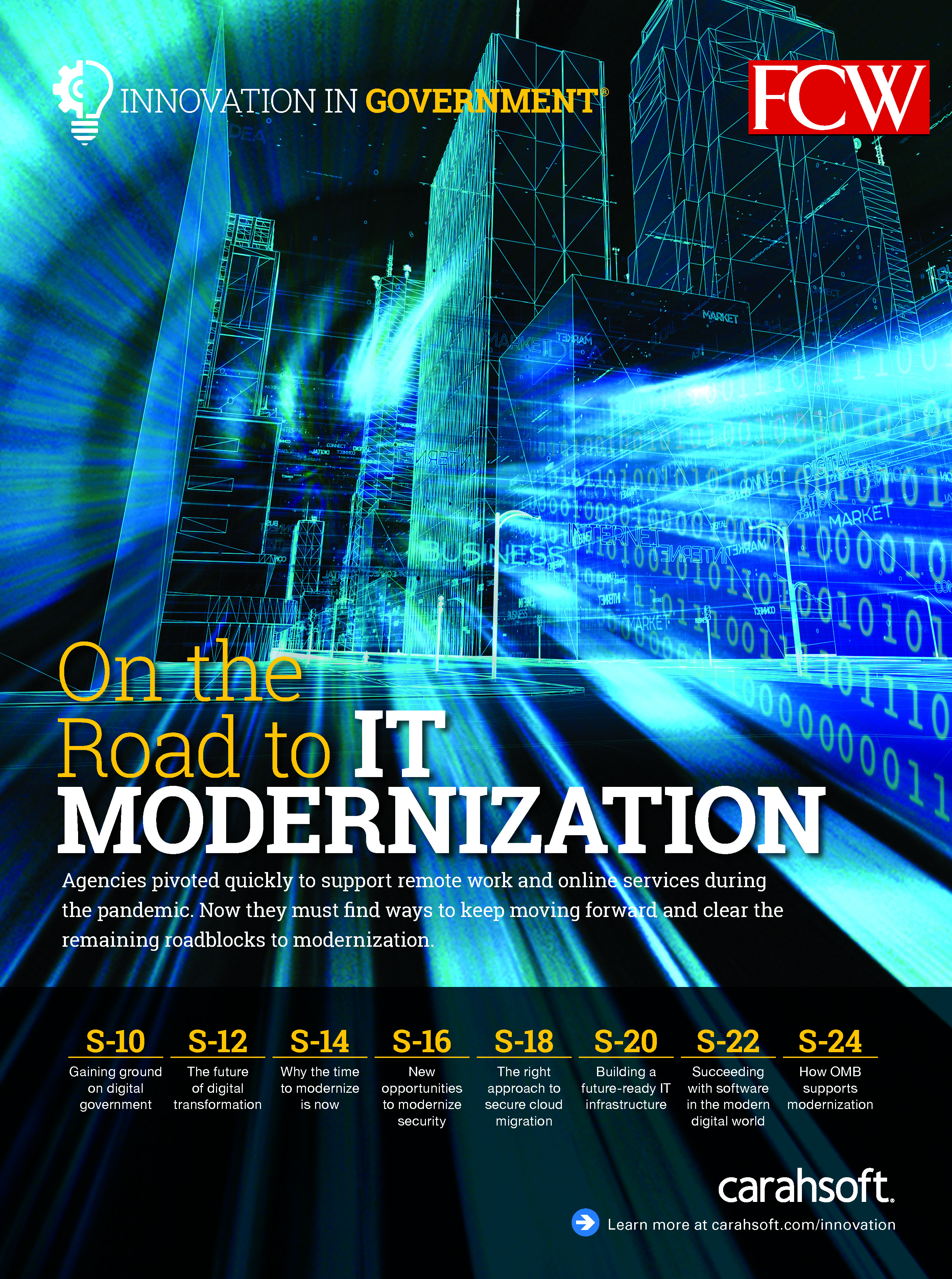 Steve Septoff, Vice President of Federal Sales at Dell Technologies, discusses how the increase in remote work is intensifying the government's push for IT modernization.
Alan Lawrence, Vice President of Federal at Boomi, explains why modernization is not easy, but it is the key to improving security, engagement and outcomes.
Jon Ramsey, CTO at Secureworks, details how IT modernization is opening up innovative ways to tackle cyberthreats.
Pritesh Parekh, Chief Trust and Security Officer at Virtustream, discusses how agencies can streamline modernization by embracing cloud-native solutions and a unified security approach.
Michael Houlihan, Senior Director of the DOD Sales Team at VMware, explains that modernization efforts are gaining momentum as the pandemic spurs progress in key areas.
Mikey McCormack and Aaron Swain, Directors of Strategic Programs at VMware, detail how government agencies should look to Silicon Valley to understand how to build, modernize and deliver software.
Maria Roat, Deputy Administrator and Deputy Federal CIO for the Office of E-Government and IT in the Office of Management and Budget, discusses how OMB develops guidance and works with the CIO Council to support modernization efforts.
Read more insights from Carahsoft and our IT modernization partners when you download the full report.
Read more insights from Carahsoft and our IT Modernization partners when you download the full report.