Innovation in Government® Report
Elevating Government Services with Cloud
The emphasis on providing a government customer experience (CX) that matches or exceeds that of the private sector is not new. In 1993, President Bill Clinton issued an executive order that set customer service standards and measurements. But new advances in technology developments, particularly cloud, are giving agencies an unprecedented ability to understand and enhance all aspects of customer engagement.
The push for better CX has accelerated in recent years due in part to technological advances in cloud technology. Emerging solutions such as artificial intelligence and software as a service thrive on cloud's flexibility and scalability. In addition to saving money, the latest cloud-based tools have profound implications for the employee experience. In fact, improving CX begins with improving the employee experience because engaged employees are the only way to deliver topnotch customer services. In recognition of that fact, two of the four strategies for achieving the Trump administration's cross-agency priority goal on CX focus on employees: 1) rewarding programs and people who demonstrate outstanding service and 2) creating a support and accountability network to ensure sustainable CX improvement across government.
As cloud technologies unlock new capabilities and enable new solutions to traditional obstacles for improved customer experiences, how can agencies ensure they are taking full advantage of these transformative tools? Read the latest insights from industry thought leaders in customer experience, including: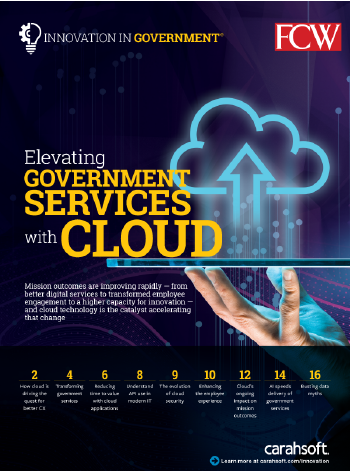 Casey Coleman, Senior Vice President of Global Government Solutions at Salesforce, explains why modern service delivery should focus on citizens, employees and partners.
Rob Stein, Senior Vice President of North America Public Sector at Salesforce, discusses how government agencies can offer more responsive service by leveraging digital best practices.
Shad Imam, Director of Solutions Engineering for MuleSoft, details how governments can create new ways to engage and deliver new services and experiences using APIs as building blocks.
Matt Goodrich, Principal Solutions Engineer, explains how the increasingly robust security of cloud systems helps agencies deliver faster, better customer services.
Jacquannette Hollie, Senior Manager of Solution Engineering at Salesforce, describes how the right tools ensure that employees can engage with customers quickly and effectively on any channel.
Jenny Berarducci, Regional Vice President of Customer Success at Salesforce, discusses the importance of choosing technology with built-in flexibility to meet agency needs now and in the future.
Teresa Smetzer, Vice President of National Security Programs at Salesforce, explains how agencies can use AI to tackle data challenges and its critical role in empowering missions.
Steve Spano, Regional Vice President for Public Sector at Tableau, describes how he has worked to dispel data myths across his career in the U.S. Air Force and now in his current role at Tableau.
Read more insights from Carahsoft and our CX experts when you download the full report.
Read more insights from Carahsoft and our CX experts when you download the full report.