Innovation in Government® Report
The Next Phase of AI in Government
For government, artificial intelligence (AI) promises to streamline operations, facilitate decisionmaking and improve customer services in ways that weren't possible before. Agencies have already begun using machine learning, robotic process automation, the internet of things and other AI tools to improve operations, but in many ways, AI's potential is still untapped. In a recent survey of FCW readers, 72% said their agencies have not begun deploying AI-based tools, and 70% said their teams had no training in data science or AI.
Fortunately, numerous efforts to promote AI are underway across government. Most notably, the White House issued the Executive Order on Maintaining American Leadership in AI last year and announced the American AI Initiative, a national strategy "to sustain and enhance the scientific, technological and economic leadership position of the United States in AI R&D and deployment." To reinforce this momentum, the fiscal 2020 budget provides about $850 million to support the White House's American AI Initiative at four agencies — Energy Department, National Institutes of Health, NIST and National Science Foundation. The Networking and IT Research and Development Program issued a supplement to the budget that added AI as a program component area for the first time and made a non-defense budget request of $973.5 million for AI.
With the increased emphasis and funding around AI and machine learning, how can agencies ensure they are staying ahead of the curve and reaping the benefits these new capabilities make possible? Read the latest insights from industry thought leaders in artificial intelligence, including: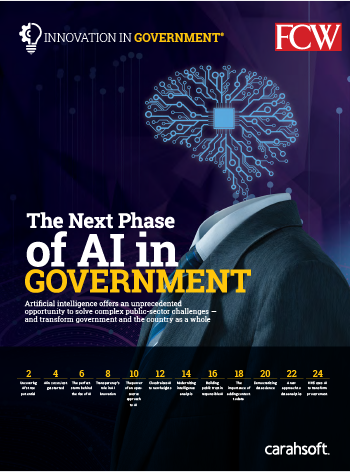 Anthony Robbins, Vice President of Public Sector at NVIDIA, explains how agencies can get started using AI by automating mundane activities as a simple introduction.
Jay Boisseau, AI and HPC Technology Strategist at Dell Technologies, discusses how increased volumes of data, affordable computing power and better algorithms are making AI accessible for government.
David Egts, Chief Technologist for North America Public Sector at Red Hat, explains how open source tools and a light approach to regulation can speed advances in AI.
Shaun Bierweiler, President of Cloudera Government Solutions, details why agencies need flexible, comprehensive data platforms and strategies to achieve the promise of AI.
Susie Adams, CTO of Microsoft, discusses how technology is enabling more robust analysis and sharing of data for better mission outcomes.
Abe Usher, Co-CEO of Black Cape, and Al Di Leonardo, Co-CEO of Black Cape, details how automation technology can help agencies derive insights from data sources too vast for human review.
Matt Tarascio, Chief Data and Analytics Officer at Lockheed Martin, and Chris Benson, Principal AI Strategist at Lockheed Martin, explains why ensuring the ethical, responsible use of AI is crucial to ensuring a bright future for society.
David Wray, CTO of Micro Focus Government Solutions, discusses how the success of AI and machine learning is rooted in the speed, quality and correlation of data.
Chad Cisco, General Manager of Federal at DataRobot, describes how, with automated machine learning, any employee can reap the benefits of AI.
Monica McEwen, Vice President of Public Sector for ThoughtSpot, discusses how search-driven analytics puts the power of AI in the hands of even non- technical employees.
Plus, get exclusive access to FCW's interview with Ken Thomson, BuySmarter Solution Architect at HHS, on how HHS is using artificial intelligence as part of a data-driven initiative to leverage the department's collective purchasing power.
Read more insights from Carahsoft and our artificial intelligence partners when you download the full report.
Read more insights from Carahsoft and our artificial intelligence partners when you download the full report.