Innovation in Government® Report
Designing a Better Digital Experience
When state governments began closing schools and directing Americans to stay home to slow the spread of the coronavirus, people flocked to the web for reliable information about the illness. The CDC alone had nearly 934 million page views in March. Agencies were already under pressure to improve the customer experience (CX), but now they saw just how critical it is to provide information that's easy to find and available in multiple formats.
Agency leaders at the federal, state and local levels are making efforts to improve the digital experience for government customers. For example, the 21st Century Integrated Digital Experience Act requires federal agencies to modernize websites, digitize services and forms, accelerate the use of e-signatures, and improve the overall customer experience. In a recent FCW survey, 61% of participants said their agencies have already begun modernizing websites, 58% are digitizing forms, 51% are implementing e-signatures and 26% have begun providing personalized content.
Far from stalling such efforts, the coronavirus pandemic is accelerating them in many cases. By exposing gaps in agencies' abilities to provide seamless digital experiences, it has forced them to come up with solutions quickly to continue providing vital services even as offices closed and employees worked from home. The need to meet customers where they are has never been more apparent.
Read the latest insights from industry thought leaders in CX, including: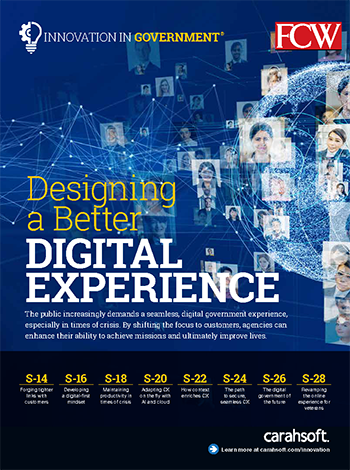 Jonathan Benett, Technical Director of Digital Government Solutions at Adobe, explains how the coronavirus underscores the need for a modernized approach to CX mission resiliency.
Jonathan Alboum, Principal Data Strategist for the Federal Government at ServiceNow, discusses why better asset management and digitized workflows are essential to a seamless customer experience.
David York, Senior Vice President of U.S. Public Sector for Genesys, details how technologies can give agencies the resources they need to provide superior CX during a crisis and during normal times.
Habib Hourani, Solutions Engineer for Okta, examines how deeper insights into customers and employees enable robust, frictionless authentication strategies.
Russell Brodsky, Director of Government Sales at Nuance, discusses how authentication and engagement technologies balance security with experience while reducing costs.
Tahera Zamanzada, Director of Digital Strategy for Global Public Sector at Salesforce, explains how the COVID-19 outbreak has revealed a clear route to better CX and digital transformation through the cloud.
Download the full report to read more insights from Carahsoft and our CX technology partners.
Download the full report to read more insights from Carahsoft and our CX technology partners.