Innovation in Government® Report
Current Cybersecurity Trends: The Next Wave
of Cybersecurity Report
Next-generation technologies such as artificial intelligence, cloud and the internet of things have the potential to revolutionize the government's ability to fulfill its missions. But modern technologies challenge the perimeter-based security that agencies relied on for years when IT resources were on-premises and comparatively easy to contain. Today, mobility reigns, and cloud technology enables government employees to work from anywhere.
Consequently, agencies must continue to protect on-site IT systems while they also find ways to secure user activity that is happening far outside the data center. Meanwhile, adversaries have modernized, too, and the growing sophistication of cyberattacks is making it harder for the government to stay ahead of threats. To avoid security blind spots, agencies must address a long list of challenges, including maintaining visibility into a complex mix of cloud and on-premises systems. In addition, even the best network security technology and policies can be undermined by a careless employee. That's why agency leaders must continue to educate their workforce to recognize and avoid phishing attempts, which have increased during the coronavirus pandemic as adversaries look for ways to steal privileged credentials at a time when even IT teams are working remotely.
Given the disruptions of COVID-19 and persistence of cyberthreats, how can agencies pursue their IT modernization goals and digitize services while maintaining network and data security? Read the latest insights from industry leaders in cybersecurity, including: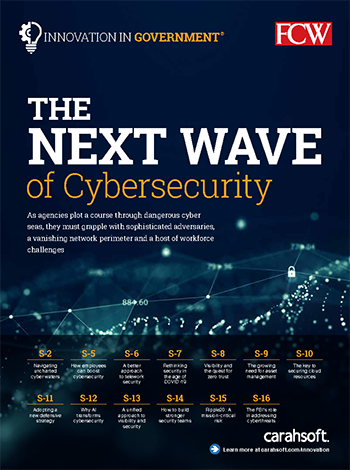 Jim Hansen, Vice President of Products for Application Management at SolarWinds, explains how the right monitoring controls and a well-trained workforce can go a long way toward improving security.
Morey J. Haber, CTO and CISO for BeyondTrust, details why privileged access management and cloud-based security are essential for protecting a remote workforce.
Jim Richberg, Public-Sector Field CISO at Fortinet, discusses why agencies should being preparing now for the next crisis and for looming budget constraints.
Dennis Reilly, Vice President of Public Sector at Gigamon, explains why telework is here to stay, and agencies must adapt with pervasive network visibility and analytics.
Matt Kraning, CTO and Co-Founder of Expanse, details why eliminating blind spots is even more important now that IT resources no longer live in secure enclaves.
David McNeely, Chief Strategy Officer at Centrify, describes how privileged access management rises to the challenge as adversaries increasingly target IT administrators.
Chris Usserman, Principal Security Architect at Infoblox, examines how the playing field is no longer clearly defined and how agencies can revise their playbook.
Tomer Weingarten, Co-Founder and CEO of SentinelOne, discusses how, with the help of AI, cybersecurity can scale up to meet the demands of a changing threat landscape.
Bill Rucker, President of Trustwave Government Solutions, explains why the growing complexity of IT environments and threats demands a single view into all resources.
Steve Moore, Chief Security Strategist at Exabeam, describes how frontline security practitioners can thrive with the help of machine learning and executive sponsors.
Erik Floden, Director of Federal Civilian Agencies at Forescout Technologies, details why a series of vulnerabilities in a common networking stack underscores the need for device visibility.
Read more insights from Carahsoft and our expert cybersecurity trends partners when you download the full report.
Read more insights from Carahsoft and our expert cybersecurity trends partners when you download the full report.