Innovation in Government® Report
Government Cloud Best Practices:
Building a More Secure Cloud
The response to the coronavirus pandemic has demonstrated that agencies can continue to function when most employees are teleworking, and cloud-based technology has enhanced teamwork and productivity. Still, more than half (58%) of respondents to a recent survey of FCW readers said the security of cloud-based technology is a top priority, and 83% said their agencies have strategies for managing cloud security compliance with various standards.
In response to the security challenges raised by the cloud, the federal government has provided myriad foundational documents, guidelines and strategies to help agencies create a strong security posture. Most notably, the Federal Risk and Authorization Management Program (FedRAMP) provides a standardized approach to assessing, authorizing and continuously monitoring government cloud services and products. FedRAMP ensures that agencies have access to cloud technology that meets the government's rigorous standards and has encouraged providers to raise their own standards.
Cloud security best practices are evolving to better fit today's networking realities, and the stage is set to ensure that those changes aren't just functional but are also secure. Read the latest insights from industry experts in government cloud security, including: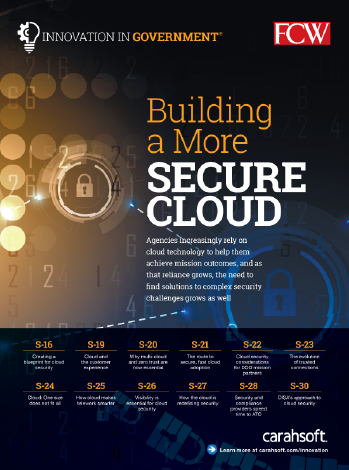 Peter Durand, Vice President of Federal Sector at Acquia, explains how advances in cloud security are boosting the public's willingness to interact with agencies online.
Shannon Sullivan, Director of Federal at Google Cloud, details why open-source technology and partnerships with industry are the keys to flexbile, secure cloud systems.
Rajiv Gupta, Senior Vice President of the Cloud Security Business Unit at McAfee, dicusses how agencies can shift their focus to mission outcomes by taking a cloud-centric approach to security.
Jeffrey Phelan, milCloud® 2.0 Cloud Services Portfolio Lead at GDIT, examines how DoD mission partners benefit from a fit-for-purpose cloud that offers the highest levels of security.
Habib Hourani, Solutions Engineer at Okta, explains how zero trust and adaptive security workflows support more robust cloud environments.
Ted Wagner, Vice President and CISO at SAP National Security Services, discusses why agencies need a blend of people, processes and technology that meets their specific mission needs.
Ignacio Martinez, Vice President of Security, Risk and Compliance for Smartsheet, examines how cloud-based tools are transforming teamwork and employee productivity regardless of location.
Ashok Sankar, Director of Industry Marketing for Public Sector and Education at Splunk, explains why managing a secure cloud requires continuous monitoring of all relevant data for meaningful insights.
Stephen Kovac, Vice President of Global Government for Zscaler, details how TIC 3.0 is allowing agencies to extend security to users beyond the network's perimeter.
Read more insights from Carahsoft's FedRAMP and government cloud security partners when you download the report.
Read more insights from Carahsoft's FedRAMP and government cloud security partners when you download the report.