Innovation in Government® Report
Building a Data-Driven Government with AI
The federal government created the National Security Commission on AI in 2018 to make recommendations on how to advance the development of AI and related technologies for addressing national security and defense needs. The independent, bipartisan group of technologists, national security professionals, business executives and academic leaders released its final report in March. The 756-page report includes dire warnings about the U.S. falling behind adversaries that are already using AI to spread disinformation, hone cyberattacks and gain a technological advantage on the battlefield. It also offers comprehensive recommendations for boosting AI development in the U.S. and emphasizes AI's vast potential for good.
Experts say the use of trustworthy, reliable AI across government is essential to ensuring the public's and agencies' confidence in the technology and its outcomes. In a recent survey of FCW readers, 60% of respondents said the biggest obstacle to using AI was a lack of employees with the right skill set, followed closely by budget constraints (54%) and legacy technology that doesn't support or integrate with AI (42%). Fortunately, government leaders are looking for ways to facilitate AI adoption. In June, the Biden administration established a task force that will create a blueprint for the National AI Research Resource (NAIRR), as specified in the National AI Initiative Act of 2020.
Although it has taken some time for the technology to evolve, industry leaders are now working closely with government agencies to achieve the promise of AI by making tools easier to scale, manage and use in real-world applications. Thanks to those ongoing technological advancements and the growing number of government initiatives, the AI revolution is picking up speed. Read the latest developments and insights from industry thought leaders in AI, including: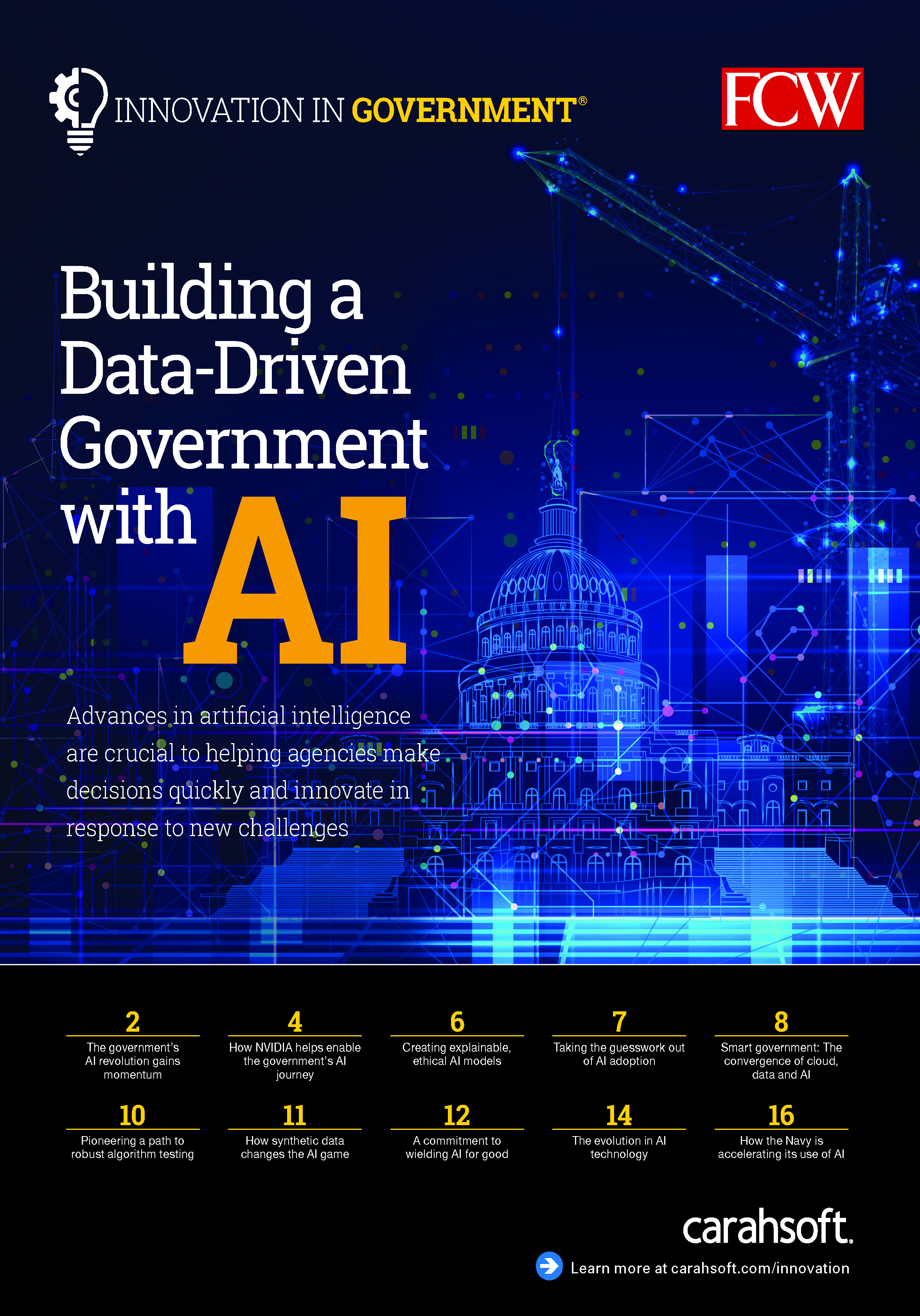 Margaret Amori, Inception Lead for Public Sector at NVIDIA, explains how NVIDIA helps enable the government's AI journey.
Rohit Dhanda, Vice President of Federal at H2O.ai, discusses why trustworthiness hinges on being be able to communicate how algorithms make predictions.
Matt Zeiler, Founder and CEO at Clarifai, explores how agencies should look for an open architecture that connects AI with their existing solutions.
Rob Carey, President at Cloudera Government Solutions, discusses why AI thrives on a robust, scalable cloud infrastructure and access to a wide range of datasets.
Mitchell Sipus, Director of Product at CalypsoAI, explains how machine learning is only valuable for the government if it can be tested, validated and trusted.
Miguel Ferreira, Head of Data Science at CVEDIA, details how synthetic data reduces dependency on real-world data, lowering costs, improving the quality of machine learning models and accelerating time to market.
Justin Taylor, Vice President of AI, Greg Forrest, Director of AI Foundations, and Mike Harasimowicz, Director of AI Innovations at Lockheed Martin, details how ethical AI solutions are the key to achieving this technology's full potential.
Read more insights from Carahsoft and our artificial intelligence partners when you download the full report:
Read more insights from Carahsoft and our artificial intelligence partners when you download the full report: