FNN Insider Guide:
Salesforce AppExchange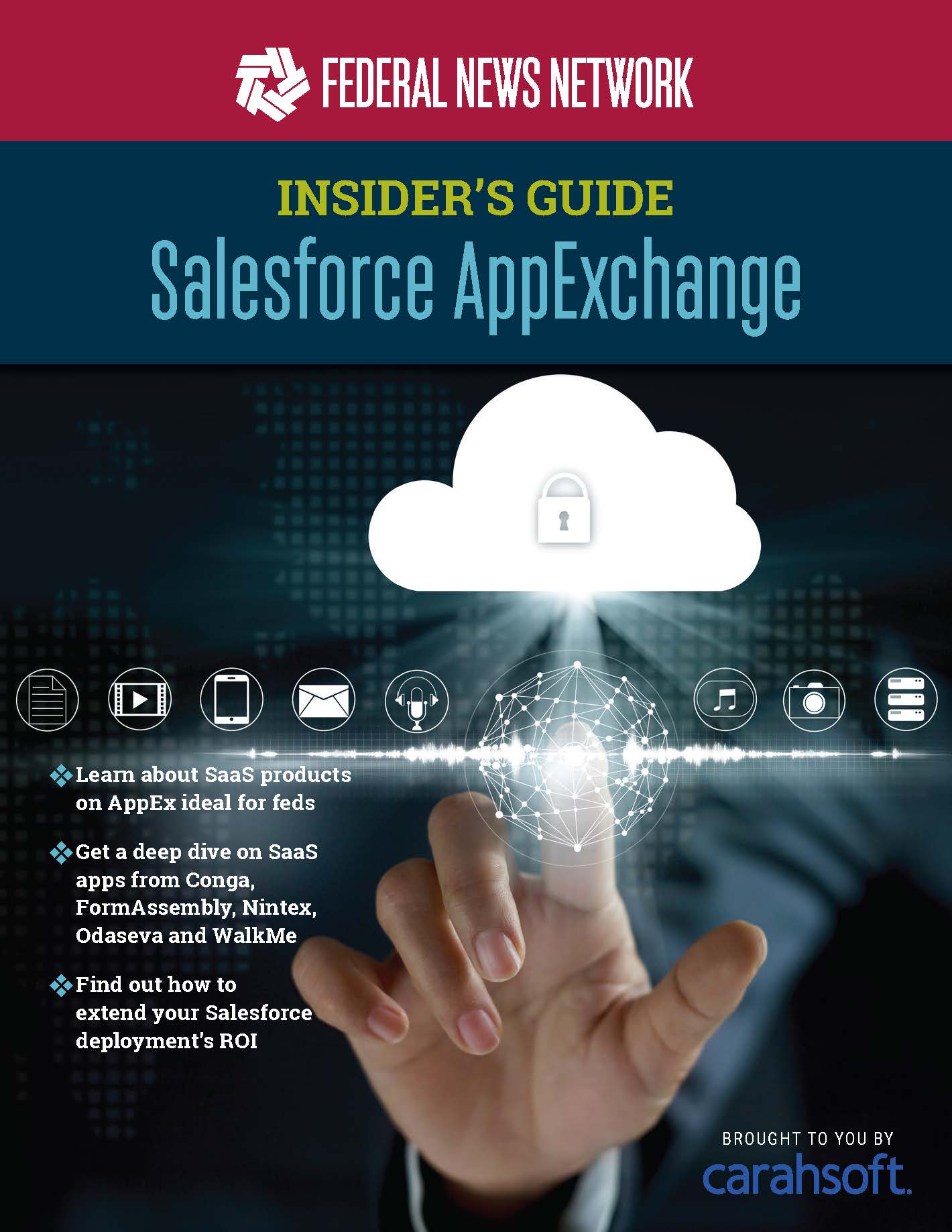 This ebook highlights the potential use of AppExchange products in government, with an in depth look at five SaaS products available from Carahsoft on its curated Cloud & Platform App Marketplace for Government, which features 200-plus AppExchange solutions. You will learn about:
Conga apps for contract and workflow management
FormAssembly for secure online forms
Nintex DocGen for document creation, automation and management
Odaseva for enterprise data protection
WalkMe for no-code digital adoption
In our first Insider's Guide, we're pulling back the curtain on the world's largest cloud app marketplace, the Salesforce AppExchange, to offer a look at what it is, how it works and how it can provide value to agencies in extending their investment in the Salesforce platform.
With the government's increased focus on improving service delivery — particularly public-facing services per the Biden administration executive order on customer service — taking advantage of possible software as a service integrations with the Salesforce customer relationship management platform makes logical sense.
As Salesforce's Tom Guido, who spent much of the first half of his career in government, put it: "If you're taking three years, two years or even one year to get a service in customers' hands, you're missing the mark in a lot of cases. It's about speed now. And because the relationship really starts once the customers have the product in their hands, you can create and close a feedback loop to collect data and understand how what you're doing is changing their experience."
We hope this guide helps give you insights and information to guide you in your journey to modernize and transform government services.
Vanessa Roberts
Editor, Custom Content
Federal News Network
Download the full report to learn how AppExchange apps help organizations increase productivity, eliminate risk and save time.
View and download complete report below.