FNN Expert Edition: Get Ready for Multi-Cloud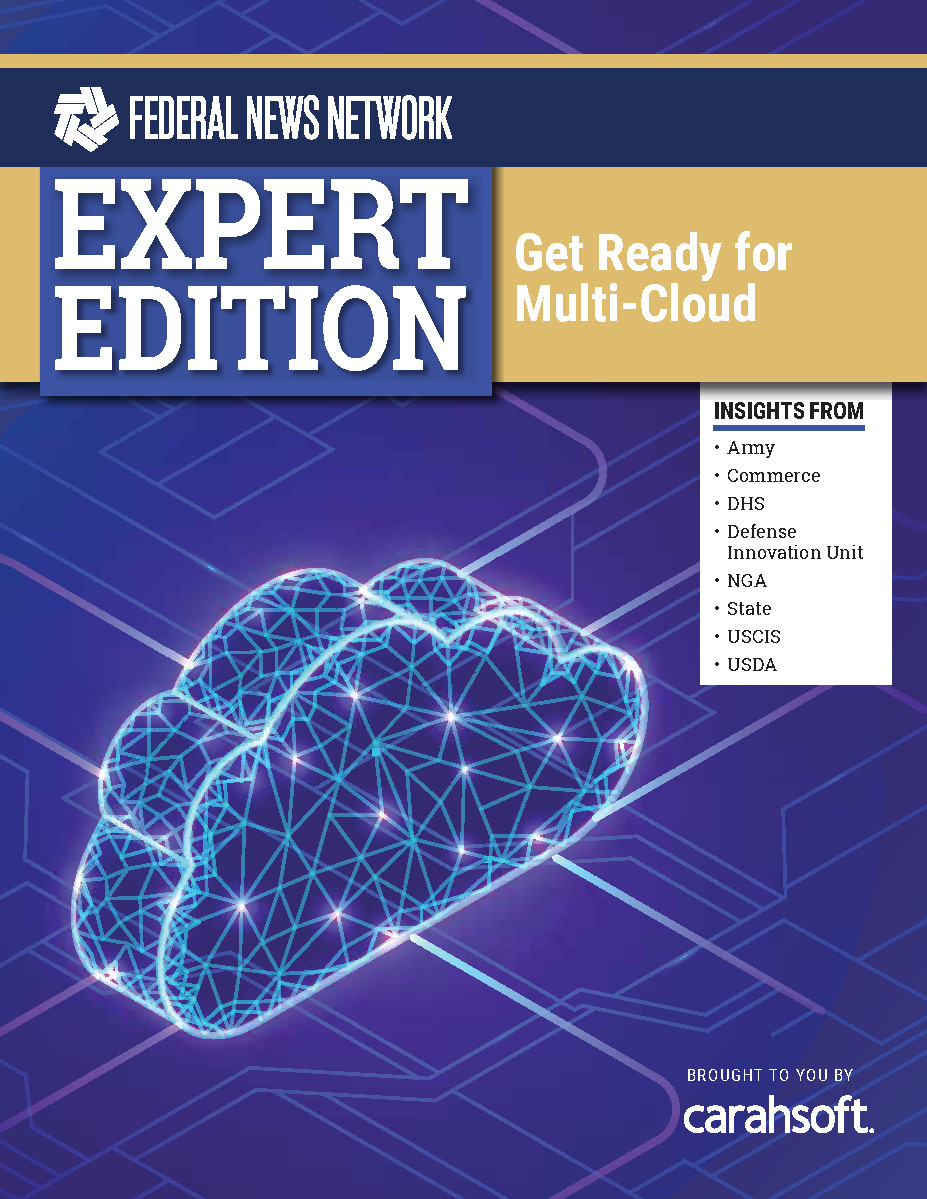 This ebook examines how potential outcomes drive cloud strategies in a post-pandemic world. Featuring insights from government agencies, including:
USDA, Commerce and State see value in multi-cloud adoption
GAO clears key contract as DHS' multi-cloud strategy takes hold
DIU chooses Google Cloud as a creative take on DISA's cloud security model
NGA CIO eyes big shifts for cloud, cybersecurity and machine learning
Army's next phase of cloud includes OCONUS, desktop as a service
While the COVID-19 pandemic drove cloud use forward swiftly over the past two years, how federal leaders talk about cloud use now and the shift to a fully multi-cloud strategy has evolved too during that time. Achieving outcomes and mission objectives takes the spotlight as the chief driver in a government environment that will leverage multiple domains, cloud and on-premises, and be paired with a zero trust security rubric. "Our business units really moved out first because of the exigent need to have business outcomes, and so they got in the cloud first," explains Brian Merrick, director of cloud programs at the State Department. "I think the infrastructure community was a little slower to adopt." At the Defense Department, there's an emphasis on bringing cloud to the tactical edge, which means outside the continental United States. But even then, the focus is on the capabilities that can provide soldiers. DoD wants to be able to analyze and share data at "speed against a thinking adversary, so that we not only gain but maintain decisive decision dominance and we're able to see, understand, decide and act way faster than our adversaries," points out Lt. Gen. John Morrison, deputy chief of staff G6. Google's Alexis Bonnell makes the point succinctly: "Coming to the cloud now is table stakes. What is interesting is what you do once you are cloud-ready." In this ebook, Merrick, Morrison, Bonnell and other federal and industry experts offer insights about what has worked, what has not and how government is evolving from a get-to-the-cloud perspective to a right-cloud-use model. We hope these insights and tips help you as your organization wrestles with similar challenges in the months ahead.

Vanessa Roberts
Editor, Custom Content
Federal News Network
Download the full report to learn how your agency can adopt multi-cloud to improve mission performance, address cybersecurity and increase visibility. Featuring insights from cloud leaders at Databricks, Splunk, Google, Veritas and Red Hat.
View and download complete report below.