Innovation in Government® Report
Harnessing the Power of Cloud Technology
During the pandemic, government employees shifted to remote work, and the demand for digital services skyrocketed. To meet those needs, agencies turned to the cloud. The experience gave them a taste of how essential the technology is to modernization efforts. In a recent survey of FCW readers, 87% of respondents agreed with the statement that cloud technology is a foundation for modernization at their agencies.
The shift to cloud-based systems often requires a corresponding shift in budgets, employee skill sets and IT management techniques. When asked what steps would enable broader use of cloud technology at their agencies, 79% of FCW respondents said revamping their approach to managing a mix of onpremises and cloud-based systems. One solution is hybrid environments, which blend in-house legacy systems with cloud services, while multi-cloud environments are spread across many cloud platforms and providers. Hybrid environments will likely be the reality for most agencies. In a recent NASCIO survey, 89% of respondents said hybrid cloud was their ideal cloud state, which mirrors the 89% who said their states still had mainframe computers.
Determining an optimal cloud strategy can be daunting for agencies. Yet regardless of the path they choose, the end goals are the same: modernization, innovation and better security. In other words, cloud is part of the journey but not the destination. Read the latest insights from industry thought leaders in cloud, including: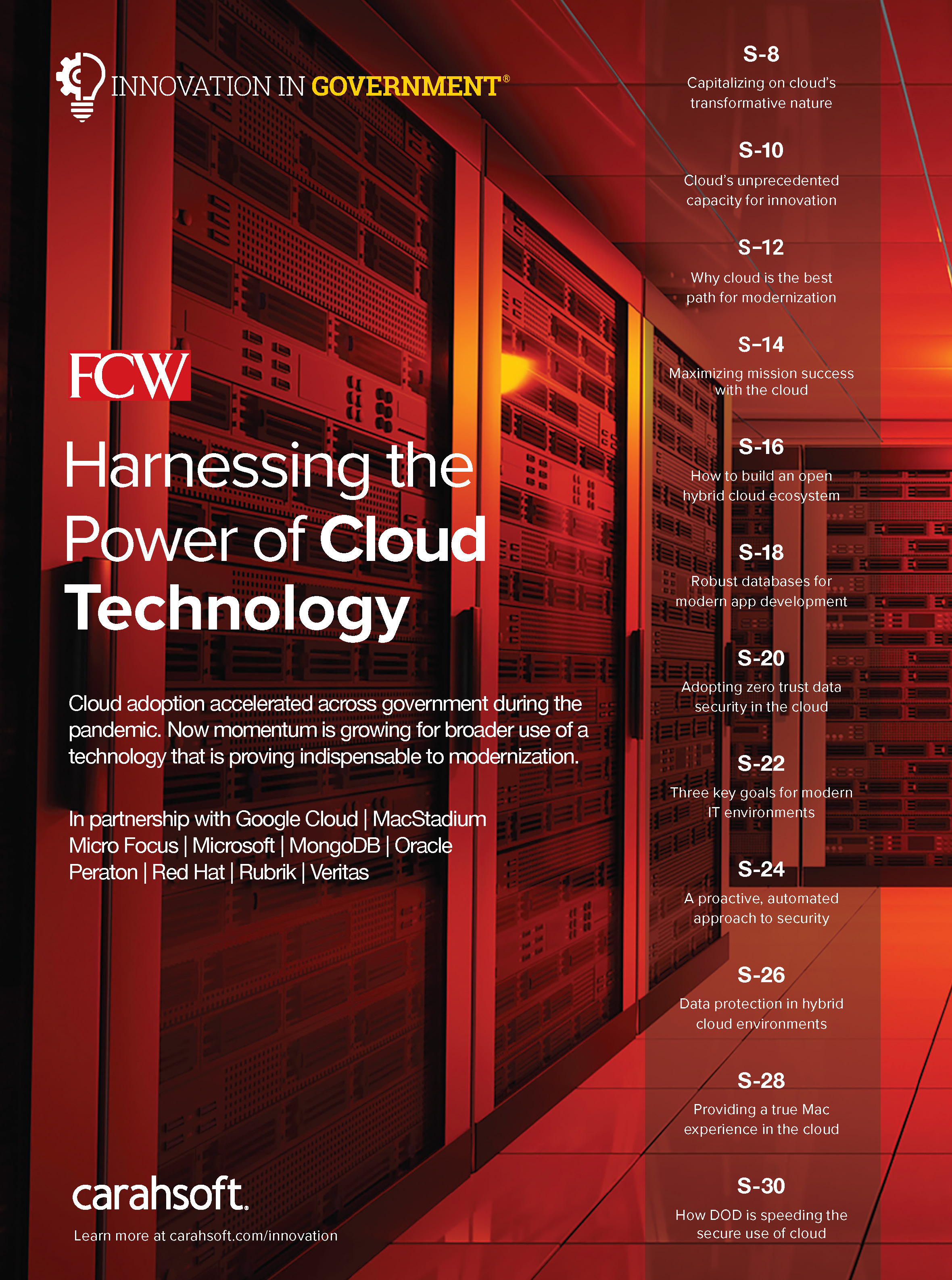 Andy Murphy, Head of Customer Engineering for Federal Civilian Agencies at Google, explains how agencies unlock access to innovation, efficiency and scale in the cloud.
Jason Payne, CTO at Microsoft Federal, discusses how cloud technology enables the cybersecurity, collaboration and advanced analytic services that are essential to mission effectiveness, innovation and success.
Gary Wang, Vice President of Cloud and Application Services at Peraton, and Bob Ferrari, Cloud Architect and Expert on Public Cloud Products for the U.S. Public Sector at Peraton, explore how cloud-based capabilities are transforming how applications, data, security and mission-critical services are delivered.
Tres Vance, North America Cloud GTM Lead at Red Hat, discusses how a cloud center of excellence and enterprise open source software solutions help agencies achieve their modernization goals.
Jennifer Hayes, Sales Director at MongoDB, explains why secure database-as-a-service platforms free agencies to focus on creating innovative apps.
Jared Vichengrad, Vice President and Head of State, Local Government and Education at Rubrik, details how protecting data from intrusions and recovering quickly from an attack are hallmarks of a modern security plan.
Kevin Hansen, Public-Sector CTO at Micro Focus Government Solutions, explains why agility, flexibility and governance are crucial for balancing cloud innovations and mission-critical legacy IT.
James Donlon, Director of Solution Engineering at Oracle, explores how cloud-based tools offer agencies the visibility and security they need to truly modernize.
Mike Malaret, Director of Sales Engineering for Public Sector at Veritas Technologies, details how robust strategies to protect mission-critical data and apps address availability, integrity and resiliency.
Chris Chapman, Senior Vice President and CTO at MacStadium, explains why Mac technology delivered via the cloud provides a rich environment for app development and general office use.
Read more insights from Carahsoft and our cloud partners when you download the full report:
Read more insights from Carahsoft and our cloud partners when you download the full report: