Innovation in Government® Report
The Open Source Revolution in Government
Open source technology accounts for a significant portion of most modern applications, with some estimates going as high as 90%, and it is the foundation of many mainstream technologies. Its strength lies in the fact that a broad spectrum of developers contributes to and continually improves the underlying code, which keeps the software dynamic and responsive to changing needs. In addition, enterprise open source solutions have sprung up to augment the technology's flexibility and innovation with the ongoing support of industry experts. By providing the best of both worlds, such solutions represent a powerful arsenal of tools for addressing the government's most pressing challenges.
In a recent pulse survey of FCW readers, 93% of respondents said they were using open source technology to some degree, with 18% of those respondents saying it's a key component of their agencies' IT systems. Interestingly, 55% of respondents to FCW's survey said open source can be an integral solution for strengthening cybersecurity. That number reflects a positive trend toward a better understanding of open source's inherent security. The power of enterprise open source technologies lies in a combination of crowdsourced talent and industry expertise. As agencies expand their use of such technologies, they maximize their ability to achieve mission success in the most secure, agile and innovative way possible.
Read the latest insights
from industry thought leaders in open source, including: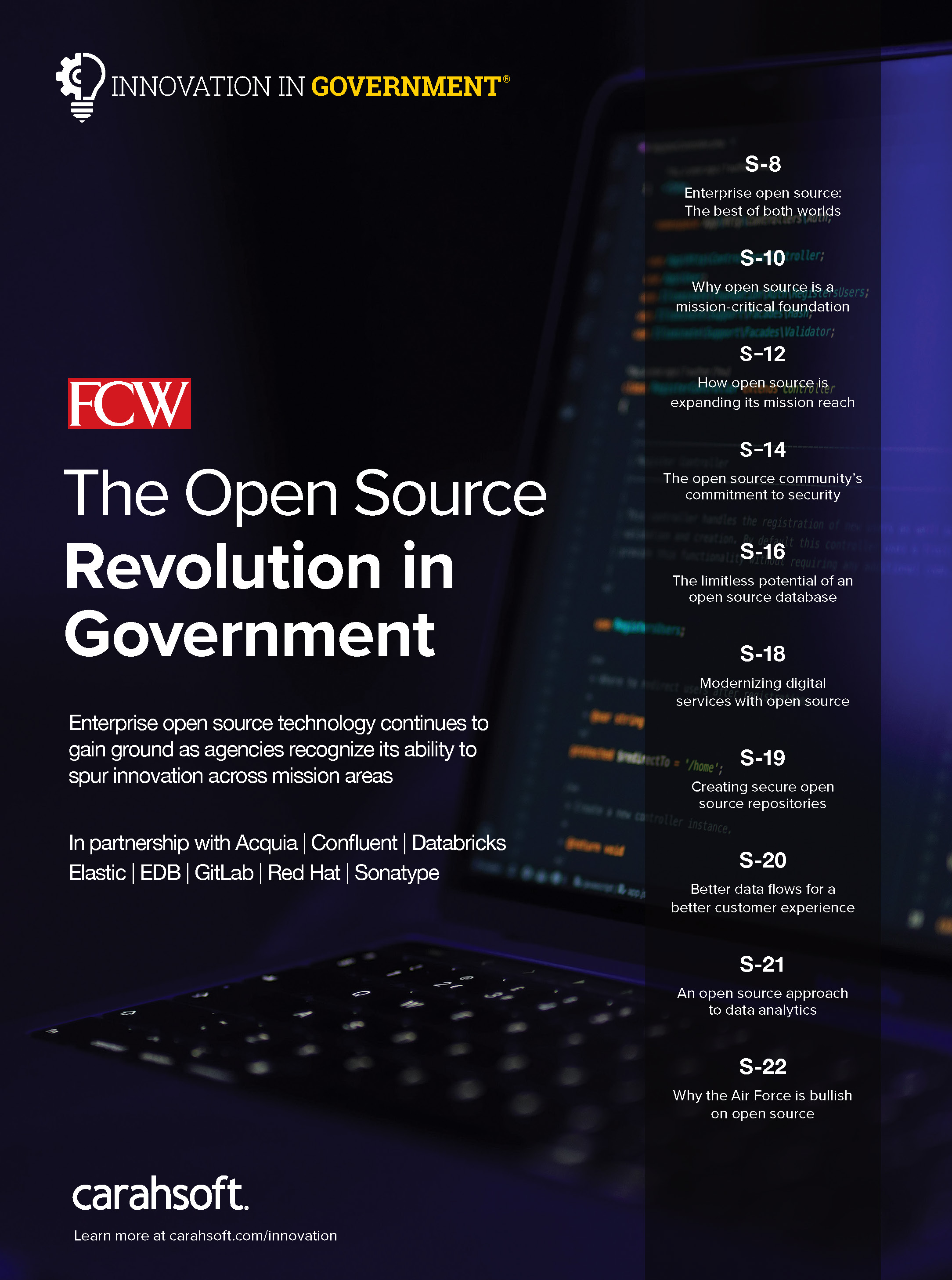 Christopher Smith, Vice President and General Manager of the North America Public Sector at Red Hat, explains why open source's inherent transparency, portability and innovation have made it a key driver of the digital revolution.
David Erickson, Senior Director of Solutions Architecture at Elastic, discusses how open source technologies enable agencies to control and query their own data for faster insights and decisions.
Joel Krooswyk, Federal CTO at GitLab, details how contributors' pride in their code has led to robust processes for ensuring the integrity of open source components.
Jeremy A. Wilson, CTO of the North America Public Sector at EDB, discusses how a scalable, reliable and secure database like Postgres plays an integral role in digital transformation.
Tami Pearlstein, Senior Product Marketing Manager at Acquia, explains how an open source platform helps agencies deliver digital experiences that meet their constituents' current and future needs.
Maury Cupitt, Regional Vice President of Sales Engineering at Sonatype, details why visibility and automation allow agencies to identify and mitigate the risks of open source software components.
Jason Schick, General Manager of Confluent US Public Sector, explores how, by capturing data into streams of real-time events, agencies boost their ability to provide responsive digital services.
Howard Levenson, Regional Vice President at Databricks, details how, thanks to advances in storage and analysis, agencies can harness all their data for more effective decision-making.
Read more insights from Carahsoft and our open source partners when you download the full report:
Read more insights from Carahsoft and our open source partners when you download the full report: