Innovation in Government® Report
Future-Proofing Digital Service Delivery
When the COVID-19 pandemic started, the government rushed to offer more digital services, and as the public health crisis stretched into a third year, agencies are relying on those services more than ever. Like their private-sector counterparts, they have come to recognize that digital service delivery is the key to solving a range of challenges.
Although the pandemic exposed the weaknesses of some government IT systems, it also showed that agencies can move fast when they need to. In the past two years, all levels of government have made progress in adopting new customer-centric services and strategies, and now they must maintain that momentum and treat digital service delivery as the new normal. That realization is clear at the highest levels of government. In December 2021, President Joe Biden issued the "Executive Order on Transforming Federal Customer Experience and Service Delivery to Rebuild Trust in Government," which states that "as the United States daces critical challenges, including recovering from a global pandemic, promoting prosperity and economic growth, advancing equity, and tackling the climate crisis, the needs of the people of the United States, informed by, in particular, an understanding of how they experience government, should drive priorities for service delivery improvements."
Digital services are not static. Instead, agencies must continuously introduce innovations and improvements based on customer needs. Read the latest insights from industry thought leaders in digital transformation, including: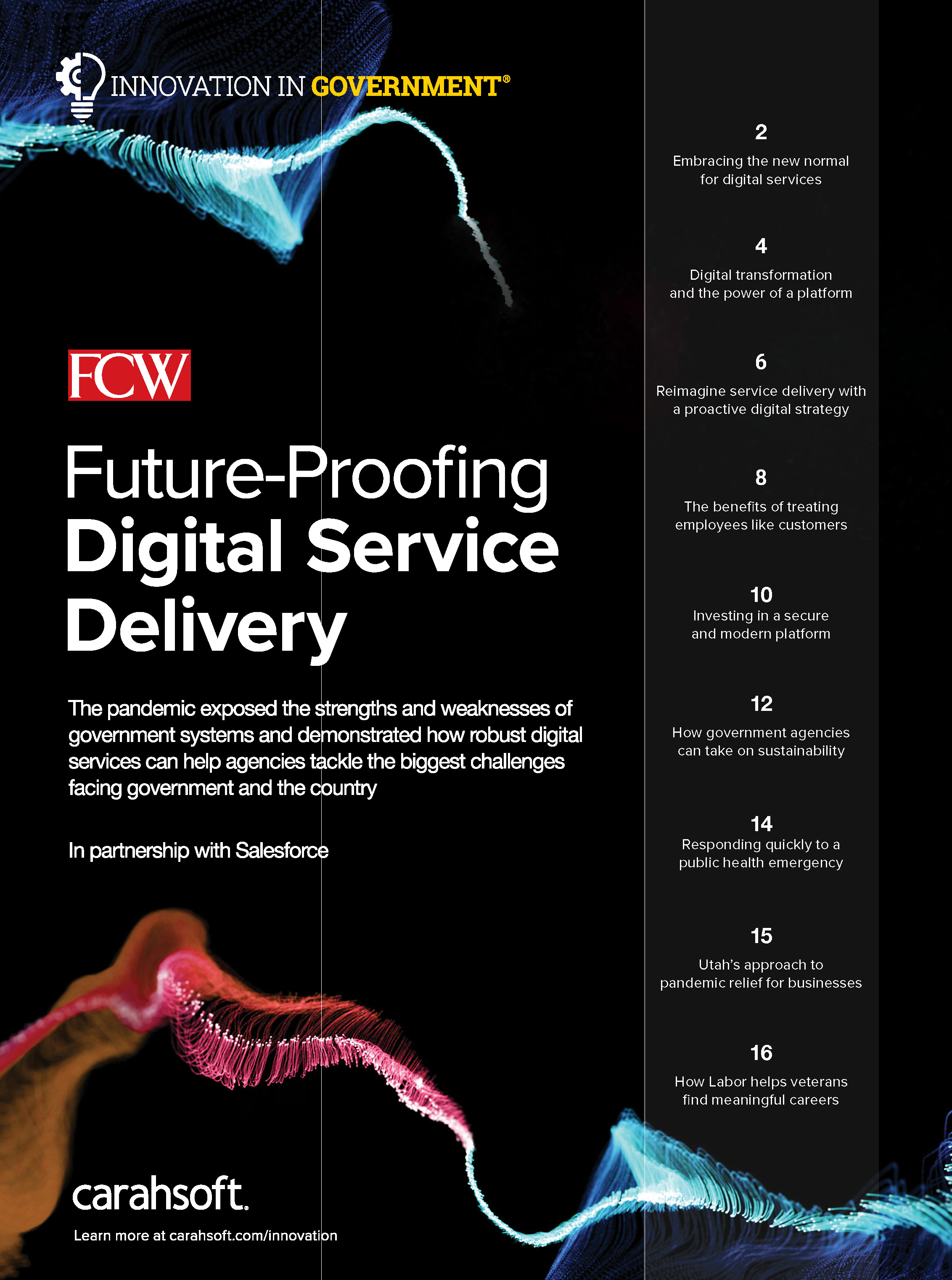 Dave Rey, President for the Global Public Sector at Salesforce, explains how agencies can use scalable technology to drive impact.
Nasi Jazayeri, Senior Vice President of Energy and Utilities, and Mia Jordan, Digital Transformation Executive at Salesforce, discuss how agencies can be intentional abut providing extraordinary customer and employee experiences.
Tahera Zamanzada, Director of Digital Strategy for Global Public Sector at Salesforce, details how agencies can hire and retain tech-savvy employees by modernizing their HR systems.
Paul Tatum, Executive Vice President of Global Public Sector at Salesforce, discusses how IT modernization demands an optimal blend of security, infrastructure and continuous innovation.
Hugh Gamble, Vice President for Federal Government Affairs at Salesforce, explains how innovative efforts to address climate change can be easily incorporated into modernization initiatives.
Courtney Hawkins, Health and Human Services Industry Executive at Salesforce, explores the need for speed in providing government services.
Kori Ann Edwards, Managing Director at Utah Governor's Office of Economic Opportunity, discusses how Go Utah helped businesses respond to the pandemic.
Read more insights from Carahsoft and our digital service delivery partners when you download the full report:
Read more insights from Carahsoft and our digital service delivery partners when you download the full report: