Innovation in Government® Report
The Ongoing Quest for Cybersecurity
Government agencies were already under pressure to modernize their cybersecurity strategies before the pandemic hit, and as workplaces closed and government employees struggled to access data and systems from makeshift home offices, the cybersecurity risks grew. The use of virtual private networks in the U.S. increased to match the early spike in COVID-19 cases, rising 124% in the two weeks from March 8 to March 22, 2020, according to Statista. Around the same time, the Cybersecurity and Infrastructure Security Agency (CISA) issued an alert titled "Enterprise VPN Security," which offered both warnings and guidance on how to handle the surge in usage.
With so many employees logging in remotely, agencies found that they had to shift their focus from securing a welldefined perimeter to securing the data that fuels government operations. In a recent survey of FCW readers, protecting data topped the list of cybersecurity priorities, with 75% of respondents citing it. In response to such concerns, CISA released its Ransomware Guide in September 2020. And in May, President Joe Biden mandated that agencies adopt zero trust in his Executive Order on Improving the Nation's Cybersecurity, and the National Security Agency released a paper a few months ahead of that mandate titled "Embracing a Zero Trust Security Model."
How can agencies navigate quickly evolving Federal guidance, cyber threats, and perimeters?
Read the latest insights from industry thought leaders in cybersecurity, including: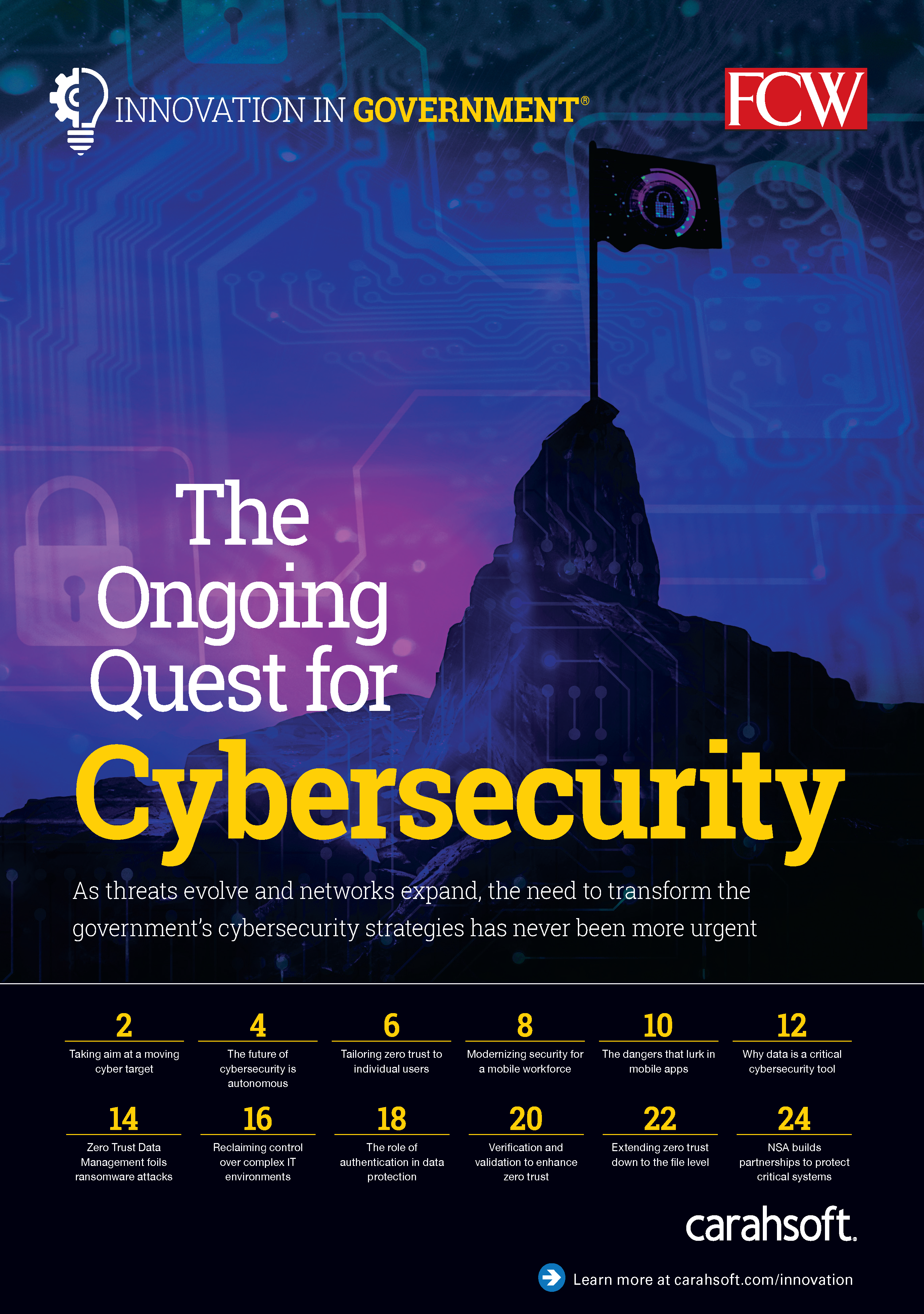 Nick Warner, Chief Operating Officer at SentinelOne, explores how AI can counter an attack faster than humans — and tip the scales back to the side of network defenders.
Sean Berg, President of Global Governments and Critical Infrastructure at Forcepoint, discusses how, by understanding normal behavior, agencies can develop more granular cybersecurity strategies and control.
Brian Robison, Vice President of Solutions Strategy and Chief Evangelist at BlackBerry, details why agencies need to redirect their security efforts to keep pace with the changes and movements of the workforcey.
Brian Reed, Chief Mobility Officer at NowSecure, explores how most agencies are overlooking a significant source of threats to their employees and data.
Carolyn Duby, Field CTO and Cybersecurity Lead at Cloudera, explains that AI-powered analysis of system data can help agencies strengthen their response to cyberthreats.
Jeffrey Phelan, Public-Sector CTO at Rubrik, explains how, by following certain best practices, agencies can ensure their data is secure and instantly available.
Brandon Shopp, Group Vice President of Product at SolarWinds, explores how we can expect to see a mixed workforce in the future as the public and private sectors adapt to allowing people to work from wherever they happen to be.
Bill Becker, Vice President of Product Management at Thales TCT, discusses how agencies are shifting from defending a network perimeter to making risk-based decisions about access.
Kevin Kuhls, Technical Solutions Architect at Forward Networks, explains why protecting government systems in today's ever-evolving threat landscape requires agencies to maintain a deep understanding of their networks and the efficacy of their zero trust architecture.
Michael Hylton, Senior Director of Government Sales at OPSWAT, details why agencies should assume users, devices and even files are malicious until proven otherwise.
Read more insights from Carahsoft and our cybersecurity partners when you download the full report:
Read more insights from Carahsoft and our cybersecurity partners when you download the full report: