Innovation in Government® Report
Digitally Transforming the Customer Experience
The federal government first sharpened its focus on efforts to digitally transform customer experience (CX) beginning in 2018, when enhancing CX became a cross-agency priority goal and the 21st Century Integrated Digital Experience Act (IDEA) was signed into law. That's also the year that 100% of public-sector respondents to an IDC survey said digitally transforming their organizations was a top priority. Then COVID-19 struck and reinforced the vital role that digital services play in ensuring the health and well-being of our country and the continuity of business and daily life. People turned in droves to websites, contact centers and other digital resources, often overwhelming agencies that were technologically unprepared for such an influx.
Modernizing behind-the-scenes functions is a crucial aspect of digital transformation and CX. Agencies need to enhance their understanding of customers so they can make better decisions about delivering services and providing important information. Agencies must also be able to build digital services quickly without compromising quality or security. And because engaged employees are essential to the delivery of government services, agencies must make sure employees have the technology and support they need to do their jobs.
The requirements of the 21st Century IDEA set the stage for agencies to meet and even exceed those goals. The pandemic demonstrated that providing a robust, digital experience for all customers is not optional, it's essential — and agencies at all levels of government are rising to the task. Read the latest insights from industry thought leaders in CX, including: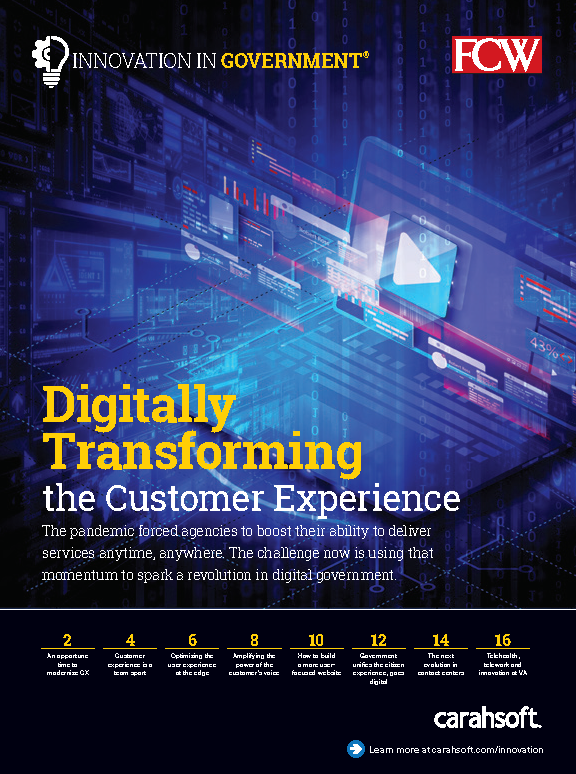 Jonathan Benett, Technical Director of Government Solutions at Adobe, explores a new vision and strategy for improving CX.
Micah Maryn, Senior Solutions Engineer at Akamai Technologies, explains how customers and employees can benefit from the performance and security boost provided by edge computing.
Patrick Moore, Vice President for Business Development at Granicus, describes how the pandemic has revealed that modernizing CX is not about technology but about a change in mindset.
Kale Fluharty, Director of Federal at Liferay, explains how with the right platform, agencies can easily comply with mandates for modernizing internal and external websites.
Thomas Saracene, Senior Director of Digital Transformation for the Global Public Sector at Salesforce, describes how customer-centric thinking is not new, but the pandemic has given government agencies a newfound impetus to act.
James Ward, Vice President of Regulated Industries at Talkdesk, explores how cloud-based technology powered by advanced analytics and AI improves the experience for customers and agents.
Read more insights from Carahsoft and our CX partners when you download the full report:
Read more insights from Carahsoft and our CX partners when you download the full report: