Innovation in Government® Report
Maximizing the Benefits of Multi-Cloud
The government's approach to cloud technology has changed dramatically in the years between the 2010 Federal Cloud Computing Strategy, known as Cloud First, and the 2019 Cloud Smart Strategy. The first policy pushed agencies to consider cloud technologies before others, while the second offers actionable advice on how to deploy the technology.
Today 81% of federal agencies use more than one cloud platform, according to a MeriTalk survey. Because of its inherent flexibility and scalability, cloud technology played a key role in agencies' response to the pandemic and their ability to shift employees to remote work. Now government leaders recognize that multi-cloud environments are crucial for ensuring resiliency during a crisis. The Cloud Smart Strategy explicitly references hybrid and multi-cloud environments as essential tools for improving mission outcomes and service delivery. But despite the benefits of multi-cloud environments, they can present management challenges for many agencies.
Now that cloud technology has become indispensable to government organizations, how can agencies navigate its challenges while maximizing its benefits? Read the latest insights from industry thought leaders in cloud, including: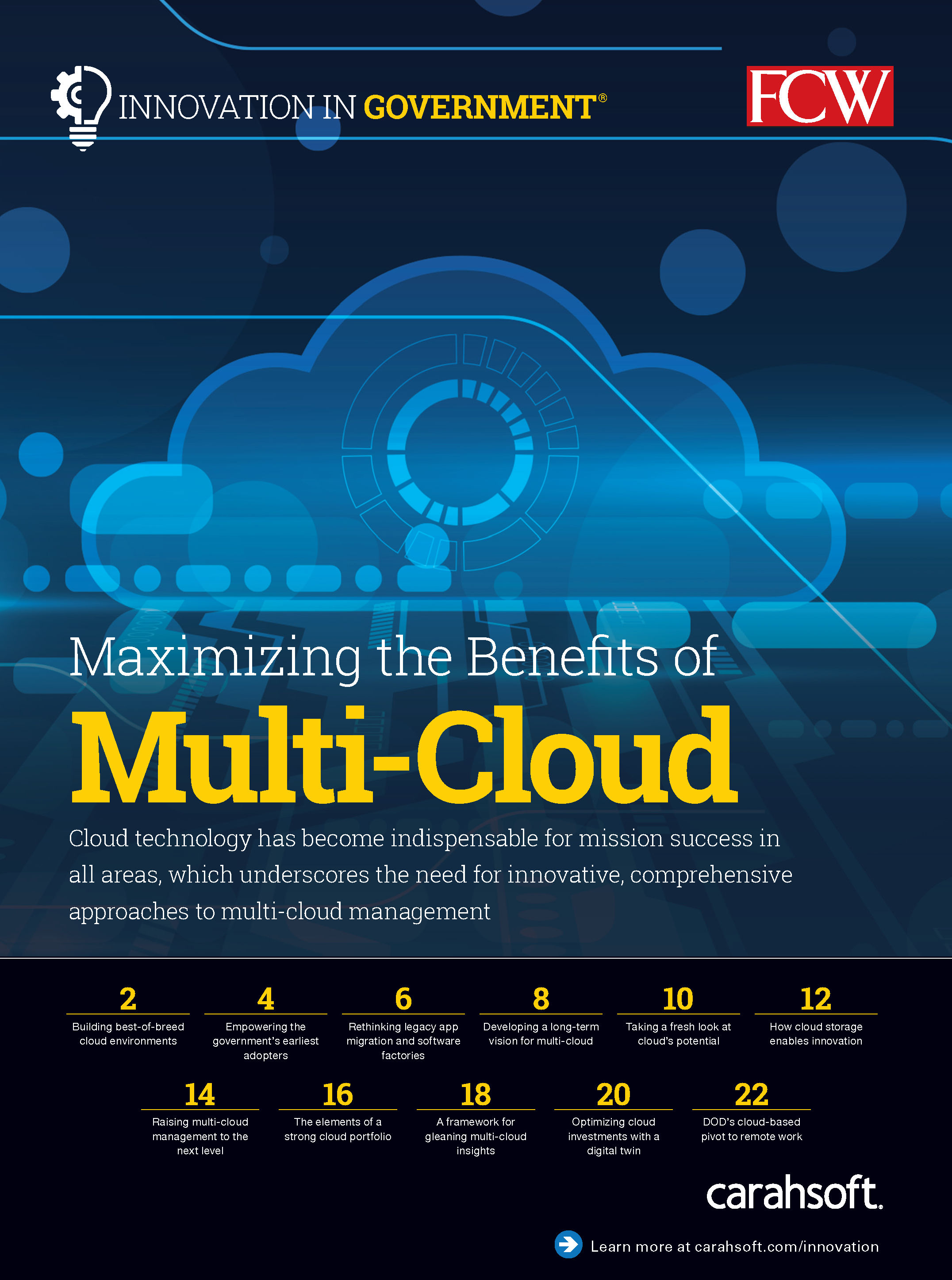 Sean Maday, Cloud Engineering Manager at Google, explains why, to fully experience multi-cloud's benefits, agencies must support the innovators in their ranks.
David Wray, Public-Sector CTO, and Kevin Hansen, CTO for Alliances and Partner, from MFGS, discuss how a deeper understanding of legacy apps and custom software leads to success and predictable results.
Brandon Shopp, Group Vice President of Product at SolarWinds, details why rapidly changing cloud environments require visibility and strategic, deep-rooted partnerships.
Jason Payne, CTO of Microsoft Federal, discusses how, as the need for resiliency, agility and cybersecurity grows, so does the reality of multi-cloud and hybrid systems.
David Bolandg, Senior Director of Product Marketing at Wasabi Technologies, explains how cloud-based storage has evolved to rival the security and performance of on-premises systems.
Patrick Thomas,Cloud Technologist at Dell Technologies, details how agencies have the opportunity to mature their approach to deploying and funding cloud environments.
Christopher Radich, Regional Vice President of Public-Sector Digital Strategy at Salesforce, explains why agencies need to build a targeted mix of as-a-service offerings and move away from custom code.
Bryan Paget, Chief Strategy Officer at SAP National Security Services, discusses how the right monitoring approach ensures that agencies reap the rewards of multi-cloud environments.
Scot Wilson, Technical Solutions Architect at Forward Networks, details how the technology transforms the efficiency and security of hybrid and multi-cloud systems.
Read more insights from Carahsoft and our cloud partners when you download the full report:
Read more insights from Carahsoft and our cloud partners when you download the full report: