Innovation in Government® Report
Teaming Up on Emerging Technologies
In recent years, agencies' growing need for IT modernization has prompted their biggest suppliers — federal systems integrators (FSIs) — to look for innovative ways to meet that need. FSIs' deep working knowledge of government operations gives them a distinct advantage, but to provide all the expertise an agency needs on a contract, FSIs have always partnered with subcontractors. Now they are broadening their reach by seeking out cutting-edge companies that can help them develop solutions that incorporate the latest innovations in technology and strategy.
Those "greater than the sum of their parts" solutions have a profound impact on agencies' ability to meet mission-critical demands in a wide range of areas. In a recent survey of FCW readers, only 19% said they always know about the latest technologies. Adopting those technologies requires acquisition processes that are fast and flexible. 75% of respondents said their agencies rely on FSIs for complex IT projects. Many agencies are turning to agile methodologies, either on their own or with contractors, to develop and deliver solutions incrementally rather than taking years to launch a complete system.
Although the need for FSIs will continue, the demands that agencies place on them are growing more complex. How can FSIs continue to meet these needs by partnering with innovative tech companies and small businesses? Read the latest insights from industry thought leaders in emerging technology, including: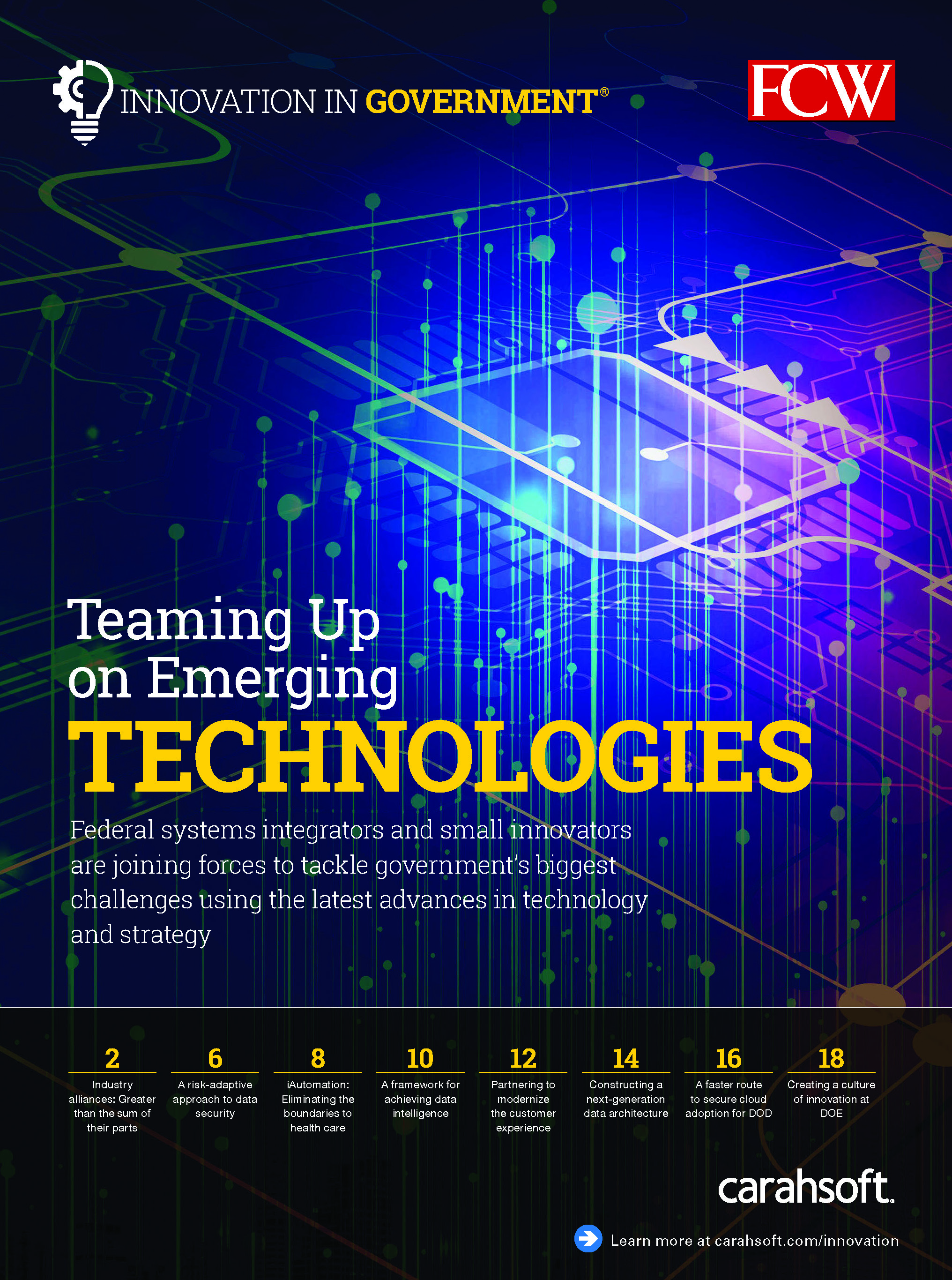 Joe Perrino, Vice President of Civilian Sales at Cloudera, and Julian Zottl, CTO of Cyber Protection Solutions for Raytheon Intelligence & Space's platform combines zero trust protection with plug-and-play analytics.
Shane McNamee, M.D., Chief Medical Information Officer at Perspecta, and Ben Cushing, Director for Federal Health and Science at Red Hat, explain why Perspecta and Red Hat have joined forces to achieve an open-source, standards-first vision of a patient-centric health system.
Aileen Black, Senior Vice President for Public Sector at Collibra, and Mike Baylor, Vice President at Lockheed Martin, discuss how Collibra and Lockheed Martin are becoming more data-driven to support agencies' ability to do the same.
Anto Tossounian, Vice President of Solution Consulting at ServiceNow, and Brian Fogg, Vice President for Federal Civilian at General Dynamics IT, explain why a GDIT/ServiceNow alliance helps agencies focus on delivering superior digital services.
Nicholas Speece, Chief Federal Technologist at Snowflake, and Vishal Kapur, Principal for Strategy and Analytics at Deloitte Consulting LLP, detail how an alliance between Snowflake and Deloitte eases agencies' migration to cloud-based data and analytics
Bill Rowan, Vice President for Federal Sales at VMware, and Brian Whitenight, Partner Accounts Director for milCloud 2.0 at General Dynamics IT, explain why VMware technology is simplifying the move to DISA's milCloud 2.0 for defense agencies.
Read more insights from Carahsoft and our emerging technology partners when you download the full report.
Read more insights from Carahsoft and our emerging technology partners when you download the full report: