Innovation in Government® Report
2020 Year in Review
2020 was a year defined by monumental shifts across the world in response to the COVID-19 pandemic, including a complete reorientation of personal and professional lives. In the U.S. public sector, Federal, state and local governments moved with lightning speed to equip large swaths of their workforces to telework and implemented many new processes to support services and missions remotely. Even as some agencies have restored in-person formats and others evaluate their return to the office, the need for robust IT infrastructure to support remote work will remain for the foreseeable future.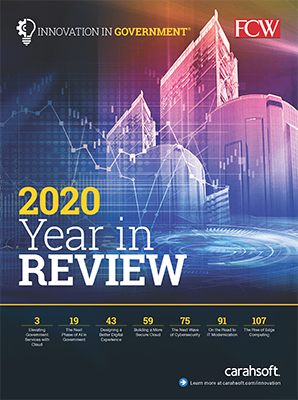 To help guide government leaders through the continuing uncertainties around COVID-19, Carahsoft has partnered with FCW to showcase the latest public sector IT offerings from its ecosystem of technology partners in its Innovation in Government® reports. As 2021 starts, we have compiled all seven of our reports from 2020 into one comprehensive compendium. Download this compendium to learn the developments from the past year across multiple technology verticals, including Artificial Intelligence, Cloud Adoption, Cybersecurity, Customer Experience and Edge Computing.
Our reports feature insights and use cases from 60 technology leaders and 6 government executives, including Charles Worthington, CTO for the Department of Veterans Affairs, and Lytwaive Hutchinson, CIO for the Federal Emergency Management Agency.