In 2019, government agencies focused on various government initiatives – FedRAMP, FITARA, 21st Century IDEA – to help streamline internal processes, ensure security, and innovate public services. To accomplish these missions, agencies implemented various technologies such as DevOps, Citizen Engagement, IoT, and other emerging technologies. Check out our Top 10 Blog Posts of 2019 below for insights from various industry leaders including CIOs, CTOs, Solutions Engineers, and more.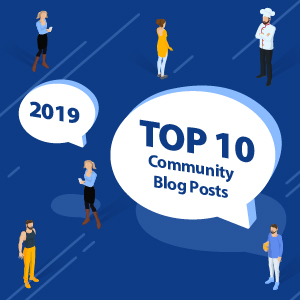 The Federal Information Technology Acquisition Reform Act (FITARA) directs federal agencies to buy and manage commercial software in more coordinated ways. To aid this mandate, the Government Services Agency (GSA) introduced a new approach to procurement called "category management". In this post, we break down the biggest benefits of this approach for agencies.
The Federal Risk and Authorization Management Program (FedRAMP) was established to provide government agencies with a risk management framework for cloud services. For most companies, like the United States Department of Agriculture (USDA), this includes embarking on a digital transformation journey that that creates better experiences and services using technological innovation. In this post, Salesforce's Andrew Randall discusses how the United States Department of Agriculture (USDA) accomplished their transformation with FedRAMP authorized technology.
Internet of Things (IoT) can be described as an extension of the internet and other network connections to different sensors and devices — or "things" — affording even simple objects, such as lightbulbs, locks, and vents,  a higher degree of computing and analytical capabilities. The IoT Council's annual "IoT Day" gives the government IT industry a chance to discuss the benefits and issues surrounding these technologies, as well as their current and future impacts. In this post, we spoke with 3 of our vendor partners, Splunk, Indegy, and Cloudera to share their thoughts on the evolution of IoT.
In the fast-paced IT environment, efficiency is both a necessity and a challenge. To improve decision-making, agencies need to simplify the complexity of their environment into a single view to provide the larger picture of their open source databases. In this post, MongoDB's Sr. Director of Product Marketing, Mat Keep, explains how agencies can use open source databases to better serve their constituents and the industries they regulate.
The rise of digitization has impacted many aspects of government, including the sphere of citizen services. While shifting citizen preferences mean that agencies will have to change the way they engage with the public, they also offer opportunities for cost savings.  In this post, Liferay's Director of Public Sector, Brett Swartz, discusses how your agency can best enable Citizen Self-Service in today's climate.
The transformation to a DevOps environment is different for every agency, but the key steps to take remains constant. In this post, Atlassian's Sr. Solutions Engineer, Ken Urban, talks about the fundamental steps that any agency looking to scale their DevOps framework.
Thanks to the internet and cloud-native applications, Government employees can virtually work from anywhere together. This leads to a rise in the expected tasks of your average worker and agencies need newer, more agile ways of working together virtually. In this post, Google Cloud's Customer Engineer, Karim Atek, discusses a few ways Machine Learning is revolutionizing workplace transformation.
Digital transformation isn't just about changing 'how' things are currently done. It's about refocusing on 'why' things are done and finding ways to do them better. In this post, Salesforce's Salesforce's Digital Strategy Team explains how Government agencies can modernize their IT and effectively achieve digital transformation.
Since the creation of the 21st Century Integrated Digital Experience Act (IDEA), there has been a major push for federal agencies to digitize manual processes and accelerate the usage of electronic signatures. As agencies work toward digitization, jobs and tasks will be made easier through the use of e-signature tools which save agencies time and resources. In this post, we breakdown the history of E-signature tools and how it's helping agencies go paperless.
Engagement improves when agencies understand how to better serve their customers and provide transparency around their services. A platform approach leverages optimized, end-to-end business operations using cloud software to unify people, process, and technology. In this post, Salesforce's Digital Strategy Team talks about the benefits of using this approach to transform customer engagement.
2019 has been an amazing year for Government Technology and we are eager to see what 2020 brings. We'd like to thank all of our Community authors for their contributions and our readers for their time. We look forward to sharing even more great content this year!