The Federal Risk and Authorization Management Program (FedRAMP) was established to provide government agencies with a risk management framework for cloud services—yet some agencies are taking FedRAMP a step further. They're using it as a starting off point to meet their overall mission objectives.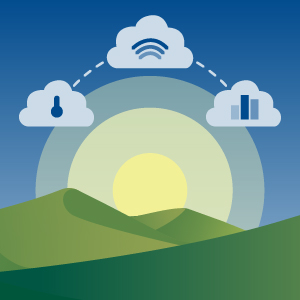 For the United States Department of Agriculture (USDA), that means embarking on a digital transformation journey that makes it easier for representatives in 2,400 field agencies across the country to deliver services and better experiences to United States farmers. The USDA is using technological innovation, including cloud best practices, to increase its effectiveness among its many constituents, resulting in improved processes and service delivery while reducing costs throughout its organization
The USDA accomplished their technological transformation using the Salesforce Government Cloud, which is FedRAMP authorized.
Achieving Mission Goals Through Digital Transformation
During a recent interview with Francis Rose of Government Matters, Chad Sheridan, IT director of the USDA's Farm Production and Conservation (FPAC) division, and I spoke about the primary goal behind the USDA's interest in migrating to the cloud:
"The most important thing to keep in mind about this journey is that it's not about us, not about data center closures, not about the cloud—it's about speed to mission. My fear is when we talk about IT, we are overly focused on the IT part and not the mission. If we keep talking about IT, we stay in the death spiral of infrastructure that we have been in for years and years. Until we focus on our customers, we will never be a trusted partner. We will never be driving mission value."
For Chad, it's all about driving mission value—getting services, like crop insurance, conservation programs, lending, and disaster relief programs, to citizens faster while providing them with the information they need, when they need it. It's also about arming the USDA's many employees with access to cloud-based tools and data that allow them to quickly address their clients' needs, wherever and whenever those needs arise. The simple act of being able to receive information about a farm loan or sign and send documents while working remotely—and quickly getting materials into farmers' hands—can go a long way toward building trust between the USDA and its constituents.
Creating "Bridges to Opportunity"
The desire to easily connect farmers and ranchers with more resources led the USDA to work with Salesforce on a number of initiatives. These efforts have allowed the USDA to successfully leverage the cloud to provide farmers with easy access to important resources and employees with better collaboration and communication processes.
In 2017, the USDA leveraged Salesforce to create a new program for its Farm Service Agency (FSA). The program, entitled "Bridges to Opportunity," provides farmers and ranchers with information on non-USDA programs. Information is shared among tens of thousands of employees across the USDA's many agencies, providing farmers and ranchers with easy access to programs while creating efficiencies and reducing costs for the organization.
Salesforce has continued to build upon its close relationship with the USDA. Recently, they helped the agency migrate toward a single shared services cloud environment. This environment facilitates better communication and collaboration between USDA's IT teams. It also helps to avoid duplication of data management and reduces costs associated with programming and IT expenses. All of this creates a happier, more productive and satisfied employee base that has more time to deliver value-added services to U.S. farmers.
Following FedRAMP
None of this would have been feasible without FedRAMP, which is instrumental in bringing federal agencies and vendors like Salesforce together. In that same Government Matters interview, I explained how FedRAMP helps agencies work with vendors to leverage the cloud to reach their goals:
"(FedRAMP is) a basis to find solutions like Salesforce to be able to focus on the mission and engage with customers in a new way. It's a starting place. You have to go through continuous monitoring and be able to innovate and push forward while keeping up with the security and compliance requirements."
FedRAMP has also helped pave the way toward government's use of innovative technologies. Beyond the cloud, agencies are exploring the potential benefits behind artificial intelligence, blockchain, and other technologies to advance the evolution of the government workforce.
Regardless of the solutions that are deployed, however, they maintain that they can add value by helping their clients execute on their mission. For the USDA, that meant enhancing internal efficiencies and employee satisfaction. Most of all, it meant expanding on the multi-generational level of trust that USDA employees have established with their constituents since the agency was established in 1862.
At Salesforce, they're thrilled to partner with USDA as it undertakes this journey. If you'd like to learn more about their joint efforts, be sure to check out their interview with Chad on Government Matters and our feature on the USDA's approach to modernization.
>