The Internet of Things (IoT) is shorthand for the way data-gathering technology is embedded in objects all around us, from vehicles to medical devices to smartphones, apparel and more. As the technology proliferates, it creates tremendous opportunities for organizations.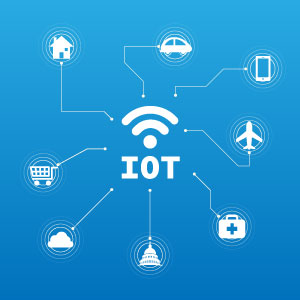 Each year, the IoT Council promotes IoT Day as a chance to discuss the issues surrounding these technologies, as well as their current and future impacts. With that in mind, we asked three of our vendor partners to share their thoughts on the evolution of IoT.
Here's what they said:
Michael Rothschild, Senior Director of Product Marketing, Indegy
"One of the biggest changes is the adoption of IoT in the industrial space. IIoT is something many industrial organizations were not actively pursuing, but today, most organizations are fully embracing it on some level. The data they gather is leading to efficiency gains, streamlined business models and innovations. For instance, the ability to sense preventative maintenance with automation technologies using machine-to-machine communication and remote monitoring. The possibilities are virtually endless, and the real growth area will come as organizations use data in an active and deterministic way rather than simply populating a dashboard.
That said, IIoT is an area where major security gaps still exist. Since the 1950s, operational infrastructure that runs industrial operations, manufacturing and critical infrastructure has been isolated from IT networks. The advent of IIoT, puts this once-isolated infrastructure in a highly visible and open environment, thus making it highly susceptible to security concerns. Being able to take advantage of IIoT benefits while not falling prey to the unfortunate side effects requires built-in security. Organizations are beginning to make the right moves to address threats, from detection and mitigation to asset tracking, vulnerability management, configuration control and device integrity checks."
Erik Martinez, Content Marketing Manager, Splunk
"The third industrial wave came in the form of digital technology and automation that increased production and efficiency across industries. But it also generated new problems with data integrity, system complexity and security as they relate to the increasingly complex environments the third industrial wave engendered.
In a direct response, the fourth wave, aka Industry 4.0, is now addressing these issues with transformative technology including IoT, cloud, machine learning, analytics and even augmented reality for industrial settings. New levels of connectivity, machine learning-powered analytics, and the convergence of OT and IT technology have come together, providing a new level of monitoring and diagnostics — even enabling predictive maintenance. This evolution is necessary. Data generated by IoT will abound, and make it easier to predict and prevent issues; optimize and streamline critical infrastructure from airports to roads; and ultimately make it simpler for humans to understand the machines they interact with every day. But this will materialize only if the data being generated is harnessed in the right way.
Ultimately, IoT is about more than introducing smart devices. It's about modernizing traditionally disconnected environments and making it possible to gain data insights from older technology. The next big thing is not singular, but a culmination of a lot of "things" coming to life. From manufacturing and critical public utilities to the shipping of goods, IoT is heralding a new era for the industrial sector.
At the same time, as more "things" are coming online, there must be a focus on operational technology security. Failing to do so could result in the very thing industrial operators are trying to prevent — downtime."
Shaun Bierweiler, Vice President/General Manager, Cloudera
"Connected devices have become a way of life. They're embedded into our personal and work rituals. As consumers and users, our expectations around speed, quality and ease of use have drastically evolved and expanded.
From an organizational view, the proliferation of new and innovative devices and data formats, and the use cases they enable, creates significant potential. But their value is limited – if not muted outright – without a comprehensive data strategy, architecture and platform that enables the movement, real-time access, processing, assessment and storage of that data.
The challenge with many of IoT devices is securing the data feeds and the devices themselves. The problem is exacerbated when trying to integrate point-solutions from several different vendors across an organization's footprint. To address interoperability challenges, the community has come together to define standards and protocols. The rate of innovation in the IoT space can only be supported and fostered by an open architecture and through an enterprise open source data platform solution.
In the future, devices will become 'smarter' and more connected. There will be more data publishers and formats, and standardization, security and governance will be even more critical as hybrid cloud deployments play greater roles."
The importance of IoT will continue to evolve within the public sector, we've provided some resources to check out to further gain insight on this evolving technology. Register now for Splunk and Indegy's webinar on how Splunk and Indegy can help your agency proactively monitor changes within your operational processes, and read Cloudera's solution overview on how to implement end-to-end open architecture for IoT based on open standards."