A Campus Technology survey among readers found that while almost every college and university considered the use of data critical to institutional survival (84%), a minority of respondents believe their schools are very mature in applying data for practical uses. For example, while half of colleges (50%) have identified indicators of student success and use them regularly for decision-making, less than a third report that users can quickly and easily get the information they need (28%); have robust, secure or user-friendly tools for supporting data collection (29%); or have data experts available to guide users through their data needs (28%). In spite of the decades-long emphasis on adopting data to make better decisions, few institutions have exhibited progress towards their goals. What schools need is to have a better grasp of user experiences, which takes many forms. The practice of "data diving" on campus can have a lot of amazing outcomes. More students will show up and stick around; users' experiences will be memorable in positive ways; employees will feel more job satisfaction, giving them pause when other opportunities arise; and innovation won't be rushed by external forces (a.k.a. COVID-19) but introduced regularly as the normal order of operations, in response to what data is telling you. Learn how your institution can address these issues in Carahsoft's Innovation in Education report.
"Never has education been more reliant on technology and the IT organization. As a result, colleges and universities are much more at risk from cybersecurity vulnerabilities today than ever before. At the same time, as technology dependence has grown, staffing and budget haven't, which means IT solutions for educational institutions truly need to do more with the same or, in some cases, less than they've historically had. The pressure is immense. If a student can't access an application or a resource, if a faculty member can't get onto web conferencing, if a staffer can't send e-mail, the institution will fail in its missions: educating students, making research discoveries, and doing everything in its power to secure the future of the world. With so much at stake, the one superpower IT teams in the education sector need to develop above all others is X-ray vision. Gaining visibility into what goes on inside your systems lets you become proactive, allowing you to see exactly where to target your time and attention and quickly troubleshoot problems for speedier response. Unless you were born on Krypton, the best way to achieve this level of visibility is to capitalize on tools that deliver the same capabilities."
Read more insights from SolarWinds' Group Vice President of Product Management, Brandon Shopp.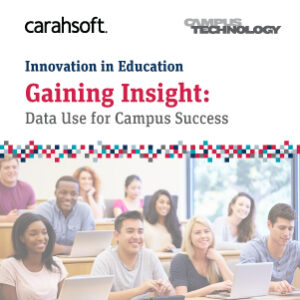 "If a project is served by a point product, a program needs a platform. And I consider a platform to manage the student experience to be as vital to the higher ed technology stack as the SIS, the LMS, and the CRM. This is the missing link that will drive the metrics you care most about. Getting rigorous at a student-specific level about the experiences each is having is the only way to take actions to make them better — at both a campus level and at an individual level. While the three other systems provide some insight into the student experience via the operational data they generate, they mostly offer lagging indicators. They can tell you that someone hasn't been in class for three consecutive sessions, isn't completing assignments, or is in danger of being put on academic probation. But they won't tell you how the student is feeling. If they're actually engaged in teaching and learning. If your school doesn't understand why a student is acting a certain way, it's not addressing the root problem."
Read more insights from Qualtrics' Global Industry Leader in Education, Omar Garriott.
"Gen Z and Gen Alpha users go online expecting constantly updated content. This doesn't mean you need to cater to a TikTok or Instagram audience; but it's worth asking, what if this campus website were TikTok? How would that change the way you think about site and content design? Maybe you employ more video because it can be super engaging. Maybe you share more of the experience on campus — classrooms, mock lectures, the humor found in everyday activities and interactions among students. Universities could consider emphasizing all of the different programs and services on offer. Take a page from Netflix, Hulu, Amazon Prime and others that surface multiple suggested offerings they have for you to watch that match to your interest. What would the school's website be like if you used Netflix as the model? How would you organize the content and would it be on the homepage or a couple of layers down? How would you steer people through?"
Read more Acquia insights from Mediacurrent's Creative Strategy Director for Product, Elliott Mower.
"Why shouldn't the same search power let the IT organization gain visibility into the operations of its infrastructure? The idea is to observe the entire ecosystem by peering into logs, metrics, traces and more. That would enable the IT staffer to identify what's running well or poorly, whether server or workstation, application or website. When something goes awry, he or she would be better positioned to resolve issues more quickly and proactively, thereby ensuring better digital experiences for users. Security information and event management (SIEM) has become a valued tool in security operation centers. The idea is to gain insights into the security state of the institution by monitoring data traffic, identifying anomalies and alerting IT for corrective action. What's needed is a search technology outfitted with machine learning-driven detection rules for threat hunting and security analytics that are aligned to standards, such as a MITRE ATT&CK framework. Then IT can look specifically at what's happening from a security perspective: Is it a lateral movement? Is it data exfiltration? Is it related to command and control? The faster the visibility, the faster the remediation."
Read more insights from Elastic's Senior Lead Solutions Architect, Jared Pane.
"As you assess the caliber of the virtual learning tools your instructors are armed with, make sure they provide the functionality that facilitates a more memorable learning experience. That's how you can play a role in helping students get and retain more from their courses.
For example, make sure there's a level of content consistency across sections being taught by different people. You do that by using a platform where the entire presentation with all interactive tools (slides, video, audio, chat threads and exercises) can be stored in a shared system with assigned editing privileges. Also, give your instructors "backstage" controls that will help them monitor the presentation as it unfolds, so that they can understand what the students are viewing. Choose a platform that includes an engagement dashboard, to allow instructors to shift session operations in real time if engagement begins to lag. Essential tools would also include a speaker notes area and a chat, specifically to permit behind-the-scenes collaboration among presenters and moderators. Of course, integration with existing learning management systems and authoring programs is essential. So is security compliance that ensures the data generated before and during class remains private and encrypted and the sessions themselves can't be breached by unauthorized people."
Read more insights from Adobe Connect's Senior Manager of Product Marketing, Vaishali Sangtani.
"What's unique about education from any other kind of organization is that the typical institution has central IT, of course, but also instructional IT and research IT. If I'm in central IT and I'm standing up an HR application, my goal is to put that system in place with the expectation that it will run forevermore. IT's job is to keep it running. But in instructional IT, I may be standing up a classroom environment that is only going to last a semester or a lab that's going to last a couple of weeks. Then I need to tear it down and stand up a brand new one the next time that class or lab is offered. In research IT, I'll need to spin up hundreds or thousands of nodes to process data for astronomical photography, chemical analysis or whatever the research problem is. When the processing is done and the results are generated, I stop it and scale it all back down again. There's a temporary nature to so much of what education encompasses and the many systems it relies on. And that's where automation can really make a big difference."
Read more insights from Red Hat's Chief Architect for Education in the North America Public Sector, Daniel Eversmann.
"On the IT front, we're getting more calls from procurement offices for solutions to support virtual learning in general and specifically, cloud storage and cybersecurity. Air filtration, another category where a pandemic uptick makes sense, isn't traditional HVAC. These days, facilities operations are investing in more sophisticated "smart" systems that provide remote monitoring and operations, essential for settings where staff are squeezed for time and remote work is just as probable as on-campus work. Finally, there's furniture. Because of how students will be interacting with one another, institutions are looking for innovative ways to position learners with physical distancing in mind within the classroom and in common areas. They want furniture that can easily be moved and assembled. They also want pieces with accessibility to power, for those environments where there may not be an electrical outlet on the floor or the wall. Vendors are coming up with creative applications for batteries associated with furniture and workstations."
Read more insights from OMNIA Partners' Vice President of Education, Alton Campbell.
Download the full Innovation in Education report for more insights from these data thought leaders and additional higher education industry research from Campus Tech.