Innovation in Education Report
Gaining Insight: Data Use for Campus Success
A Campus Technology survey among readers found that while almost every college and university considered the use of data critical to institutional survival (84%), a minority of respondents believe their schools are very mature in applying data for practical uses. For example, while half of colleges (50%) have identified indicators of student success and use them regularly for decision-making, less than a third report that users can quickly and easily get the information they need (28%); have robust, secure or user-friendly tools for supporting data collection (29%); or have data experts available to guide users through their data needs (28%).
In spite of the decades-long emphasis on adopting data to make better decisions, few institutions have exhibited progress towards their goals. What schools need is to have a better grasp of user experiences, which takes many forms. The practice of "data diving" on campus can have a lot of amazing outcomes. More students will show up and stick around; users' experiences will be memorable in positive ways; employees will feel more job satisfaction, giving them pause when other opportunities arise; and innovation won't be rushed by external forces (a.k.a. COVID-19) but introduced regularly as the normal order of operations, in response to what data is telling you.
In this special issue, a number of experts share their ideas for gaining more visibility on a myriad of fronts, leading to innovations that can make a difference to institutional success. Read the latest insights from industry thought leaders in campus data use, including: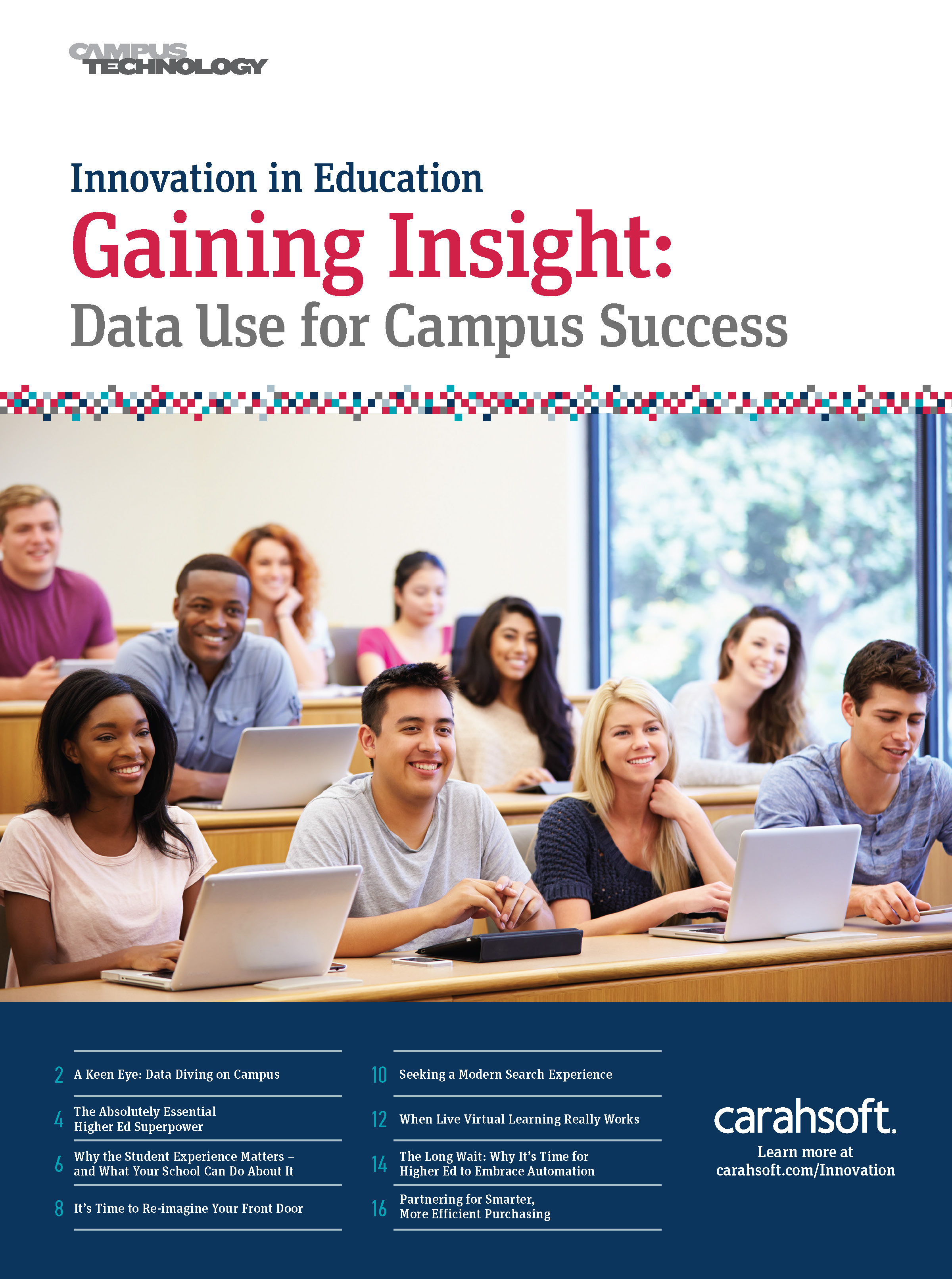 Brandon Shopp, Vice President of Product Management at SolarWinds, explains how gaining visibility into what's going on inside your systems lets IT teams be proactive, and that makes all the difference in how effective they are.
Omar Garriott, Global Industry Leader of Education at Qualtrics, explores why it's time to embrace the student experience as a crucial data set — and experience management as a core part of your institutional tech stack.
Elliott Mower, Creative Strategy Director for Product at Mediacurrent, says the secret to updating the digital experiences your college offers is to consider how the best digital players are solving the same problems for their higher ed clients.
Jared Pane, Sr. Lead Solutions Architect at Elastic, discusses how the online user experience has — in some cases — become the only one people have with your campus, and whether it is as effective as it can be.
Vaishali Sangtani, Senior Manager of Product Marketing at Adobe Connect, explores why the best courses deliver collaborative learning experiences that engage and inspire learners. Your virtual learning platform can either help or hinder that pursuit.
Damien Eversmann, Chief Architect for Education for the North America Public Sector at Red Hat, discusses why no other segment will benefit from automation more than education, where rote work abounds.
Alton Campbell, Vice President of Higher Education at OMNIA Partners, says it doesn't matter how innovative your campus wants to be. If you can't get the products and services when they're needed at a price your institution can afford, those innovations will remain nothing more than good ideas.
Read more insights from Carahsoft and our data use partners when you download the full report.
Read more insights from Carahsoft and our data use partners when you download the full report: