Innovation in Education Report
IT Modernization for Campus Re-entry
Some colleges and universities are poised to emerge from the pandemic stronger than they went in. In large part, they have used the last year to accelerate adoption of online education where it makes sense, keeping the physical classroom time dedicated to experiential forms of learning.
A theme among these institutions is the need to understand what the IT infrastructure can support and how well it's holding up as institutional demands ebb and flow. A Campus Technology "pulse survey" among IT leaders and professionals found that while the impact of remote learning and work made their jobs harder rather than easier (by 11 percentage points), the outcomes have been worth the effort. Four times as many participants agreed than disagreed that their organization's response to the pandemic was improving the way they deliver services to students, faculty and staff.
Navigating higher ed adaptation will continue to fall hard on the shoulders of IT. Fortunately, this is a campus unit that's well-suited to strategic innovation, even as it deals with tactical needs. Read the latest insights from industry thought leaders in campus IT modernization, including: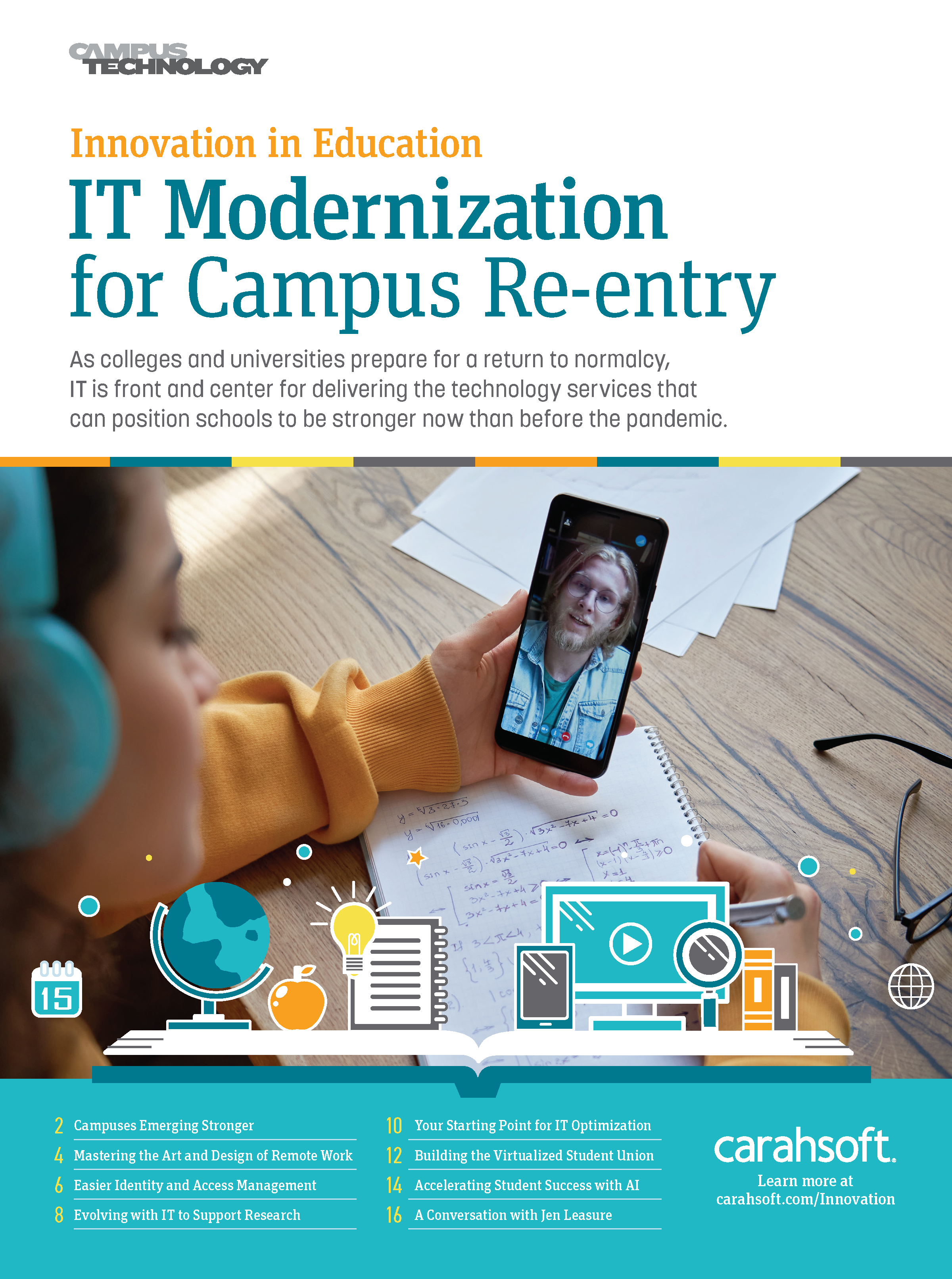 Ismet Nesicolaci, Senior Product Specialist at NVIDIA, explores how NVIDIA virtual GPU technology is essential to ensure a quality learning experience from any place and at any time through remote work.
Ryan Schaller , Senior CIAM Developer Specialist at Okta, explains why the last thing IT should burden students with is a fog of logins. The use of an identity cloud makes accessing their digital lives easier and more secure.
Damien Eversmann , Delivery Strategist for Higher Education for the North America Public Sector at Red Hat, discusses why modernizing the campus approach to IT infrastructure for supporting research has never been so urgent.
Brandon Shopp , Vice President of Product Strategy for Security for Compliance and Tools at SolarWinds, explains why refreshing your IT operations can only begin after you get visibility into what your infrastructure is up to.
Herb Thompson , SLED Strategist, Doug Harvey , VP of State, Local, and Education, and John Punzak , Senior National Director for SLED Business Development, from VMware, explore how college no longer takes place just on campus. Virtualizing operations ensures that the student experience remains consistently excellent and secure, wherever it happens.
Jesus Trujillo Gomez, Cloud Strategic Business Executive for Higher Education and Research at Google Cloud, explains why, as colleges and universities struggle with enrollment, Google Cloud Student Success Services is poised to reinvent how institutions support and engage their students.
Jen Leasure, The Quilt's President and CEO, discusses how her organization's members — state research and education networks.
Read more insights from Carahsoft and our IT modernization partners when you download the full report.
Read more insights from Carahsoft and our IT modernization partners when you download the full report: