Innovation in Education® Report
Locking Down Information Management
Security on Campus
According to one report, ransomware campaigns against higher education doubled in 2020 compared to 2019, with an average ransom demand of $447,000. The seemingly unstoppable assault on higher ed could almost be predicted. Traditionally, criminals tended to be opportunists; they'd strike at random and hope to get lucky. Now they've organized into highly sophisticated networks and cartels that will target any entity of substance they consider a viable target.
Higher ed fits the profile. Schools have long collected plenty of personal data and developed valuable research while also trying to maintain an institutional personality that values openness over restriction. Some institutions are better positioned to withstand cybersecurity attacks than others. A combination of zerotrust and defense-in-depth allows these schools to defend against malware and ransomware. A Campus Technology "pulse survey" among IT leaders and professionals found that two-thirds of institutions (63%) have reshaped their cybersecurity incident response, either putting the finishing touches on their strategies or improving their capabilities. The biggest challenge they've faced would probably be of little surprise to anybody in the IT space: lack of budget, cited by 27% of respondents. But that wasn't the only hurdle mentioned; phishing emails, ransomware attacks, lack of cybersecurity training and mobile device security also ranked high as security concerns.
Ultimately, the job of the cybersecurity professional in higher ed is to "plan for the worst day," as one cybersecurity expert recently noted during a Campus Technology leadership summit. But how can agencies overcome these obstacles to adapt to an increasingly targeted and threatening cybersecurity landscape? Read the latest insights from industry thought leaders in education IT, including: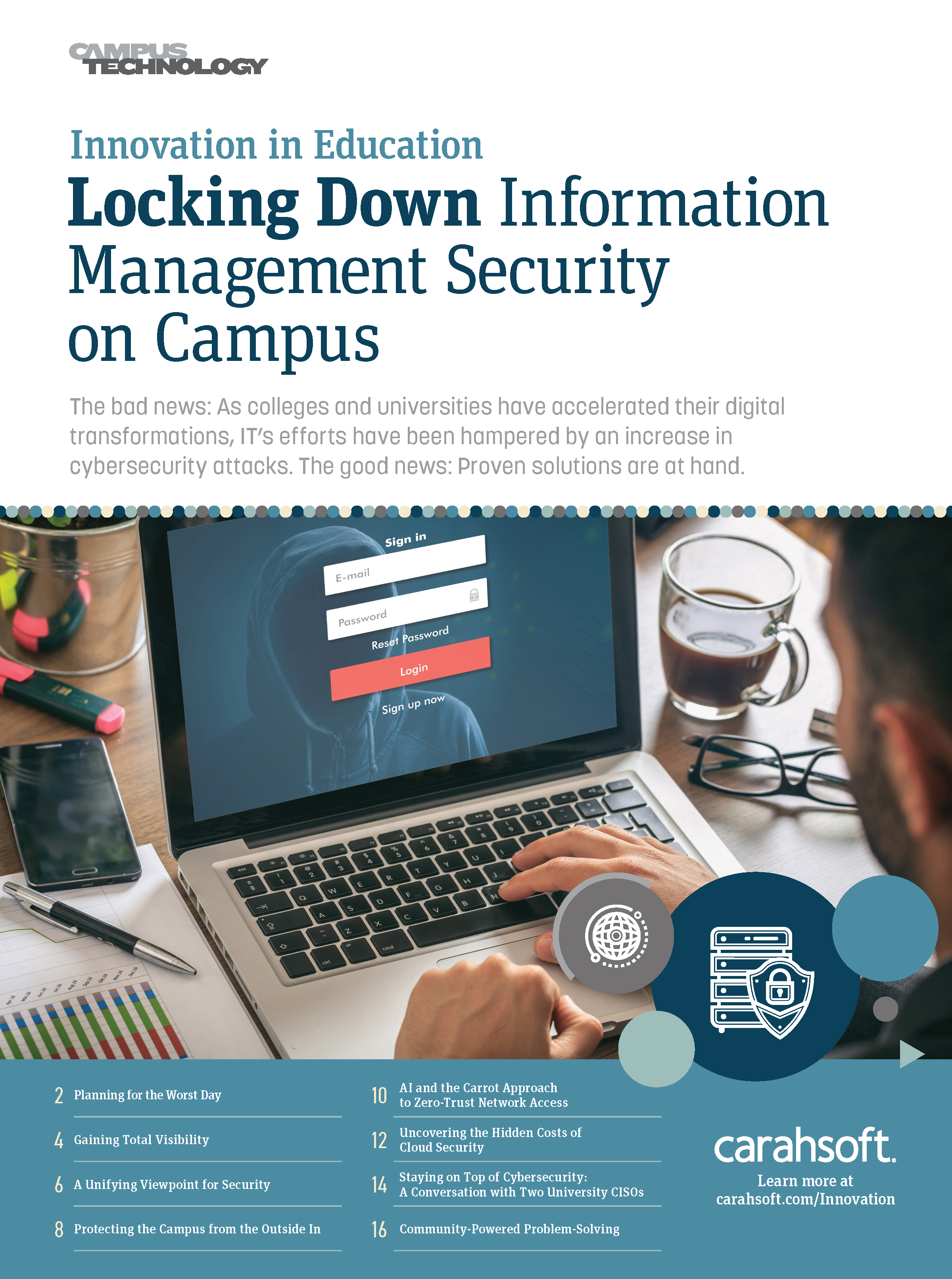 Hunter Ely, Security Strategist for Palo Alto Networks, explains why campus IT needs a consistent view into how data flows through the network, cloud and endpoints; otherwise, security will continue to be a hit-and-miss remedy.
Jesse Trucks, Minister of Magic at Splunk, details how automation of the easy stuff improves your information security efforts and makes the work that's left far more interesting for those who do it.
Chris Russo, Director of Sales for BlackBerry, explains why when you tackle the job of security with artificial intelligence, the result is a liberated user base and a re-energized IT crew.
Rufus Coleman, Director and General Manager for U.S. Education at Infoblox, explores how DNS security provides a first line of defense, helping colleges and universities protect against bad traffic coming from a multitude of directions, way before it hits the network infrastructure.
David Boland, Senior Director of Product Marketing for Wasabi, explains how to optimize your spending as your usage of the public cloud for secure storage expands.
Tom Dugas, CISO for Duquesne University, and Rick Haugerud, CISO for the University of Nebraska-Lincoln, explain how Internet2's NET+ program is helping them manage cybersecurity for their institutions.
Nick Lewis, Program Manager for Security and Identity at Internet2, describes how the community-driven Internet2 NET+ program helps higher ed institutions.
Read more insights from Carahsoft and our education partners when you download the full report.
Read more insights from Carahsoft and our education partners when you download the full report: