Innovation in Education Report
Higher Education All-In on Cloud-First
Is digital transformation in higher education possible without the cloud? Not likely. When that transformation is viewed as a journey, not a destination, the essential role of cloud-based resources as enabling and empowering infrastructure comes sharply into focus. Institutional performance, operational efficiencies, student success — the primary goals of digital transformation in higher education today — would not be possible without the agility and scalability available only through cloud-based computing and resources.
Without a clear strategy in place, digital transformation and cloud migration can start to look like a game of whack-a-mole, where initiatives are undertaken piecemeal without connection to a broader, holistic mission — or worse, undertaken only in response to an emergency or challenge as outdated infrastructure or solutions fail. One of the main drivers of higher education's march to the cloud — the need to make sense of massive amounts of data to improve student engagement and outcomes — in many ways remains elusive. Just as COVID-19 and the ongoing global pandemic forced overnight transformation of on- and off-campus computing maturity, the need to leverage artificial intelligence and machine learning capabilities represents the next tsunami crashing over higher education. As teams weigh where cloud solutions will take them next, understanding and articulating the need to include data-intensive computing, security, reporting, and analysis is imperative. That's all the more true as students increasingly demand a level of personalization and engagement that can only be delivered through a robust analytics and data infrastructure.
It's time to grow beyond today's analytics programs and to mature them for endemic management and strategy. That's only possible through the cloud, and all the latest and greatest computing and analysis power third-party cloud vendors invest in and deliver to their customers. Read the latest insights from industry thought leaders in cloud for higher ed, including: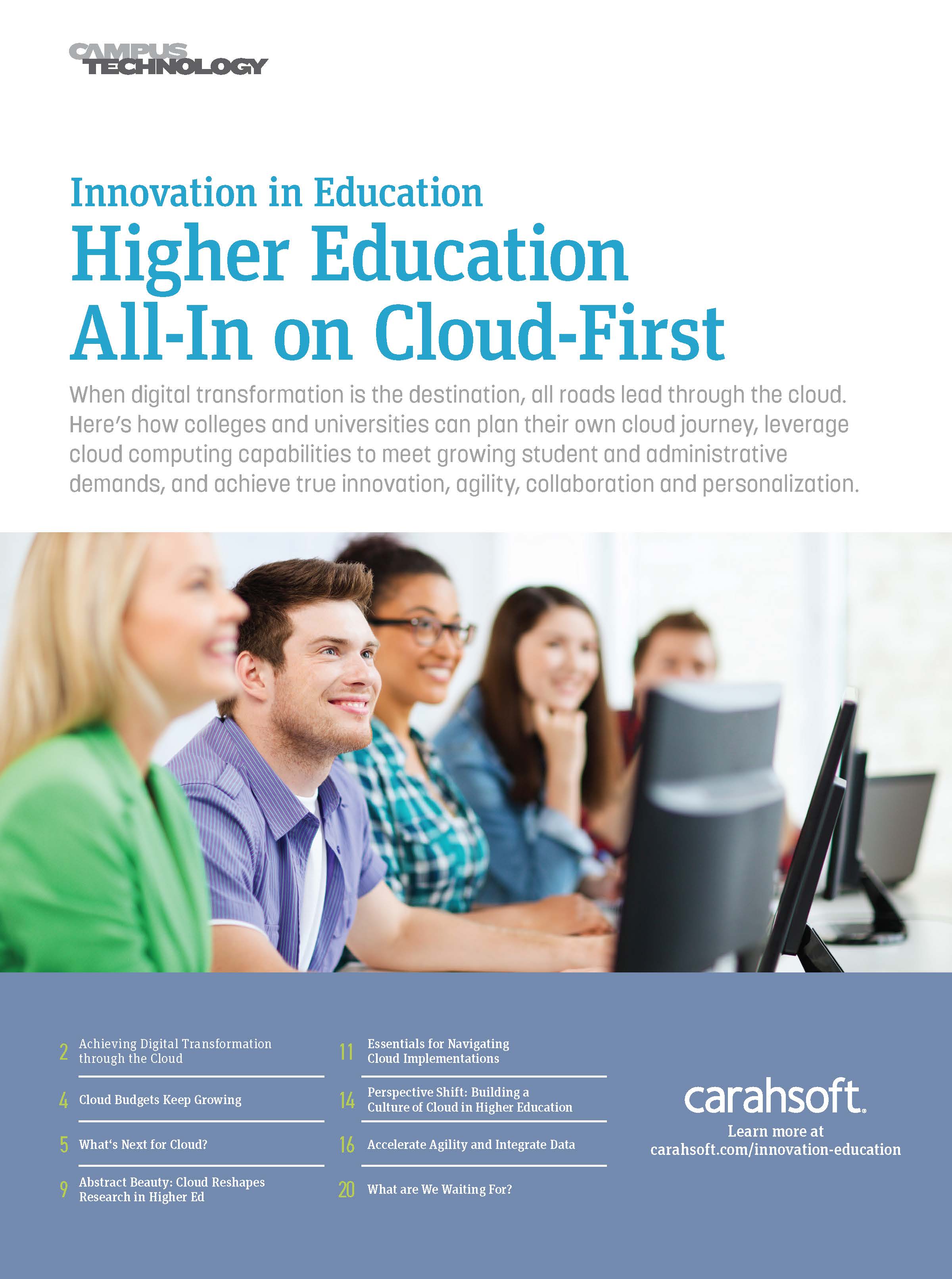 Damien Eversmann, Delivery Strategist for Higher Education for the North America Public Sector at Red Hat, explores where industry and education plan to invest cloud dollars, and SaaS leads the pack.
Hunter Ely, Security Strategist at Palo Alto Networks, and Mathew Lamb, Manager, Pre-Sales Cloud Native Solutions at Palo Alto Networks, explain why Abstraction and flexibility provide advantages to higher education beyond digital transformation, especially for data-intensive research.
Bill Greeves, Industry Advisor for SAP, details how, As colleges and universities increasingly move to the cloud, acceptance among the campus community also grows.
Read more insights from Carahsoft and our cloud for higher ed partners when you download the full report.
Read more insights from Carahsoft and our cloud for higher ed partners when you download the full report: