Innovation in Education Report
Adapting with Evolving Higher Education Challenges
For many colleges and universities, the global pandemic served as a wake-up call about the need for more innovative teaching models. They discovered that remote learning is no longer an occasional tool for specific situations. Instead, a mix of in-person and online platforms has become an imperative for ensuring equity and educational excellence. Even before the pandemic, researchers cited the importance of course design and the need for a pedagogical shift to ensure success in blended learning. Now, many believe that as faculty and students become more proficient with the technology and adapt to online education, outcomes will improve.
Close collaboration between faculty and technology teams is also important as both groups adapt to new teaching models. To ensure clear communication, many institutions will need to invest in cameras, microphones and speaker systems, and many classes would benefit from a technology assistant who keeps track of the messages students post and resolves any technical issues. Incorporating such modern tools alongside institutions' legacy solutions presents a diverse set of challenges. In the Campus Technology survey, staying within budget constraints (44%) was the top challenge cited by respondents, and it goes hand in hand with choosing the right products, services and solutions (41%). Technological challenges also include getting legacy and modern solutions to work together (36%), sharing data between legacy and modern systems (27%), and managing and securing a diverse IT ecosystem (25%).
By investing in further modernization, they will boost their ability to meet current demands while giving themselves the flexibility to respond to unknown challenges ahead. Read the latest insights from industry thought leaders in campus IT modernization, including: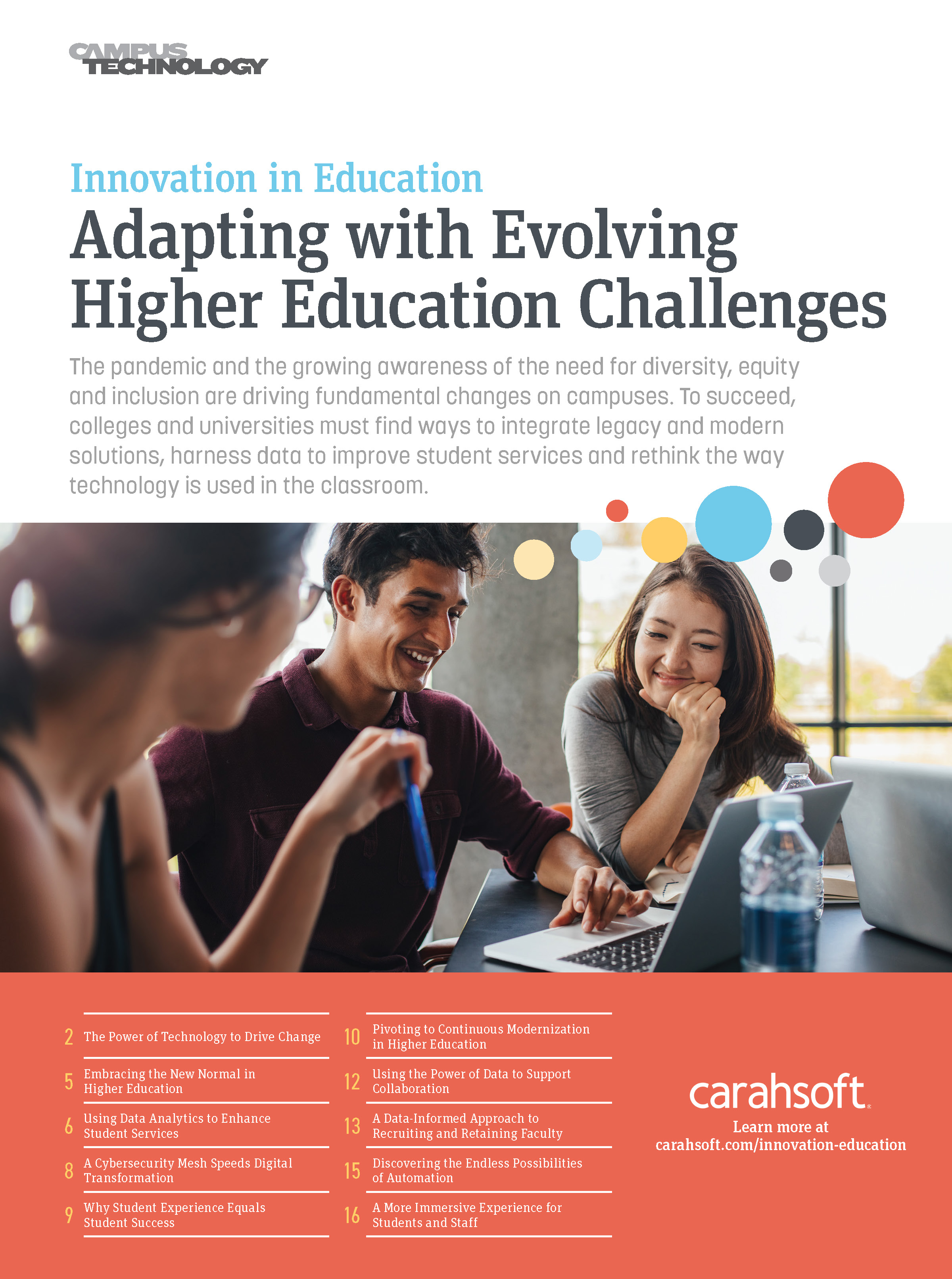 Dr. Kim Oppelt, Senior Director of Advocacy and Community at Class Technologies, explores how, with the right technology platform, hybrid and HyFlex environments can aid in recruitment, retention and overall student success.
Brian Hagan , Senior Solutions Engineer at Cloudera, explains why improving the student experience and student performance hinges on modern approaches to capturing and analyzing data.
Bob Turner , Field CISO for Education at Fortinet, discusses why a security fabric of complementary tools provides protection for distributed IT environments, improves efficiencies and prepares campuses for the challenges ahead.
Joshua Sine , Vice President Higher Education Strategy at Qualtrics, explains why the right data can generate insights that allow institutions to better understand students' journeys and take personalized actions at scale.
Damien Eversmann , Chief Architect for Education and the North America Public Sector at Red Hat explores how, rather than rely on full-scale modernization initiatives every five or 10 years, campuses should take an ongoing, modular approach to updating their IT systems.
Frank Myers, Strategic Advisor, and Elizabeth Thompson, Business Development Manager, at Splunk, explain why, colleges and universities can boost positive outcomes by combining data silos and tapping into the predictive capabilities of real-time analytics.
Shiva Jaganathan, Chief Data Officer and Executive Director of Institutional Reporting, Research and Information Systems at University of Texas at Austin, does a deep dive into data is helping ensure equity and diversity in the workplace.
Cassidy Macias, Regional Vice President of Education and Nonprofit Sales, and Adam Ingram-Eiser, Vice President of U.S. Education Enterprise Sales, at Tableau, discuss how access to consistent, centrally managed data is key to decision-making in higher ed.
Don Horan, Global State, Local and Regional Government Industry Lead at UiPath, explores how technology can help institutions achieve their vision for success in all aspects of campus operations, including student engagement.
Johann Zimmern, Global Education Marketing Lead at Zoom, explains why the right technology will help colleges and universities continue supporting hybrid classrooms and a hybrid workplace.
Read more insights from Carahsoft and our IT modernization partners when you download the full report.
Read more insights from Carahsoft and our IT modernization partners when you download the full report: