As swaths of organizations in the United States are forced to shutter their workplaces in the wake of the coronavirus pandemic, unprecedented numbers of employees are conducting business as usual—from the safety of their homes. Some states have placed restrictions on nonessential businesses, and many organizations—including government contractors—have taken the initiative to encourage employees to work from home.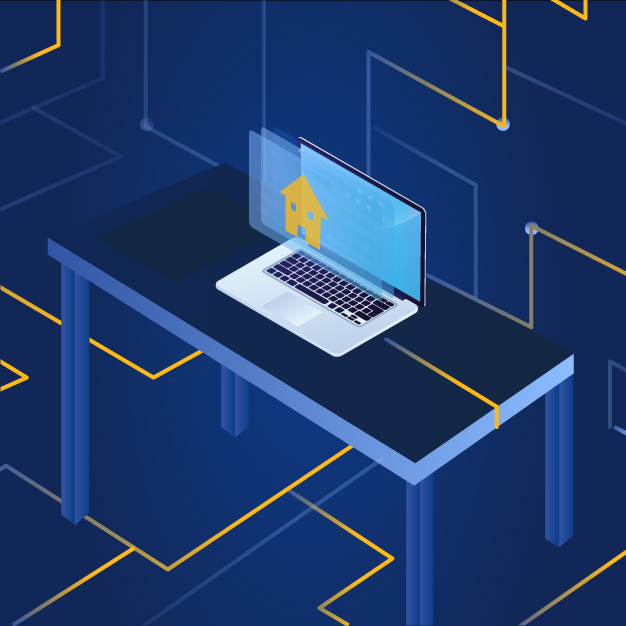 While teleworking has been an increasingly common practice in the U.S. workforce, many employees and organizations are finding themselves utilizing the approach on a larger scale for the first time. With the right setup, technology, and approach, teleworking can be a positive, resilient, and productive option for organizations in times of crisis and beyond.
The Perks of Telework
The successful adoption of remote work has been driven by advances in technology, such as the ability to reliably make calls, send emails, communicate in near-real time, and collaborate on documents from home. While such disparate capabilities are easily achieved for many remote workers today, combining and streamlining these applications can take teleworking from a stopgap measure to an organized and sustainable work approach.
Today's internet bandwidth facilitates seamless workplace interactions and collaboration that replicates the in-office experience, and the right setup can even provide virtual collaboration opportunities that aren't always possible during in-person meetings. Capabilities such as live polling, voting on ideas, and recording sessions are easy to do with the right tools and can greatly enhance meetings.
Many people are also more productive when teleworking because they can avoid the distractions of the office and digitally compartmentalize different components of work—communication, high-priority projects, socialization, and training can all be organized to fit the employee's priorities.
Web-based collaboration tools—which combine conference calls, videos, instant messaging, document sharing, events, and more into one platform—make the difference between individual employees conducting business at home and creating a virtual workplace environment. They can help managers replicate an open-office environment—tools like collaborative calendars, instant messaging, and chat rooms allow employees to pop in and out of their colleagues' virtual offices as needed.
Finding the Right Tools for Your Goals
There is no shortage of web collaboration tools on the market, so organizations must determine their priorities to create a virtual work environment that will help them meet their goals.
Determine what the main purpose for using virtual collaboration tools is, as well as the number of people who will be using it. Will employees be conducting internal or external meetings, or both? If training needs to be conducted, will they be hands-on or webinars? Understanding the audience and main goals for the tools will help make the decision on what type of solution is needed.
If possible, roll out new collaboration tools slowly and focus on one or two main goals, such as conducting meetings and document sharing. Once everyone is comfortable with the basics, it becomes easier to add features needed to enhance the virtual environment.
It's equally important for IT to ensure operational and security measures are in place if the workforce is dispersed geographically. Having the capability to push out software upgrades over the network is critical for employees who will be out of the office for weeks at a time.
Additionally, virtual desktop infrastructure gives managers insight into the productivity of their employees. This monitoring capability is most effective in large organizations with hundreds of teleworkers—it allows managers to keep track of how employees are using their time during the workday. Insights such as how long employees spend in certain programs allow managers to load balance as needed, especially if responsibilities are shifted around due to transitioning to a digital office environment.
Cultivating Your Digital Workplace Environment
It is critical for an organization's leadership to establish telework culture and best practices, especially if the majority of the workplace has to start working from home with little notice. Should employees be online during normal work hours, or are flexible schedules accepted? If they are signed into an instant messenger, are they expected to be readily available to chat? What about after-hours communication?
Encourage employees to set up a designated office within their home if possible to maintain a healthy work-life balance. Organize structured social time to allow workers to relax and chat with their colleagues—encouraging virtual socialization is especially important during mandated isolation or quarantine. Using video during meetings can be a contentious topic, but having engaging, interactive, and collaborative face-to-face time with colleagues can strengthen rapport and wellbeing.
Those in charge of running virtual meetings must become comfortable with the collaboration tools ahead of time—conduct a trial run, check video and audio functionality, and practice so that using the tool becomes second nature. The focus should be on running the meeting and delivering content, not operating the technology.
Running virtual meetings calls for a different approach than what is often used in the conference room—consider keeping meetings short and don't be afraid to ramp up the energy and personality to keep the session dynamic and engaging. Most organizations are operating under unprecedented conditions, and employees will appreciate authenticity and honesty from leadership in times like these.
While good telework programs rely on digital tools and strong leadership, truly successful operations require flexibility. Circumstances, technology, attention spans, and habits will all change over time, so avoid locking in a strict set of protocols or processes to give virtual workplaces the ability to adapt and adopt new ideas.
The Adobe Connect Product Specialist Team and myself are available for personalized demos on how to utilize the full potential of Adobe Connect – Adobe's flexible collaboration and telework solution. If you're looking for other types of remote work tools that help with productivity, remote access, virtual desktop infrastructure, and other online solutions, please check out Carahsoft's robust telework portfolio.