State and local governments faced a perfect storm of challenges at the outset of the COVID-19 pandemic. Pandemic response is now driving a more serious commitment to usability, accessibility and equity of government digital services. City and county officials ranked improving constituent experience and engagement as a top priority, trailing only cybersecurity, in the Center for Digital Government's (CDG) 2021 Digital Cities and Counties surveys. And states ranked expanding and improving access to services as their top priority in CDG's most recent Digital States Survey conducted in late 2020. Learn how your agency or municipality can adapt to this new environment, including taking advantage of COVID relief funds, modernizing IT infrastructure and expanding broadband in Carahsoft's Innovation in Government® report.
"Migrating to cloud-based solutions should be a priority for organizations that are still using on-premises systems. As we've seen during the pandemic, cloud-native services let organizations respond, support remote work, scale and add new capabilities much more quickly during crisis situations. Gone are the days of hoping the next emergency doesn't exceed your on-premises or hosted hardware's capacity. AI and ML use cases will vary by organization, but the end goal is those who are able to use self-service can do so easily, those who opt out or have more complex needs can reach a representative, and representatives have the context they need to engage and resolve issues with empathy."
Read more insights from Genesys' Senior Solution Consultant for U.S. Public Sector, Christina Angel.
"Constituents are looking for a consumer-grade experience when they interact with their state and local governments. They expect government services to meet them where they are — meaning they want omni-channel 24/7 services in a seamless delivery format. They want answers in real time, as well as tools to help them find answers themselves. A great workflow allows rapid delivery of government services with intelligent case routing and automation. It reduces costs by enabling self-service, proactively answering common questions and providing automated service responses. Finally, it provides a single system of government engagement that supports digital transformation efforts to improve overall customer experience."
Read more insights from ServiceNow's Global Head of State, Local and Regional Government Solutions, Tom Yeatts, and CTO/Chief Architect of State and Local Government and Higher Education, Chris Dilley.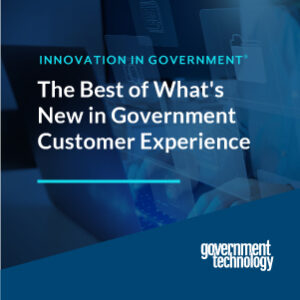 "The resident experience has a number of components. The first is engagement. Experiences should be immersive and intuitive and on par with user experiences in private sector companies. The second element is efficiency. The experience on the backend should be as functional as it is beautiful, meaning it reduces errors, optimizes workflows, automates processes and quickly delivers tangible value for the agency. The third aspect is effectiveness. Agencies must be able to measure and evaluate, almost in real time, how effectively they are engaging users and realizing a return on investment, and then adjust accordingly. The final component is trust. Organizations must demonstrate that they can protect mission-critical workflows and satisfy rigorous government and industry standards."
Read more insights from DocuSign's Vice President and Global Head of Industries, Michael (MJ) Jackson.
"It's listening to people and the frontline employees who serve them. Designers and CX professionals cannot always sit down with customers, but reviewing data through the right platform can make them feel like they are. You need the right technology — including "listening" tools, predictive intelligence, analytics and full closed-loop actioning capabilities — to gain a holistic understanding of your residents' experiences and take the right actions that drive meaningful impact. Don't overlook employee experience. Engaged employees are 4.6 times more likely to be customer-centric compared to disengaged employees. Part of engagement is feeling heard and valued. Always-on collaboration tools, where employees can submit and comment on ideas and feedback related to the resident experience, put the people closest to residents at the heart of your CX program and help you build a more resident-centric culture."
Read more insights from Qualtrics' Government Industry Advisor, Jill Leyden.
"A digital experience platform is an integrated set of technologies that supports the composition, management, delivery and optimization of contextualized digital experiences. It supports modernization efforts by providing a broad set of solutions for engaging constituents online. The digital world offers many possible touchpoints for residents. Trying to independently solve for each desired touchpoint can lead to a scrambled web of conflicting technologies, but taking a tech-first monolithic approach will lead to disappointing engagement. A digital experience platform offers proven patterns for providing meaningful engagement, while also allowing flexibility to architect each touchpoint according to the organization's preferences."
Read more insights from Acquia's Digital Transformation Leader for Public Sector, Joshua Smith.
"We're seeing a lot of success with court applications. One great example is the Texas judiciary, which announced in February 2021 that more than 2,000 state judges had hosted a combined total of more than one million virtual hearings via Zoom since the pandemic began in March 2020. We anticipate courts and justice systems will continue to leverage videoconferencing in lieu of, or in combination with, in-person hearings due to the benefits it brings to witnesses, judges, jurors and other participants. In the social work realm, video teleconferencing helps increase access and care between in-person visits."
Read more insights from Zoom's Head of U.S. State and Local Government, Jennifer Chang.
Download the full Innovation in Government® report for more insights from these CX thought leaders and additional industry research from GovTech.