The pandemic changed the risk equation for state and local governments around technology upgrades. In the past, state and local government CIOs had created orderly multi-year plans to push toward modern technologies, carefully weighing numerous factors and often facing pushback from public officials who didn't want to fund updates if the old systems were still chugging along. In 2021 – after a vast shift to remote work, the increase in user-friendly digital services, and the innumerable changes to individual agencies brought on by the coronavirus – the modernization of legacy technology is seen through a new lens. Read the latest insights from industry thought leaders in legacy modernization in Carahsoft's Innovation in Government® report.
Moving Modernization Forward in Spite of Disruption
"State and local CIOs are dealing with challenges that none of us ever thought they would have to face. The two most important things they can do are to drive automation and focus on hybrid cloud solutions. We all know the cloud is here to stay. We also know that legacy systems will take too long to migrate completely to the cloud. Embracing a hybrid cloud approach around modern solutions, where you can be partly on-prem as well as in the cloud, is going to help drive modernization and help systems become more effective more quickly. The second piece is automation. Automation has come a long way. It allows organizations to re-factor their workforce into their mission while automating simpler tasks. Artificial intelligence and machine learning are part of this and will become increasingly important as state and local leaders look to improve responsiveness and citizen engagement — both now and in the future."
Read more insights Red Hat's Vice President of State and Local Government and Education, Nancy Bohannan.
It All Starts with Collaboration
"A DevSecOps approach takes DevOps culture and methodologies and incorporates security from the very beginning. This brings enormous value to legacy modernization efforts. Many legacy systems were built using waterfall methodologies. That means they may not be regularly scanned for vulnerabilities or they were simply not built to handle modern scale. DevSecOps helps you avoid these issues. First, you will be more agile, as we've seen with DevOps. Second, you will build systems that are inherently more secure. Instead of thinking about security after a system is built and in production, you are doing so from day zero and doing so continuously even after you've "shipped" it. This is especially critical in cloud environments where shared resources and multi-tenancy are the norm rather than the exception."
Read more insights from Atlassian's State and Local Manager, Shayla Sander, and Solutions Engineer, Ken Urban.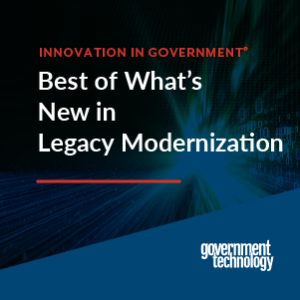 Finding Opportunities for Modernization
"The pandemic pushed most organizations into firefighting mode. They don't have the luxury of doing wholesale rewrites of legacy software, which often take years. At the same time, organizations need to make these systems more efficient in order to serve constituents and improve operations — especially during the pandemic. Instead of replacing systems, organizations are augmenting them by putting new technologies on the front end. These efforts solve some of the immediate problems; however, many legacy challenges remain because organizations just haven't had time or resources to do the rewrites."
Read more insights from Dell Technologies' Chief Strategist and Innovation Officer, Tony Powell.
Contact Center Modernization: Raising the Bar on Customer Service
"Modernizing how you serve citizens should be a continuous process. Methods of communication change. Technology improves. A pandemic exposes weakness in an entire process. And all of these things must be addressed in the context of resource constraints. Organizations should look across their constituency and current platform and ask questions such as: Are we communicating effectively? Do we have the necessary tools to properly manage resources? Do we have a business continuity plan? Is owning and managing technology the best use of our resources? Regardless of the question, the key is to be proactive in your evaluations."
Read more insights from Genesys's Director of Solution Consulting for the North American Public Sector, Chad Cole.
4 Tips for Advancing IT Procurement
"Identifying and analyzing potential risks upfront can give jurisdictions more options to address urgent IT needs when a crisis hits, Paneque says. 'Through a risk assessment you can delineate potential scenarios you might face in the future and where you can substantiate an emergency procurement to stabilize them,' says Paneque. 'Later, you can roll that approach into less urgent kinds of requirements that can either be sourced through existing contracts or with typical methods of procurement like an RFP.'"
Read more insights from former New York State Chief Procurement Officer, Sergio Paneque.
Download the full Innovation in Government® report for more insights from these legacy modernization thought leaders and additional industry research from GovTech.