The pandemic triggered disruptions to supply chains, workforce management and other daily government operations. Rather than abating, those challenges have continued to evolve. The war in Ukraine has brought new security concerns, and financial uncertainties have made it even more imperative for government agencies to be able to pivot quickly. Digital transformation is essential to meet such ever-changing, unpredictable demands. Flexible, cost-effective technology solutions enable government agencies to analyze data for better decision-making in areas as diverse as cybersecurity, public health and military operations. Investments in modern technologies have the added benefit of making government work more attractive to talented professionals with innovative ideas and a willingness to try new approaches. Such people are a crucial element of any digital transformation. Learn how you can rethink every aspect of operations in ways that spur innovation and advance the ability to respond to new challenges and opportunities as quickly as they arise in Carahsoft's Innovation in Government® report.
"Public-sector leaders need to think big, start small and scale fast. The best approach is to pick a chunk of the business that is consequential and show everyone incremental results. Executive buy-in is also important but sometimes comes later, after several bottom-up iterations that are so successful they are impossible to overlook. The National Telecommunications and Information Administration's new grants portal is an excellent example. The end-to- end, FedRAMP-authorized system gives NTIA and its customers the digital tools they need to apply for broadband grant programs and support the government's management of the projects funded with the grants."
Read more insights from Maj. Gen. (Ret.) Allan Day, Ph.D., Vice President of Logistics/Sustainment of Global Public Sector at Salesforce.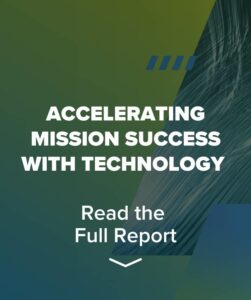 "Digitization helps health workforce challenges as well as addressing the service backlog and supporting expanded access. Digital service delivery is far more efficient, freeing up clinician time to deliver health care in-person for patients who are unable or unwilling to access services digitally or when virtual encounters are not the most appropriate channel. And digitization done well provides rich, real-time data to better understand gaps and inequities and thus improve digital services and inform timely program and policy development."
Read more insights from Karen Hay, Digital Transformation Leader of Global Public Health at Salesforce.
"Quick wins are essential. Quick wins are the battles in the bigger war of transforming your organization. These are the smaller localized wins within business units outside of large enterprise changes. They become easy-to-understand success stories that give teams a taste of how a transformed organization can thrive. They are powerful social proof that leaders can use to educate and inspire."
Read more insights from Mike Mulcahy, Digital Transformation and Strategy Development Leader for Global Public-Sector Aerospace and Government System Integrators at Salesforce.
"Chicago's 311 call center is an excellent example of transformation in action. It is the point of entry for residents, business owners and visitors to access information about city programs, services and events. Chicago 311 allows citizens to access that information without long hold times and with minimal impact on staff. Since its launch, Chicago 311 has become an essential resource for activities as varied as simple informational inquiries and requests for tree trimming and pothole repairs. More broadly, the service has shown how the right cloud platform can transform the traditional call center into a modern contact center that unlocks everything from back-office information to self-service capabilities across a single, secure and connected experience."
Read more insights from Paul Baltzell , Vice President of Strategy and Business Development for State and Local at Salesforce.
"CIOs are facing the challenge of how to modernize by using platform technology. Most have moved into the cloud, but modernizing with a platform is a new way of thinking. It means deciding which platforms to adopt and which use cases to build onto these platforms. Modernization means reducing the technology stack. When agencies choose the right platform, they benefit from the use cases that are already on it so they don't have to start from scratch."
Read more insights from Scott Brock, Vice President of Strategy and Business Development for State and Local at Salesforce.
"A November 2022 memo from the Office of the Secretary of Defense confirmed the seriousness of the situation with respect to retention after return-to-work policies went into effect. Focusing on our nation's cybersecurity priorities, the statement called for expanding the workforce through apprenticeship programs and other nontraditional means of closing the talent gap. There is a solution: with the right investment in technology and talent, leaders can manage through the current challenges and achieve a posture where positive change is a constant, iterative and accepted part of the landscape."
Read more insights from Dr. Michael Parker, Vice President of Business Development at Salesforce.
Download the full Innovation in Government® report for more insights from IT modernization thought leaders and additional industry research from FCW.