Advances in communications, data analytics and cloud ecosystems are supercharging efforts to modernize government. Leaders recognize that partnerships with industry are essential to their success with emerging technologies, including groundbreaking tools and techniques that help agencies tackle a wide array of challenges. The government is facing monumental challenges, such as the economy, climate change, public health and military preparedness. These large-scale, broad impact problems require new and innovative ideas to solve. Organizations such as the Computing Technology Industry Association (CompTIA) and the National Institute of Standards and Technology (NIST) have released guidance and strategies for agencies hoping to move past existing restrictions by updated legacy systems. Carahsoft's most recent Innovation in Government Report includes insights from industry experts at Dell Technologies on how emergent technologies can help government push past those boundaries, with deep dives on 5G, artificial intelligence, digital twins, edge computing and cloud ecosystems.
"Federated learning is becoming increasingly relevant given the emergence of ChatGPT and other AI-based technologies. Industry and government leaders recognize that it is essential to develop AI in an ethical, unbiased way that ensures information privacy and security. The only way to do that is to take a critical look at the technologies that are evolving and shape them in an intentional way. Right now, AI is not as secure as it could be. It is susceptible to the same vulnerabilities that affect other technologies. Therefore, agencies and their industry partners should focus on protecting data where it resides, instituting a zero trust architecture and securing AI algorithms."
Read more insights from Ed Hicks, business development manager for federal and AI at Dell Technologies.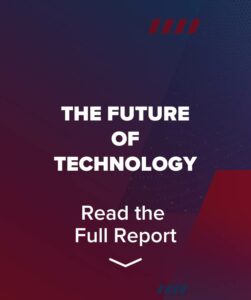 "5G is the first generation of cellular technology that's cloud native, which means it has the flexibility to be fully virtualized and deployed in several different architectural designs, hosted on commercial servers. Agencies now have the ability to dynamically scale up or down depending on the network load at the moment. In addition, many large hyper-scaler cloud vendors are exploring ways to provide 5G as a service and combine the virtualized network function with cloud-hosted workloads, integrating the telco workload into the traditional IT stack."
Read more insights from Greg Burrill, 5G/Networking Alliance Manager at Dell Technologies.
"Digital engineering is digital transformation applied to the realm of systems engineering. It is another path to IT modernization. Digital twins require the foundations of a digitally transformed environment and its elements of data management, agile development, DevSecOps and container-based orchestration. Digital twins focus on bringing data from the physical world into the digital arena, gleaning insights through artificial intelligence and then displaying those insights visually for users. Digital twins can deploy those conclusions in the physical world, measure the results of the changes and start the loop over again by feeding that data back into the digital arena."
Read more insights from Ken Rollins, Technology Architect for Digital Engineering/Edge at Dell Technologies.
"When agencies simply lifted and shifted workloads into the cloud, they often experienced inefficiencies and cost overruns. Now that agencies are gaining a better understanding of cloud models and how to adapt their workloads to run efficiently in the cloud, they have begun to more carefully consider when it makes the most sense to put a workload into a public cloud and when it is better to pull it back to run on premises, known as cloud repatriation. Those decisions should be part of a larger strategy for appropriate workload placement."
Read more insights from Manny Yusuf, Chief Cloud/Edge Architect at Dell Technologies.
"A software-defined data center (SDDC) virtualizes all the infrastructure elements that government agencies are using and delivers them in an as-a-service model. Specifically, compute, networking, storage, security and services are abstracted and delivered as automated, policy-driven software. That virtualized, programmatic approach enables SDDCs to break down IT silos and simplify complexities. The benefits include gains in performance and availability and reductions in costs and security risks. An SDDC enables applications to be deployed more quickly and IT resources used more effectively through the use of cloud-based services."
Read more insights from Manny Yusuf, Chief Cloud/Edge Architect at Dell Technologies.
"Maintaining visibility into IT operations is crucial for understanding and mitigating security risks as well as for better managing costs. Agencies might need to achieve a specific return on investment, meet certain efficiencies or comply with unique mission requirements. Regardless of the goal, a simplified cost model provides a comprehensive understanding of what it costs the agency to run workloads on premises, at the edge or in any cloud location. Dell APEX also allows agencies to maintain oversight of their IT environment and expenses when they are running a software factory and pushing out new capabilities on a continuous basis. Anytime something new is put in the cloud, it's important to have visibility into its long-term costs so that agencies can avoid inefficiencies."
Read more insights from Manny Yusuf, Chief Cloud/Edge Architect at Dell Technologies.
Download the full Innovation in Government® report for more insights from emerging technology thought leaders and additional industry research from FCW.