Innovation and collaboration are imperative to drive growth and transformation in State and Local Governments, as well as the need to invest in education and training to prepare the workforce for the jobs of the future. At the Carahsoft Digital Transformation Roadshow in Columbus, Ohio, Government IT and industry leaders engaged in dynamic discussions around the role of technology in shaping the modernization of the state of Ohio and beyond.
Technology Innovation in State and Local Government
Ohio State and Local agencies have begun to integrate innovative technologies to drive better decision-making while lowering the cost of ownership for IT systems; however, this requires significant investment in infrastructure, training and talent acquisition. Agencies must also ensure cybersecurity and risk management, as the use of new technology can create new vulnerabilities. There is a critical need for education, collaboration and innovation as State and Local agencies reimagine the future workforce which is an ever evolving complex and diverse ecosystem.
When faced with implementing technologies like artificial intelligence (AI), internet of things (IoT) and other transformational technologies, comprehensive planning is the best way forward for State and Local agencies. By doing the planning upfront, agencies can ensure that they have the right tools to manage vulnerabilities, mitigate risks and drive innovation.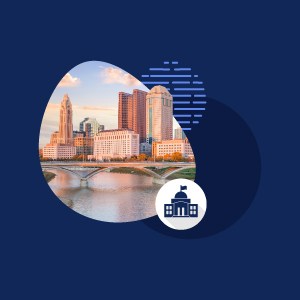 Utilizing a single platform that connects automation of other tools into that platform helps agencies get real-time data reporting and addresses risk within the organization. By using multiple endpoint management and security tools in a single platform, agencies can streamline their operations, reduce costs and improve their overall security posture.
A local agency in Westerville, Ohio has started using data for applied analytics and customizing citizen experiences using a feedback model. This approach involves analyzing and interpreting data to improve services and provide a more streamlined citizen experience for services like trash collection, public safety and traffic management. By using data to drive decision-making and improve services, agencies can become more efficient, effective and responsive to the needs of citizens.
Building a Resilient Government
Modernizing systems, which is the top priority for building a resilient Government, will improve citizen services, generate cost savings, increase security and provide a more holistic, human-centered Government experience. Many State and Local agencies have outdated systems and need to modernize their infrastructure and business processes to make commerce more accessible and efficient. This involves evaluating areas for improvement, such as replacing fax machines with modernized digital tools and platforms and consolidating multiple systems into a few with all the key functionality they need.
The Ohio Department of Aging (DoA) implemented a tenant of rapid response in which automated systems provide emergency staffing within 24 hours for long-term care facilities and nursing homes during the COVID-19 pandemic and continue to this day. The DoA has also worked on predictive modeling utilizing the Governance, Risk and Compliance (GRC) organizational strategy to identify potential issues and respond proactively. Additionally, it has focused on meeting citizens' needs through an omnichannel approach, using interoperable data analytics and predictive modeling to provide a more personalized and efficient experience.
Combating Cyber Threats in Government
Public Sector organizations face a range of cybersecurity risks, including data exploitation, insider threats, third party vulnerabilities, ransomware, identity theft and fraudulent access to State Government services. To mitigate these risks, agencies can take steps such as implementing strong access controls, regularly updating software and systems, conducting employee training on cybersecurity best practices and partnering with other organizations to share threat intelligence and collaborate on incident response.
Cybersecurity and Infrastructure Security Agency (CISA) offers several services to assist Government agencies with cybersecurity, including assessments and external dependency mapping. These services are provided at no cost to agencies, as they are already paid for by federal taxpayers. The services include:
Cybersecurity assessments: conduct cybersecurity assessments, which can help identify vulnerabilities and areas for improvement.
Ransomware readiness assessments: prepare for and respond to ransomware attacks, which are a growing threat to State and Local Governments.
External dependency mapping: identify and assess third-party vendors and other external dependencies, which can be a source of cybersecurity risk.
Threat intelligence sharing: provide agencies with information on emerging threats and best practices for defending against cyber-attacks.
Incident response planning: develop and test incident response plans, which can help ensure a coordinated and effective response in the event of a cyber-attack.
As cybersecurity threats become more sophisticated, it is increasingly critical for individual employees to be aware of the risks and take steps to protect their agency. Following best practices for password management, avoiding suspicious emails and links and reporting any potential security incidents to IT or security personnel is imperative. Agencies should provide regular training and offer resources such as phishing simulations to help employees become more vigilant.
Agencies must continue to leverage technology, utilize resources like CISA, stay up to date on the latest best practices and remain committed to meeting citizens' needs. By embracing technology innovation, State and Local agencies can create a brighter future for all.
Explore more resources and learn more about Carahsoft's State and Local Roadshow Series: Digital Transformation by visiting our Roadshow portfolio.
*The information contained in this blog has been written based off the thought-leadership discussions presented by speakers at Carahsoft's Digital Transformation Roadshow.*