Carahsoft recently hosted the 11th Annual Government Customer Experience & Engagement Seminar. The virtual seminar discussed how agencies can transform customer experience (CX) and satisfaction and increase constituent engagement across federal, state, and local government agencies. This session featured insights and statistics from industry-leading panelists who outlined ways the government can seamlessly transition to digital, utilize hybrid as a strategy, embrace feedback, and leverage omni-channel engagement.
While many government agencies are constantly progressing towards greater digital transformation, for many, the pandemic forced them to accelerate their implementation. However, the path to digitization is not always smooth, and the process is ongoing and ever changing. Agencies must also contend with the challenges of reaching constituents who have limited use of devices or internet and those in rural areas where internet access is not always immediate.
Transitioning to Digital
Many agencies still rely on in-person, manual, paper-based processes while others have one foot in the digital world and one in the physical world. Some agencies know that they want to digitize, but knowing where to start can be a daunting prospect. One of the easiest cloud technology use cases to implement is storage and archival records. Agencies often start with these systems, demonstrating the value of digitization by simply drawing insights out of a digital repository that would not have been possible with paper. Of course, digital records are also more secure and less susceptible to flood, fire, and other risks. Agencies also find it valuable to institute self-service options that allow constituents to complete forms and obtain services on a website rather than in-person or over the phone.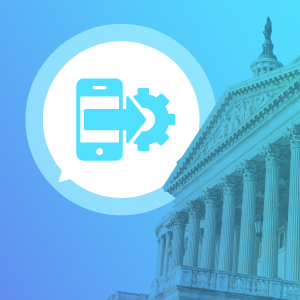 When records are digitized, different agencies and service providers can more easily collaborate on shared initiatives. Tools like AI can help to demonstrate value at scale, versus manual, error-prone paper-laden processes, and accelerate digital transition. Late in the process, agencies can introduce RPA, focusing on automating processes that have a high return on investment and can free staff to perform more high value activities.
Many agencies take an incremental approach. For example, the Oregon Health Authority started with digitization of electronic signatures, allowing the remote execution of agreements. Once they had a repository of documents, they looked for opportunities to automate processes and added AI to identify risks to be mitigated. They improved their processing times by 93%, but the incremental process allowed them to evaluate outcomes along the way.
Hybrid as a Strategy
One hundred percent digitization is not necessarily the goal for government agencies. Many constituents do want self-service to avoid waiting in line at the DMV. But people on the other side of the digital divide need to have in-person experiences. In addition, many services rely on face-to-face interactions where constituents develop relationships with government workers. Taking a hybrid approach allows self-service, leaving more time for agency employees to deliver high-quality, in-person experiences for those who need a human touch.
The Importance of Feedback
There is a cost of doing nothing; the most vulnerable constituents aren't getting the services and information that they need. For this reason, it's important to constantly measure service delivery and satisfaction; you can't fix what you can't measure. Agencies need to get feedback from constituents to build trust and ensure they are putting customers at the center of every decision. They should provide definitive measures and confirmation of business outcomes, quality rates, and customer measurements of perception, satisfaction, and ease of use.
The first step is to add a button to the website which allows feedback and helps identify opportunities for improvement. This allows agencies to understand how their investments are paying off—often in real time. Agencies should track customer satisfaction, using reference scoring and A/B testing across all channels of engagement to identify improvement opportunities. Ultimately, this data needs to be fed into the product and service delivery roadmap to drive evolution of the customer experience.
Feedback also allows greater personalization: fully understanding and meeting the needs of the end user. It requires a concerted effort to gather information, especially user preferences. The cloud is an important part of personalization, making it easier to collect relevant information and enforce policies.
Omni-Channel Engagement
Some constituents are limited in their technology choices because of disability or financial status, but they are expected to verify their identity, apply for benefits, find a job, and use many other services that often are only available on a mobile device screen. The public sector must take these factors into account, creating and delivering services that don't depend on screen size, connection speed or even access to internet.
The concept of omni-channel expects the user's experience to be intuitive and immersive—easily accessible regardless of the channel a constituent is using. Individuals should be able to interact seamlessly through their preferred channel. Government is one of the only industries where it's critical that services are accessible to every person, on any device, or in any channel.
To learn more about the digitization of government services, view our session and hear from government speakers looking toward the future of digital transformation, customer experience, and constituent engagement.