With the boom of consumer facing artificial intelligence (AI) through Chat GPT and other tools, the discussion of AI applications within healthcare has also become a priority with exciting new developments. Pre-COVID, there was some hesitancy with telehealth, whereas now it has become a highly valued, main offering within the healthcare ecosystem. Similarly, AI is becoming a key mobilizer for improved patient outcomes and more efficient provider processes. Through the power of the cloud and supercomputing, AI is opening doors for transformational results throughout all aspects of healthcare including personalized medicine, medical research and trials, treatment efficacy and more. Once healthcare organizations better understand the benefits that AI unlocks for all stakeholders, they can take the next steps to apply it to their individual health networks.
Benefits of AI in Healthcare
Patients
The potential uses for AI in the medical field are endless and apply to all levels of healthcare with improvements for patients, healthcare providers and healthcare administrators. When organizations invest in AI, it decreases wait times for patients, optimizes appointment availabilities and increases overall access. AI can also interpret imaging and detect illnesses faster which minimizes treatment delays. Through wearable technology and personalized medicine, AI is enabling patients to gather health data and manage treatment from home. This customizable capability is especially valuable for rural or low-income patients to level out the social determinants of health and offer treatment through telehealth while saving on costs for all involved.
Medical Providers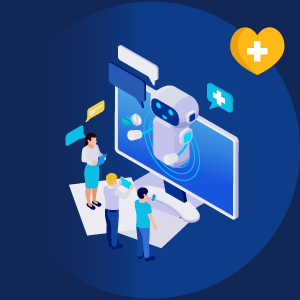 AI can significantly reduce the administrative burden for medical providers by automating routine tasks and increasing bandwidth for front line staff to complete other medical duties. A hallmark capability for AI is analyzing data which it can aggregate from wide pools of information to suggest electronic health record (EHR)-based interventions, predict possible future patient ailments and offer a more unified, comprehensive picture. In a post-COVID-19 world, AI healthcare data applications offer the extremely relevant and desired ability of anticipating future public health crises through research and analytics. These AI forecasts can accelerate understanding for policy creation, reinforce healthcare resources and provide precision public health.
Healthcare Administrators
Applying for grants can be a time-consuming process, but with AI evaluating grant proposals, healthcare administrators can quickly identify which grants to apply for and which to pass. AI can also detect potential fraud cases. It is currently being implemented at the Centers for Medicare and Medicaid Services to make sure that applicable citizens receive the proper care and services they deserve, and by the Department of Health and Human Services to analyze counterfeit drugs to prevent fraud and preserve the efficacy of vital medications.[1]
Making AI a Reality for Individual Healthcare Networks
With these groundbreaking benefits, instituting AI is a clear case. Currently about 98% of healthcare organizations have or are planning to implement an AI strategy.[2] To make this a reality, healthcare organizations must focus on three main areas:
Understanding the technology capabilities, requirements and use applications
Educating providers and building trust with patients
Instituting privacy and security policies
Understanding what AI can do, which applications to pursue for individual hospitals' use cases and what it takes to operate the technology, needs to be a collaborative effort between all levels of a hospital system. Many clinicians are burned out and looking for tools that will ease their burden while also improving care. Through proactive conversations with medical providers and C-suite stakeholders, CIOs and management can present the investment benefits and ultimately increase full system buy-in and ability to scale effectively and efficiently.
Educating medical ecosystems and patients with the digital skills and knowledge to utilize the technology resources is also important for proper usage and increased adoption. Once providers understand the potential of AI and the practical ways it can improve their workflows, they can be confident in using the tools and clearly articulating the information to patients. Trust is a huge component of thriving, effective care. Clearly presented information establishes that rapport with patients and clinicians. Overall, training re-establishes for providers and administrators the priorities of patient safety, professional accountability and protection from reputational, legal and financial risk to ensure that the AI technology is used responsibly. Through proper education, patients also feel empowered with how AI is being implemented in their care and the commitment of their medical team to pursue the safest and best outcomes.
The last key element to establishing the use of AI in healthcare and maximizing its benefits is keeping privacy and security top of mind. Hospital management need to consider what policies and procedures they will institute to protect patients' data and prevent bad actors from exposing personal information or disrupting care. Data integrity is also vital to keep AI algorithms' predictions and assessments accurate. Healthcare network administrators will need to evaluate the best method to securely store that data whether through a cloud provider or building encrypted data storage on premises using private AI with an internal high computing platform specific to the individual hospital. These management policies and governance frameworks will not only offer standardization, they will also help build trust with patients while providing enough flexibility for AI innovation and growth.
Ultimately the partnership of AI with medical experts enables the perfect balance to deliver rapid, actionable insights and improvements while humans manage the usage of the technology to ensure quality care for each medical case. The future of healthcare is patients being able to take greater ownership of their health through aggregating additional data and applying AI to achieve better treatments. Providers and staff will be able to maximize their time through AI optimizations and provide more proactive care based on AI predictions. These advancements will revolutionize the healthcare industry as we know it and pave the way for a healthier society. Some are calling AI the next quantum leap in technology, and healthcare should be at the forefront of leveraging the resources to drive improvement, accelerate innovation and save lives.
To learn more about how Carahsoft is enabling healthcare organizations to achieve technology innovations such as AI, visit our Healthcare Technology and AI and Machine Learning solutions portfolios and speak to a representative who can help meet your solution needs today.
Resources:
[1] "HHS CIO Karl Mathias Details 3 Promising Applications of AI in Health Care Sector," GovConWire, https://www.govconwire.com/2023/05/hhs-cio-karl-mathias-details-3-promising-applications-of-ai-in-healthcare/
[2] "AI Survey: Health Care Organizations Continue to Adopt Artificial Intelligence to Help Achieve Better, More Equitable and Affordable Patient Outcomes," Optum, https://www.optum.com/about-us/news/page.hub.ai-survey-health-care-organizations-adopt-artificial-intelligence.html