Airports have been hit hard by the pandemic. Many people cannot travel internationally, and business travel has been replaced with Zoom. Airports have experienced a sharp decline in revenue across the board, and airport directors are unsure if revenue will ever return to pre-pandemic levels. Parking income, for example, already started declining pre-pandemic as travelers were taking Uber and Lyft—and is unlikely to rebound.
Travelers inside the airport have changed their habits as well. A leading travel retail research company found that travelers are not eager to engage with airport amenities because of COVID, and 44% plan to spend less airport time shopping. Indeed, 65% of all passengers say that they plan to spend more time on phones and mobile devices while at the airport.
The Digital Transformation
In order to survive and generate revenue in this new world, airport operators need to change their mindset: thinking of themselves as a customer experience company (online and offline) rather than as a landlord. They need to view passengers as people they can convert into customers. Doing so requires investing in a better digital experience which is completely integrated—from customer acquisition to sales and retention—to increase the spending per passenger.
Airports don't typically have customer data, presenting disadvantages compared to companies like airlines which have loyalty programs. But airports can start collecting customer information in partnership with airlines from the moment someone books a flight. With customer data, airports have a foundation for customer acquisition, retention, and sales. They can present passengers with retail opportunities in advance of their flight.
Since travelers are evermore glued to their mobile devices, airports can use geo targeting to present retail opportunities. For example, passengers in the airport would see advertisements in their Facebook feed for services and offerings that match their current position and potential interests.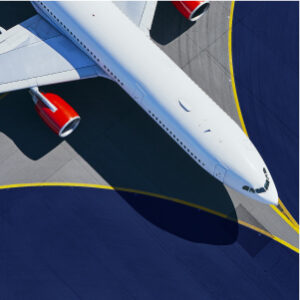 Customers have identified airports as cost-efficient ways to buy high-value items, such as electronics, watches, jewelry, and perfume at a lower cost—potentially duty free when traveling internationally. Partnerships with high-end retailers have served some airports well. Targeted advertising can inform visitors about retail opportunities before they arrive at the airport. Travelers who know what they want to purchase duty free can order it in advance, so it is ready to collect prior to departure.  The transaction can happen online, allowing for contactless pickup.
Digital resources allow airports to focus on plan-ahead customers rather than impulse buyers. Recent travel retail data shows that planners account for 75% of airport purchases, whereas impulse buying only targets those who are already at the airport.
Improving the Customer Experience
The important differentiator is keeping everything simple from a customer's perspective. When passengers arrive at the airport, there should be one convenient pickup location for retail purchases, so they don't have to take time to find and visit the store. They should have a single identity and one centralized online destination to explore everything related to their flight and shop tax free.
Airports typically view themselves as a separate entity from retailers, restaurants, or airlines. But a more collaborative approach with other companies allows airports to create a seamless traveler experience. For example, airlines hold 100 billion dollars of loyalty points from passengers. Collaboration with airlines would allow airport customers can use those points for airport services and products. In addition, airport services can be integrated with airline services–such as check-in or inflight entertainment.
It all starts with airports having digital records about the travelers, knowing what they want to purchase and what their travel habits are. Together with a high-quality digital ecosystem, this data allows airports to start ecommerce and create customer loyalty.
Leveraging the Cloud
Of course, none of this is possible without a robust cloud service. The cloud allows airports to choose the right database solutions and build solutions that avoid single points of failure. They can optimize for costs and use caching to deliver a faster experience. The cloud allows airports to innovate rapidly and pass these benefits along to their customers. Airports can quickly develop and roll out new applications, and development teams can experiment and innovate more quickly and frequently.
The right cloud solution allows airports to only provision and pay for the resources they actually need, knowing they can instantly scale up or down according to their needs.  This reduces costs and improves their ability to meet users' demands. They can innovate faster because they can focus precious IT resources on differentiation, long term planning, and transforming customer experiences rather than managing the upkeep, maintenance upgrades, and refreshes for on-premises data centers.
Watch our webinar or listen to our podcast with Omnevo and Adobe to learn more about how your airport can benefit from such a fully integrated cloud engagement solution approach. Contact a team member today at adobe@carahsoft.com to get more information.