Many times, the phrase "legacy system" is thrown around as a way to call attention to government modernization efforts and where these efforts fall short. The private sector is then held up as the shining city on the hill for these agencies to strive toward. However, engagement with government messaging is one area where the tables are turned – especially with digital communications. As highlighted in the Granicus 2018 Benchmark Report, government had one of the highest median open rates for email and mobile messages sent from an organization, beating out 16 other industries.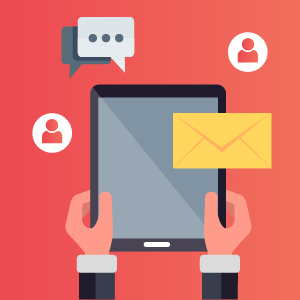 Clearly, citizens are receiving information and messages relevant to them, yet looking at engagement with government as a whole reveals little about how individual agencies measure up. Yes, the larger picture looks great, but are your own efforts underperforming? In a sea of data and deadlines, how can agency communication professionals step back and focus on reaching their constituents?
Email is Still King
Start where the money is. For every dollar spent, email marketing returns $38 for your investment. The reason isn't hard to figure out: 85 percent of adults polled in a global survey use email. If you can only focus on one area, turn your attention to the area with the highest returns. Government isn't driving sales through email, but the goal of reaching audiences with relevant information remains the same.
Benchmarking Your Emails
We now know where to focus. But what to focus on? The 2018 Granicus Benchmark Report was built based on an analysis of the messages Granicus's 4,000 government clients across the federal, state, local and city level are sending and taken the median across four key metrics. What this means is that we now have metrics against which you can measure your own digital messaging performance:
1. Open Rate: 21 percent
2. Click Rate: 2 percent
3. Engagement Rate: 47 percent
4. Subscriptions per Subscriber: 2 subscriptions
Let's break these down. Open rate and click rate are fairly self-explanatory. Engagement rate refers to the number of subscribers who clicked or opened an email in the last 90 days against the total recipients. This metric is a better measurement of engagement over time versus email by email. Subscriptions per subscribers refers to the number of topics, such as different themed newsletters, that each citizen subscribes to from a single organization.
Strengthening Your Own Performance
Are any of your stats lower than the benchmarks above? Don't sweat it! As part of the report, Granicus analyzed high-performing emails to see what set them apart from the pack.
A "winning" email is, above all, actionable. As part of this criteria, a top-performing email has a time-sensitive subject line that calls out directly to the recipient through personalization. After all, if there is nothing that inspires a citizen to open the email, how can you expect them to then act on the body of that email? Overall, the message should be clear and concise while remaining targeted to specific citizens.
Not sure where to start? Pick one of the above criteria and start adapting your content strategy. All are evergreen strategies that you can start implementing almost immediately.
Small Changes Can Have Large Impacts
In a recent webinar, Mika Cross, a federal workplace transformation strategist, discussed how HireVets.org managed to take its subscription count for its new Medallion Program newsletter from 0 to almost 35,000 subscribers in the span of four months. Her team started by taking stock of the existing assets, such as the website, and built on these assets.
For example, the team placed an overlay that first appeared when users logged into the page that gave them the option to subscribe. Even more subscribers were driven by Featured Government Updates, a system that provided users who subscribed to a newsletter the option to subscribe to other newsletters. Combined, these two outlets drove 28,000 subscribers, over 80 percent of the total.
Need More Help?
Digital marketing and communications are fast-moving trends with many factors determining the success of either. The level of complexity involved is far too high for any one blog post to capture.
Fortunately, there are resources that help breathe insight into the fields for any agencies developing their own digital expertise. Start with Granicus's 2018 Benchmark Report which distinguishes itself from many other marketing surveys by focusing solely on public sector agencies at the federal, state, local and city level. This report also breaks out its findings into benchmarks for websites and social media accounts, allowing you to more holistically evaluate your strategy. At the end of the day, improved communications means improved services for citizens, and that is a goal every agency strives toward.