Virtual reality (VR) and 3D modeling are transforming the geospatial community – images and geospatial information not only coming to life, but being used for research in education and defense industries and beyond.
The extraordinary amount of detail provided by these new tools allows individuals to gain a deeper insight into any physical object or location, even remotely. These technologies allow points of interest like buildings, geographical areas and other infrastructure types to be captured, modeled, and then virtualized by individuals and entire teams. With VR technology teams all over the world are exploring structures and landmasses from any location.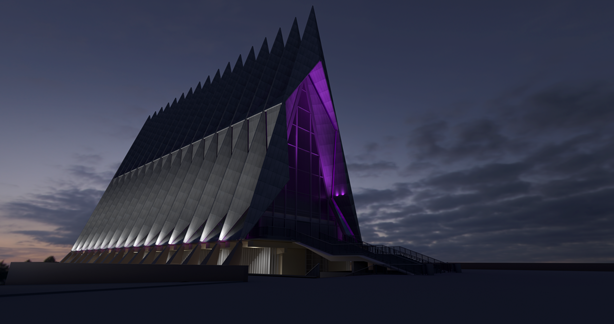 Screen shot of the USAFA Cadet Chapel VR Experience
With GEOINT around the corner, there has been a lot of speculation in the geospatial community as to the role that VR and 3D modeling can play in data exploration in an environment of digital transformation. When it comes to their impact on the geospatial community, here are three predictions:
Make the Impossible, Possible!
Groundbreaking technologies such as LiDAR, SONAR, photogrammetry, and beyond, can be used in tandem to produce photorealistic 3D models of any infrastructure, whether it's on land or at sea. After virtual representations of those models are made, teams can then explore them and begin the analysis process.
The benefits span a wide variety of use cases. One case, which we showcased in a recent post, "The Power of Digital Experience: What New Technology Revealed About the USS Arizona and Pearl Harbor," detailed how Hawaii's National Park Service developed a 3D model of the USS Arizona battleship that visitors could experience to add a new layer of understanding about the historical landmark and event that changed America's history forever. The VR experience allowed tourists to "see and feel," providing a new perspective on the ship's historic memorial site.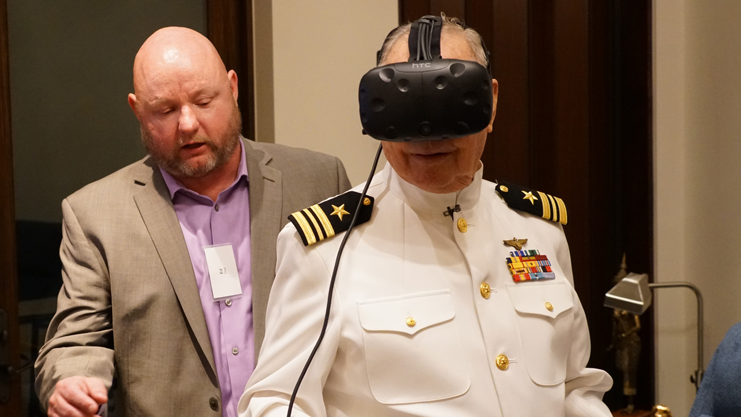 96-year-old USS Arizona survivor Lou Conter sees his old ship for the first time
in 76 years using VR
Transform Mision Execution
Another area that the potential applications of virtualization and 3D modeling touches is the realm of defense. Imagine: The Navy SEALS could use this technology to plan their missions remotely, creating a virtual and highly accurate representation of maritime environments. The opportunity for more in-depth strategic training is unparalleled.
Access to real-time geographic data would allow the military to virtually plan an operation in a way that could dramatically reduce the amount of risk involved, potentially leading to more successful missions and more tactical military planning.
Defense leaders, facility managers, marine biologists and a range of stakeholders are now able to access a single point of reference that is nearly as real as being onsite.
New Realities Lead to New Perspectives
The potential of VR and 3D modeling are already being recognized today, despite it being relatively new to the geospatial realm. Teams all over the world are capturing analog assets, developing digital versions of those assets and producing 3D prints to analyze – and for others to explore by adding an element of sight and feel that was previously unavailable.

Screen shot from the USS Arizona VR Experience
There's no doubt that VR and 3D modeling brings images and geospatial data to life in entirely new ways, and the way we're advancing our knowledge of infrastructures and historical events are advancing at an unprecedented rate. New realities are giving way to new perspectives and applications across industries, and the uses for these technologies will only grow as digital transformation spreads further across the public sector. The sky is no longer the limit when we're capable of making a 3D model of the moon.
Experience Pete's virtual reality tour of the USS Arizona firsthand at Carahsoft's Reception at GEOINT on April 24 at the Tampa Marriott Waterside Hotel & Marina.